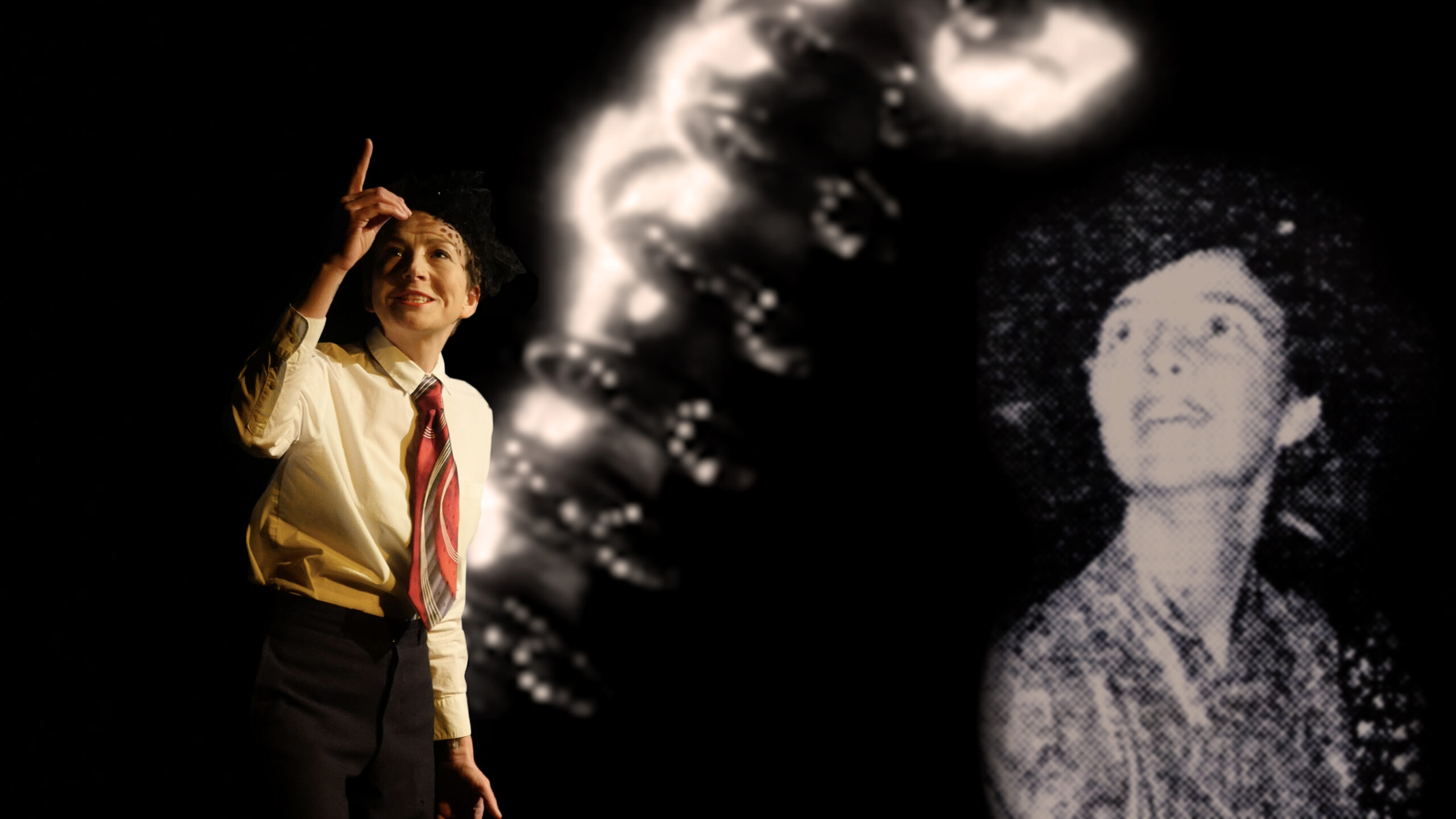 Sarah Kanouse, "My Electric Genealogy," performance still. Photo credit: Cairo Marques-Nieto.
This November 10 at 6pm! Please join Sarah Kanouse's solo performance "My Electric Genealogy." Part storytelling, part lecture, and part live documentary film, "My Electric Genealogy" explores the shifting cultures and politics of energy in Los Angeles and the West through the lens of her own family.
_______________
Parking & Directions: 
https://umbc.edu/venue/center-for-art-design-and-visual-culture-cadvc/
More info about "My Electric Genealogy" by Sarah Kanouse: https://cadvc.umbc.edu/sarah-kanouse-my-electric-genealogy/
_______________
The presentation of My Electric Genealogy at CADVC is co-sponsored by the Center for Innovation, Research and Creativity in the Arts (CIRCA) and the Dresher Center for the Humanities. 
_______________
Images: 1. Header detail: Gabriel C. Amadi-Emina, Fade Catcher, 2021, Diptych photographic print on museo silver rag adhered flat on wooden panel. Courtesy of the artist. (On the left side is a close-up of brightly colored pink and orange flowers. To the right is a textile with bright pink flowers. The two are separated by a yellow void. Text on the far right says, Who will survive.) 2. CADVC logo: "Center for Art, Design and Visual Culture" in white text against black background. 3. Action shot of performer SarahKanouse from the waist up with her arms spread open. She has white skin tone and wears a button up shirt and tie. In large bold text: "My Electric Genealogy: a performance by Sarah Kanouse," and "November 10, 6:00 pm; CADVC, University of Maryland, Baltimore County"