We've been really happy with the usage of Entre-space in the past few weeks. It's exciting to come in and see other people using a space that was built just for us. 
After chatting with a number of you, the Alex. Brown Center has some great things coming up during April. 
ENTREPRENEURIAL SPEAKER PANEL
APRIL 9, 2014: Noon, Commons 329                                                         
As part of career week, we will be hosting an Entrepreneurial Speaker Panel including these three successful entrepreneurs (one of which is a UMBC Alum).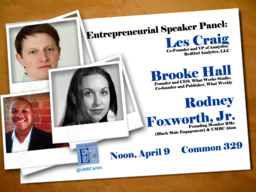 SHARON PALEY HELPS YOU FIND A JOB:
APRIL 9, 2014: 1:00PM - 3:00PM, ENTRE-SPACE                                       
Afterward come by Entre-space to network with Sharon Paley. Sharon Paley (
gb.tc
) will be attending the speaker panel and then will be staying an additional 2 hours to meet and talk with students in Entre-space. She has a wealth of knowledge about the Baltimore Tech community and has a vast network of people. If your interested in learning about job opportunities in the Baltimore area, she's a great resource. 
BUILDING YOUR OWN BUSINESS
APRIL 15, 2014: 7:00PM-8:30PM, ENTRE-SPACE                                       
Serial entrepreneur, CPA, and ENTR adjunct faculty member Gib Mason will speak on how to start your own business as well as how to financially manage your money once you start that business.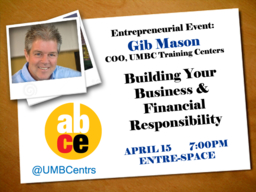 BUILDING YOUR BRAND
APRIL 16, 2014: 7:00PM-8:30PM, MEYERHOFF 030                                    
Jay Nwatchu, Strategic Relationship Manager at
INROADS
and the Founder/Chief Employability Officer at
RemainEmployable
, will be speaking to students on how to market yourself as well as your brand to investors and other companies.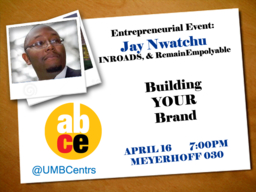 CBIC COMPETITION
APRIL 24, 2014: 7:00PM, BW TECH SOUTH                                               
Some of UMBC's brightest entrepreneurs will be competing for their chance at funding and business mentorship as part of the Cangilosi Innovation Business Competition (CBIC). The panel is made up of some of Baltimore's most successful entrepreneurs and angel investors. 
The finalists will be announced soon! They know who they are though, so feel free to ask if you know someone who submitted a business plan. 
This event is being held in the
BW Tech South
Building, just off campus.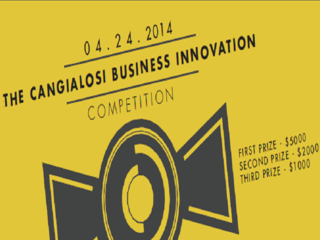 ENTREPRENEURIAL SPEAKER: MELINDA WITTSTOCK
APRIL 30, 2014: NOON, UC 310                                                                 
A venture capitalist once told Melinda she "didn't fit the pattern". She doesn't. She's not an engineer. She doesn't spend any time in her garage, and ramen? Too many carbs. Women have a hard time raising the capital they need to launch high-growth technology businesses and Melinda is going to talk about how women can reinvent the rules - sharing her most valuable lessons (most of them from failing). Success is all about being resilient, agile and non-stop learning. She'll tell you what not to do - as much as what to do!