Congratulations to all our First-Generation College Student Graduates!
In honor of May graduation, we'd like to introduce a few of our first-gen grads, in their own words:
Kyle Chandler - B.A. in Political Science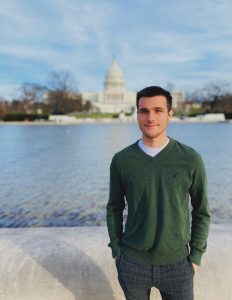 My parents worked hard to have great careers despite not going to college, and it feels great to be able to honor that hard work by attending college and working hard to excel as well. Professor Carolyn Forestiere has been an amazing support, by helping me understand research methods and data analysis, to working with me as a mentor to present at the Pi Sigma Alpha National Undergraduate Research Conference, to always bringing energy to my 8:30 am's!
Post-Grad Plans: I plan to get a job in supply chain and logistics, then one day start my own company using my business degree experience as well as my political science degree experience to create a company that helps create a more sustainable and just world.
Kai Hajos - B.S. in Psychology, concentration in Biological Psychology and Minor in Biology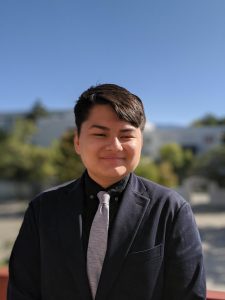 It is a privilege to be the first from both sides of my family to attend and graduate college. By having this foundation, I hope to leave my mark on this world through helping people, and setting an example to future generations to come. There have been MANY faculty and staff that have supported me throughout these four years — David Hoffman, Candace Martinez-Doane, Beatriz Gutiérrez-Malagón, Dr. Sto. Domingo, and Dr. Schiffman to name a few. I wish I could thank each and every friend and family as they have all supported me throughout my life, but we would be here for 32 hours. Namely I want to honor Yaw Owusu-Boaitey, for he always continues to inspire me, and will graduate together on his behalf. Lastly, I want to thank my Poppop whom without him, I would never be where I am today, and I am eternally grateful for. 
Post-Grad Plans: Being the first to complete undergraduate from both sides of my family, this has inspired me to go one step further and complete a PhD in Neuroscience — and become the first to obtain a doctorate!
Fasika Minasea - B.A. in Biological Sciences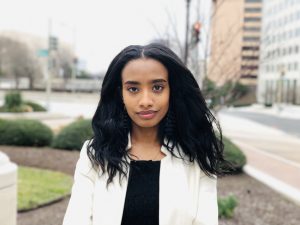 Graduating from UMBC as a First Gen College Student means so much to me. Majority of people including my parents and family members saw my college entry as a break in the family system rather than a continuation of schooling. This created a huge responsibility on my shoulder. My educational journey was dominated with pressure. I can't fail them. I needed to do everything perfectly, so that my family could be proud. Now, I am graduating and I can see the smile from my mother and the happiness from my sisters. This means the world to me. I did it and I am so proud of myself. I would like to thank my family, CollegeTrack coaches and friends for always supporting me in this journey. When I thought this was impossible, these people pushed me to believe in myself. I can't thank them enough for that.
Post-Grad Plans: Currently I am working as a Certified Dental Assistant and I am planning to attend Dental School after a year. 
Julaya Lewis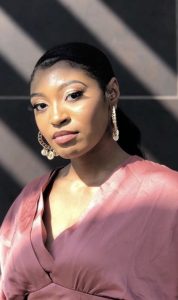 It means to me that push myself really hard to get to this point. I went through so many trailing errors but, being first generation of my family. Ran a lot to me. My advisor Maria celleri and Dr. Drabinski both push me to do better and become best version of my self. 
Post-Grad Plans: I plan on attend grad school spring of 2022 and I got offers intern at Maryland state police department.
Jenny Smith - B.A. in Visual Arts-Graphic Design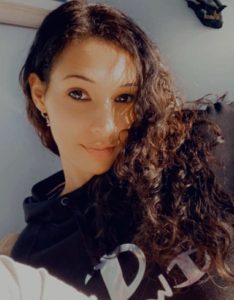 I am proud of myself for coming this far and accomplishing this amazing goal. My parents and my boyfriend, Matt have supported me in completing my degree.