PINNED ITEMS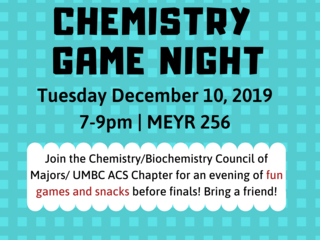 Come and relax with us with some games and snacks!
7:00 PM
·
Meyerhoff Chemistry : 256
De-stress before finals at our Game Night! We have a fun and relaxing evening planned, including both chemistry-related games and regular games, and lots of snacks! Hope to see you there!
Mark these events on your calendar!
Hello everyone! Here is a list of our Fall 2019 events. We will send out emails and post more details about each event as it gets closer. 10/14: REU Panel at GBM 10/21-10/26: National...
LATEST UPDATES