PINNED ITEMS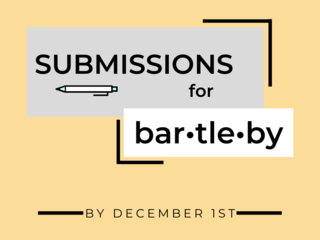 Deadline: Dec 1
Bartleby, UMBC's Creative Arts Journal is accepting submissions for the 2021 edition until December 1st! Submit any and all of your creative works including: Poetry Art Fiction (short...
Submit your writing (and art) for critiques
Join us for our online Writing Workshops this semester that take place on the 1st and 3rd Thursday of every month at 6PM! To submit your piece to the Writing Workshops, go to this Google Folder...
Get to know our editorial staff!
Welcome to Bartleby! Each member of our editorial board brings their own strengths and backgrounds to the group, but all of us have a deep passion for the same thing: creativity. Check out...
LATEST UPDATES