Catherine Wraback, '23 chemical engineering, traditional track and AIChE co-president 
Meet Catherine Wraback, a senior in the chemical engineering traditional track, President of the AIChE student organization, and a CWIT (Center for Women in Technology) Scholar. Catherine was also the President of the American Institute of Chemical Engineers (AIChE) ChemE Jeopardy team which won first place at the 2022 national competition. She will be heading to GE Aerospace to become a part of the Edison Engineering Development Program. Take it away, Catherine!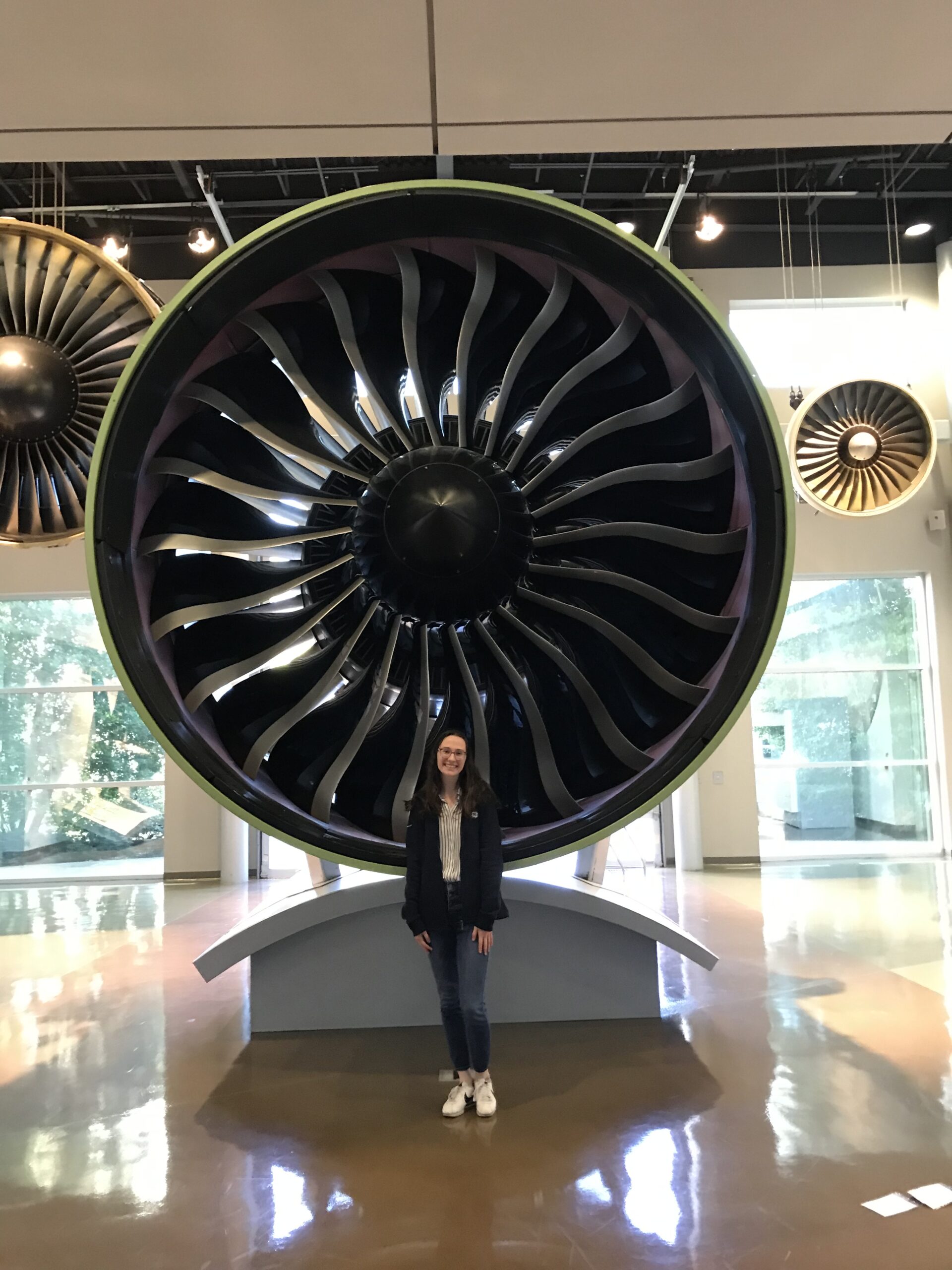 Catherine Wraback, chemical engineering '23, poses in the GE Aerospace office after accepting the Edison Engineering Development Program offer. Image courtesy of Wraback.
Q: Why did you choose UMBC?
The Chemical, Biochemical, and Environmental Engineering (CBEE) department at UMBC has a strong sense of community, which I experienced firsthand during a campus tour. I was impressed by the friendly and welcoming atmosphere of the department, and it was clear that the faculty and students form a close-knit group. One of the main reasons why I was attracted to UMBC is the family-like environment within the CBEE department, where professors and staff not only care about the academic success of their students, but also their personal well-being. This dynamic ensures that students receive the support they need to thrive both personally and professionally.
Q: Tell us about someone in the department who has inspired you or supported you & how did they do it?
Dr. Raikar and Dr. Castellanos are remarkable professors at UMBC, who go above and beyond to support their students. Dr. Raikar is known for her open-door policy, which makes her approachable to all students, and she is always willing to lend an ear and provide guidance on any topic. Her classes are not only inspiring, but also challenging and intellectually stimulating, which keeps students engaged and motivated.
Dr. Castellanos is an advocate for the needs of her students and encourages them to approach problem-solving from a holistic perspective, considering the broader impact on society. Her passion for thermodynamics is contagious and inspires her students to develop a deeper understanding of the subject matter. 
Both Dr. Raikar and Dr. Castellanos are instrumental in running the American Institute of Chemical Engineers (AIChe) at UMBC. Their guidance and support ensure that the student organization runs smoothly and provides a valuable platform for students to develop their leadership skills, network with peers and professionals, and participate in various academic and social events.
Q: What do you love about your academic program?
The chemical engineering bachelor's program at UMBC offers a variety of tracks, which allows students to tailor their education to their specific interests and career goals. One of the most beneficial aspects of the program is the ability to choose elective courses, which provides students with the flexibility to customize their curriculum and explore various topics in depth. I particularly appreciated the ample opportunities to take labs, which provided me with hands-on experience and helped me develop my practical skills. Additionally, the program encourages students to design their own projects, which fosters creativity and innovation, and provides a platform to apply theoretical knowledge in real-world scenarios.
Q: What clubs and orgs are you a part of and why? How was that experience?
I have had the privilege of serving as the President of the AIChE chapter at UMBC, as well as being a part of the Jeopardy Team, which has won at both the regional and national level. I am on the women's ultimate frisbee team at UMBC and attend practice twice a week. Being involved in these extracurricular activities has taught me valuable lessons in teamwork, conflict resolution, and leadership. Through these experiences, I have learned to approach disagreements with empathy and respect for diverse perspectives, while also managing multiple responsibilities and growing as a leader.
Moreover, being part of these teams has given me the opportunity to have fun and connect with my peers outside of the classroom. I have formed close personal connections with my teammates and learned a lot from their unique perspectives and experiences. These extracurricular activities have also taught me the importance of compassion and understanding towards others, and the value of taking time to enjoy the company of friends.
Q: What would you tell others who are in your shoes at UMBC?
I strongly encourage everyone to get involved in extracurricular activities and events on campus. Don't hesitate to attend office hours, ask questions, and engage with your professors, as they are a valuable resource and can provide guidance and support beyond the classroom. Additionally, attending student organization meetings and other events is an excellent way to meet new people, build connections, and broaden your horizons. Getting involved in extracurricular activities can help you build a well-rounded skill set that will serve you in your future endeavors.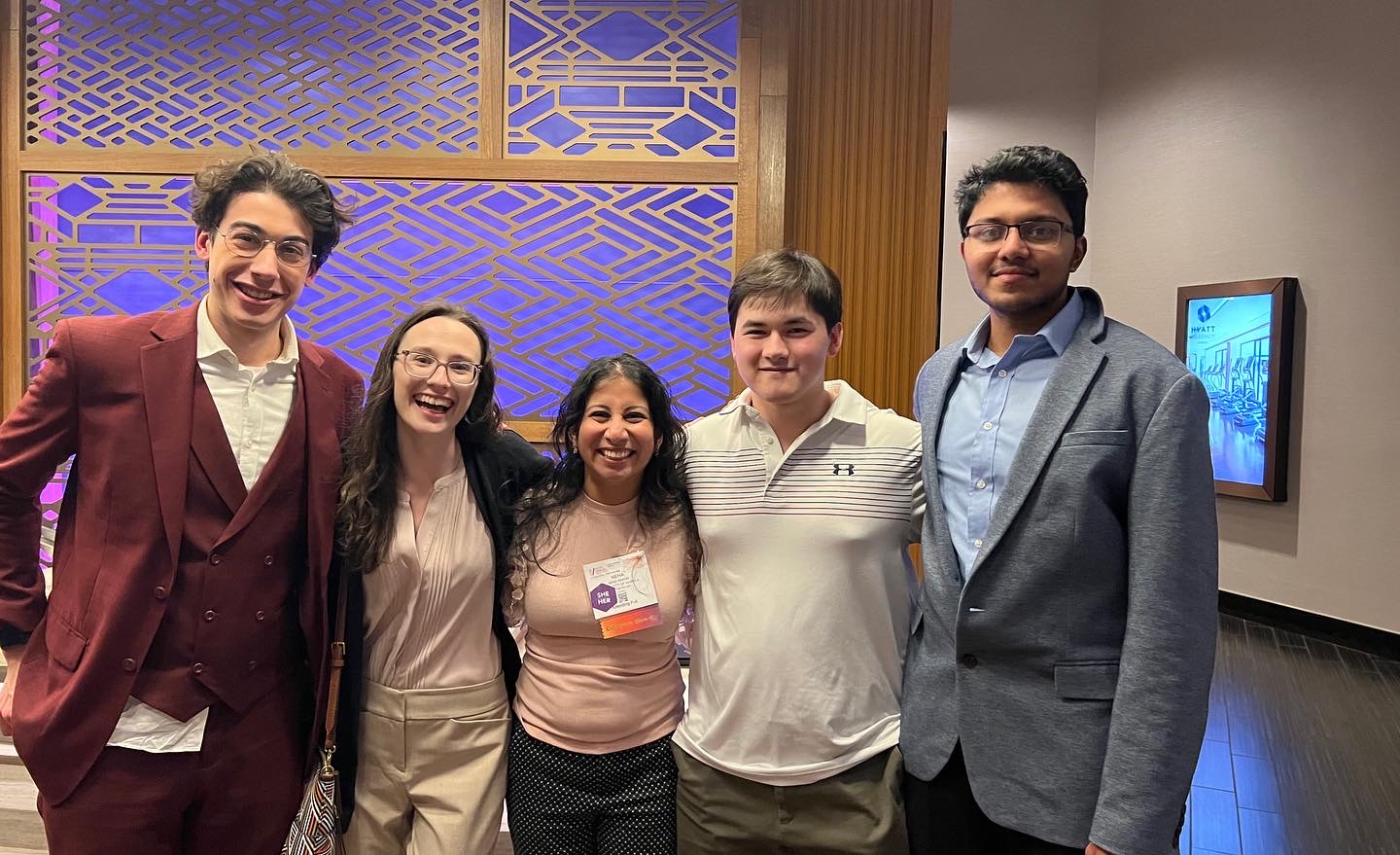 2022 AIChE ChemE Jeopardy National Championship team and their advisor (l-r): Max Bobbin, Catherine Wraback, Dr. Neha Raikar, Colin Jones, and Pavan Umashankar. Image courtesy of Wraback