Making Medicine Mobile
UMBC researcher Govind Rao wants to bring the bounty of the information age to a drugstore near you.
By Joab Jackson '90
"You're watching history being made."
I am in the basement of UMBC's Center for Advanced Sensor Technology (CAST), speaking with its director, Govind Rao. The "history" that Rao speaks of is a large metallic suitcase, filled with snaking tubes and strange components, being attended to by a swarm of graduate students.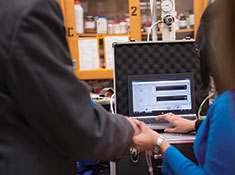 The suitcase is an early prototype of a device that might, one day, be able to produce many medicines the world needs. What's happening in this basement might radically change a $300 billion health care industry.
Rao is leading 30 people to build the device, as part of a project called BioMOD, short for "biologically-derived medicines on demand." The U.S. Defense Advanced Research Projects Agency (DARPA) has funded CAST with a $15.7 million grant over four years to make the device happen.
The heart of the unit is a "bioreactor," which combines a dried extract of cellular machinery with specific DNA to create the medicine that is needed. The unit is also filled with other equipment to warm the resulting combination to the required temperature, as well as purify the mixture into medicine that can be placed in syringes or vials.
"The goal is to replace an acre-sized plant costing a billion dollars and taking three months to ship out medicine," says Rao, "with a suitcase sized device" that can produce medicines where they are needed – be it a disaster zone, or a battlefield, or even a far-flung community.
----
Full Story at
http://magazine.umbc.edu/making-medicine-mobile/