May 2, 2017 by
Dinah Winnick
Now in its twenty-first year, UMBC's Undergraduate Research and Creative Achievement Day (URCAD) "attains a certain kind of maturity," but it's "thrilling to see that as it comes of age, it retains the brawling, restless energy that has always made it so special," shared Simon Stacey, interim dean and vice provost of undergraduate education, in his URCAD 2017 message to the university.
The vibrant scene that Stacey described is familiar to guests and each year's more than 250 student participants alike. It's palpable as soon as one enters the buzzing University Center Ballroom full of posters, or one of the many research lectures or performances featuring students sharing their work and their intellectual passions. "URCAD's contributors are doing serious, hard labor on important issues, but they do it with such spirit and vigor and joy," says Stacey.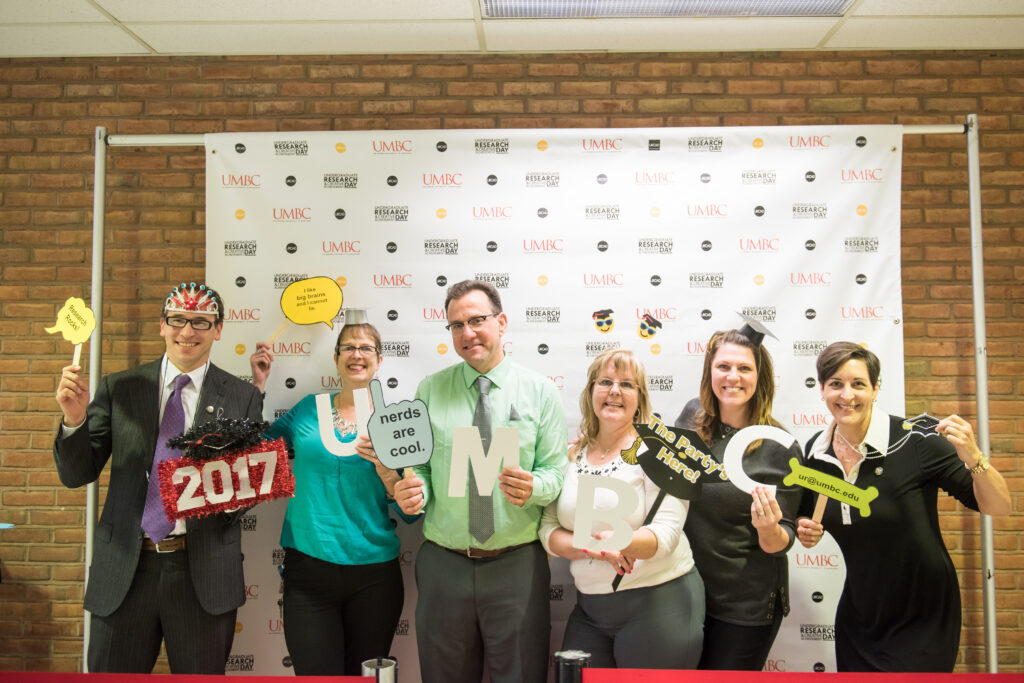 Some of the lead organizers and supporters of URCAD 2017, including Simon Stacey (left)


URCAD kicked off on April 26, 2017 with welcome remarks by Provost Philip Rous, with a special moment to recognize the Retrievers behind the UMBC Review, including editors Dylan Elliott '17, history, and Emily Huang '17, biochemistry and molecular biology, and graphic designers Amir Khatirnia '17, design, and Maryam Banyahmad '17, design, as well as faculty advisor Susan McDonough, associate professor of history, and arts director Guenet Abraham, associate professor of visual arts.

Poster sessions, exhibits, performances, film screenings, and research talks took place throughout the day, with a midday pause for Stacey's remarks and the introduction of 2017-18 Undergraduate Research Award (URA) Scholars.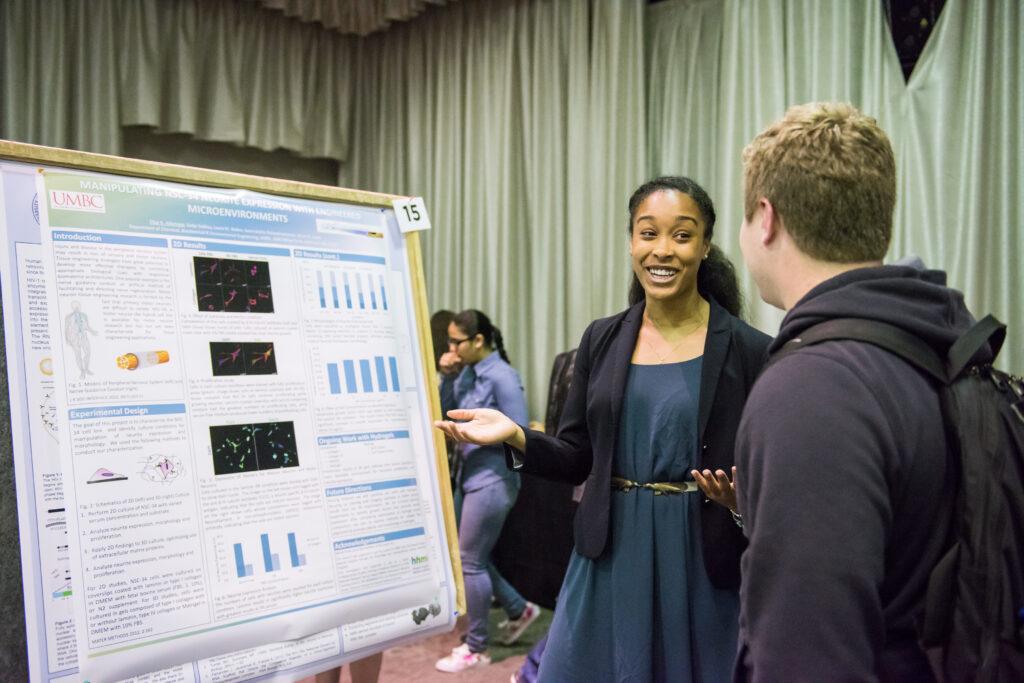 In addition to celebrating the announcement of 2017-18 URA Scholars, URCAD highlighted the work of 2016-17 URA Scholars like Elise Adamson '17, CBEE.


The noon hour also feature keynote by Michelle Margolis Chesner '06, history, who, as librarian for Jewish studies at Columbia University since 2010, is responsible for a significant collection of rare books and manuscripts. During her time at UMBC, Chesner completed a special collections internship in UMBC's Albin O. Kuhn Library, as well as a capstone research paper on very early Hebrew printed materials, which laid the groundwork for her future career.

The Power of Mentorship

Just as Chesner thanked James Grubb, professor of history, for supporting her early development as a researcher, students throughout the day recognized the impact that faculty mentorship has had on their early research experiences.

Aarti Shah '18, environmental science, works with Katherine Seley-Radtke, chemistry and biochemistry, on synthesized molecules whose flexibility makes them more effective at attacking Ebola. "You can tell she just really wants us to succeed," says Shah of Seley-Radtke. Abraar Muneem '18, biological sciences, spoke of working one-on-one with Daniel Lobo in his bioinformatics lab. Jaelyn Bos '17, geography and environmental systems (GES), who has investigated the effects of impervious pavement on invertebrate stream life with Matthew Baker, GES, is thankful that "Dr. Baker gave me a lot of open-ended assignments," to discover new things in her own way.

Scott Thompson '17, information systems, worked with Sreedevi Sampath, associate professor of information systems, to detect and block malicious visitors to websites. Thompson says that the research process has enabled him to determine what steps should come next in finding a solution to a problem without having continuous guidance. "It's more close to what I'd expect in the real world," says Thompson, who will work as a government contractor after graduation. "I'm not told what to do. I have to figure it out myself."

Eye on Impact

Students also reflected on the ways in which they hope their work will create positive change in the world. Samantha Durbin '17, GES, studied the complex relationships between storm size, strength, and storm surge in Atlantic hurricanes over the last 30 years. She and faculty mentor Jeff Halverson, GES, hope to eventually develop simple ways to share information with residents in a hurricane's path about both its strength and size, as their research revealed that large storms may cause major devastation even if their winds are not as severe as category 4 and 5 storms.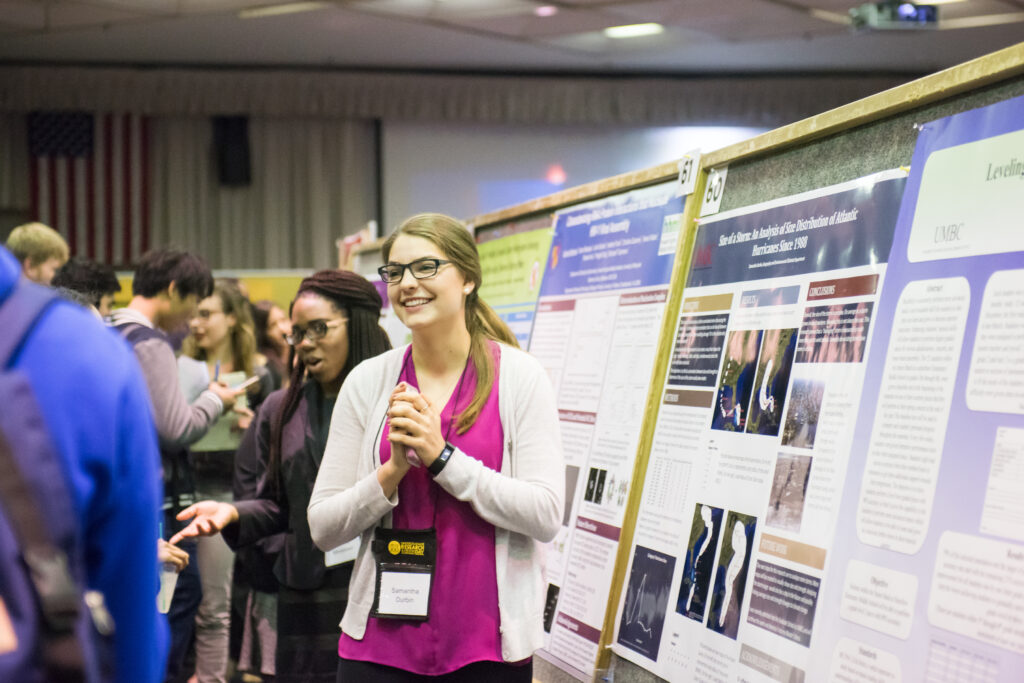 Samantha Durbin presents at URCAD 2017.


Samantha Furman '17, mathematics, contributed to improving cancer treatments through her summer internship at the Memorial Sloan Kettering Cancer Center. Her machine learning approach to analyzing microscope images of breast tumors may aid clinicians in identifying which patients will respond best to immunotherapy. "I want to apply my math and statistics skills to medical problems," she says, "so this was the perfect project for me."

Edward Hanson '19, computer engineering, worked with Jennifer Helgeson at the National Institute of Standards and Technology to develop a web program that can be used to determine the costs associated with planning for disasters such as forest fires and floods. NIST will continue to use the Economic Decisions Goal tool moving forward.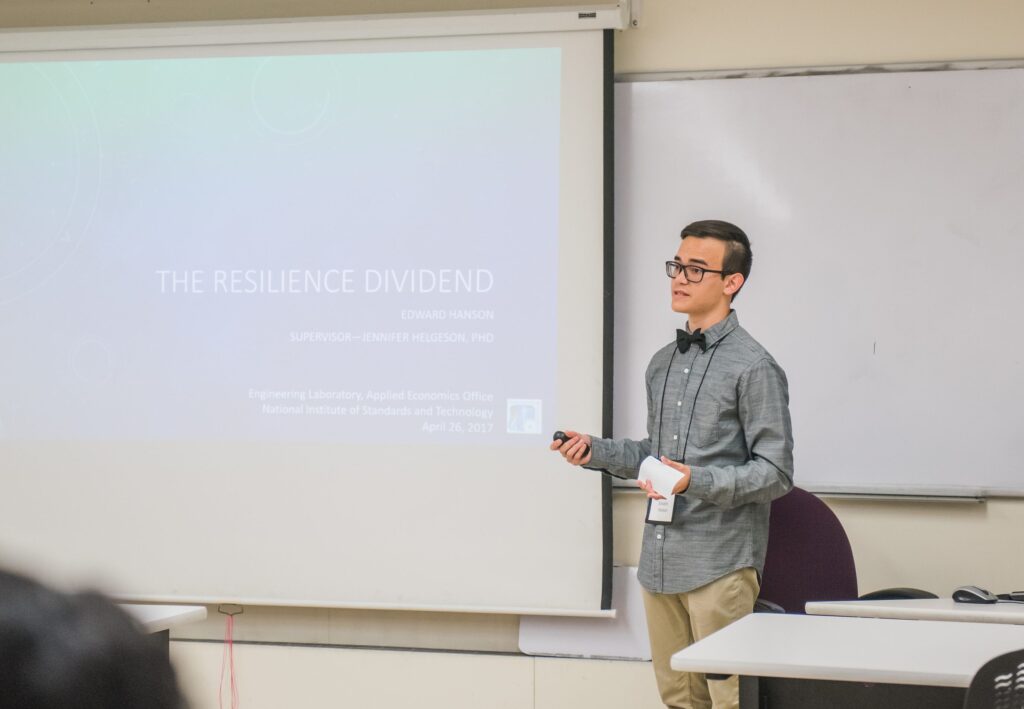 Edward Hanson presents at URCAD 2017.


Taylor Patrick '18, computer engineering, is working to create neural sensors and devices that can collect both chemical and electronic signals from the brain. In the Bioelectrics Lab, led by Gymama Slaughter, associate professor of computer science and electrical engineering, Patrick is developing small probes that can monitor cells' signals and responses, which could eventually help physicians diagnose neurodegenerative diseases, such as Parkinson's disease.

Chimdiya Onwukwe '18, biology, works with Erin Lavik, professor of chemical, biochemical and environmental engineering (CBEE), to study how nanoparticles can help promote blood clotting at the site of traumatic injuries. Onwukwu focuses on understanding the efficacy and potential side effects of these nanoparticles.

Collaboration Across Fields

Several student projects were fundamentally shaped by combining questions, research techniques, and knowledge from different fields.

An interest in public health led Sarah Pollock '17, biochemistry, to study attitudes about healthy homes for people with serious mental illness in psychiatric rehabilitation programs. While she continues her work in biochemistry, she is also now fascinated by understanding how U.S. health policy functions and how socioeconomic factors can create barriers to accessing healthcare.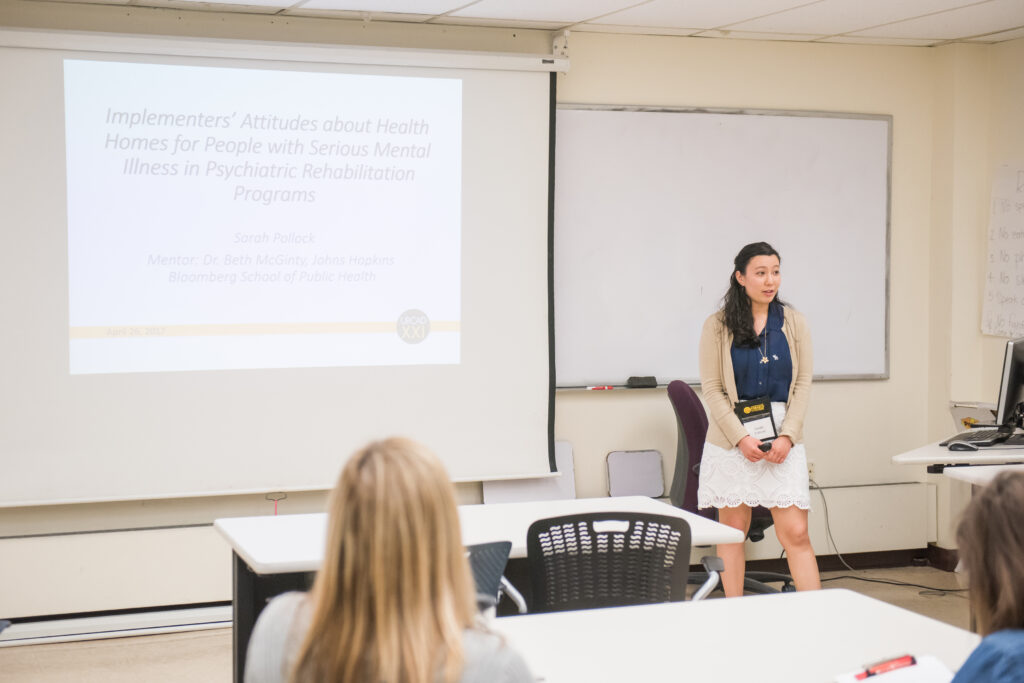 Sarah Pollock presents at URCAD 2017.


Rosa Rada '17, interdisciplinary studies, examined information flows in Maryland's food assistance programs, blending knowledge of policy, information systems, communications, and geography. Her presentation examined the limitations of current communications materials provided by Maryland food assistance programs, and highlighted a need to streamline information systems and policy to make food assistance programs more effective and equitable.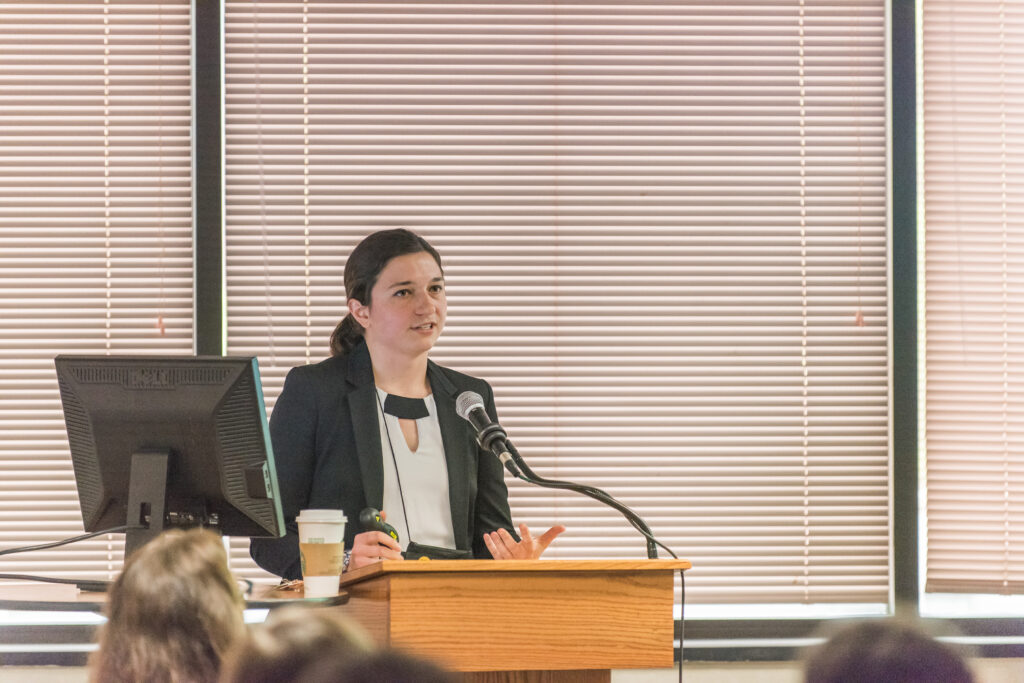 Rosa Rada presents at URCAD 2017.


Yun Zheng '17, media and communication studies, shared her analysis of the Asian pop culture phenomenon Mukbang—a portmanteau of Korean words for "eating" and "broadcast," which involves the act of eating large quantities of food in front of an internet audience. Zheng's research examines cultural factors such as body image and standards of beauty, as well as how political factors, such as one-child policies, influence social norms.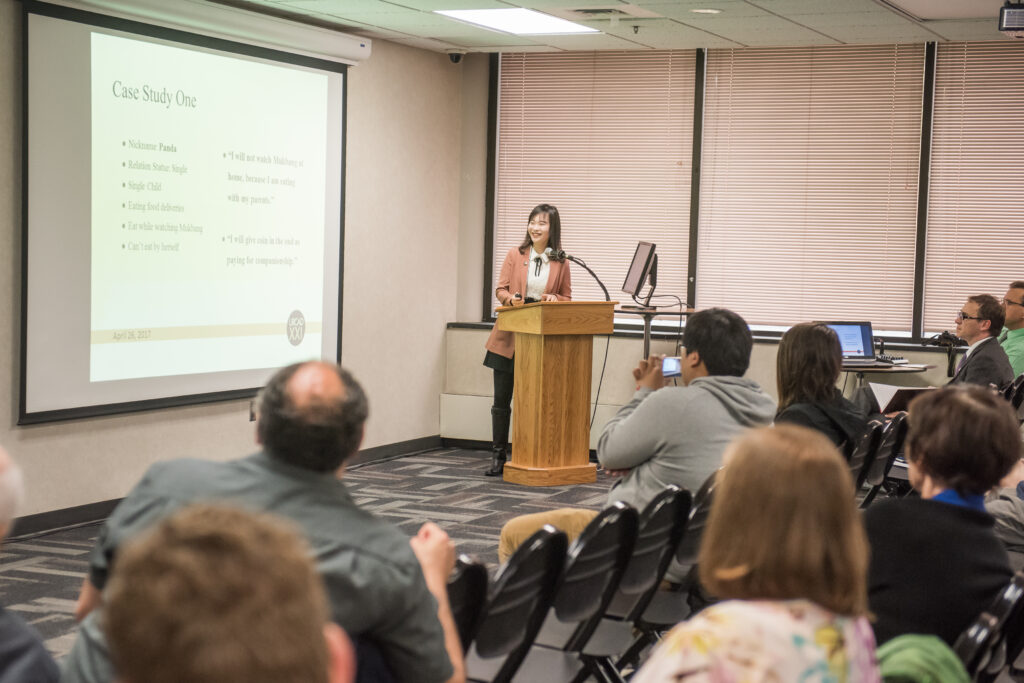 Yun Zheng presents at URCAD 2017.


Passion Projects

While students' excitement for their projects was apparent throughout the event, regardless of topic, some seemed particularly driven by a deep passion for fundamentally understanding different experiences and how things work.

Zachariah Thomas '17, music and music composition, presented "Composers-Performer Communication Methods in Contemporary Classical Music," examining the challenges that composers face in using traditional music notation to convey explicit meaning to performers. Using a recent chamber music piece as an example, Thomas spoke about his work with a music ensemble, and how feedback and observations from the performers' interpretations of the score helped him refine and clarify his notation.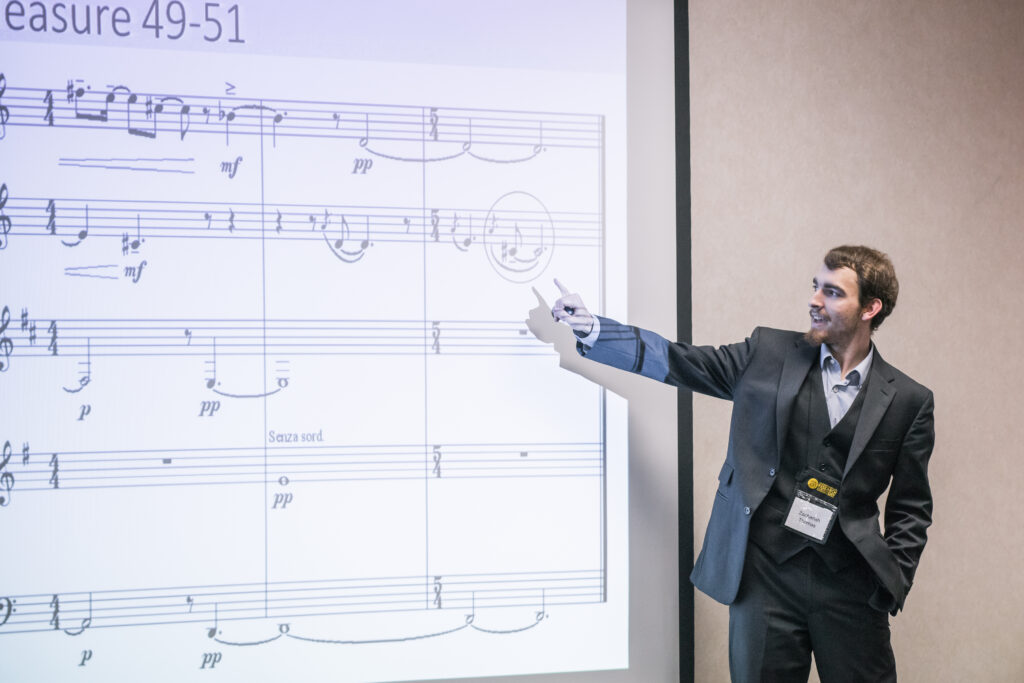 Zachariah Thomas presents at URCAD 2017.


Sean William Radaskiewicz '18, visual arts, presented "Station North: Homelessness and the Individual," a series of striking photographs of people experiencing homelessness in Baltimore's Station North area. Radaskiewicz will install posters featuring his photos and captions from interviews with each subject in Station North and throughout Baltimore.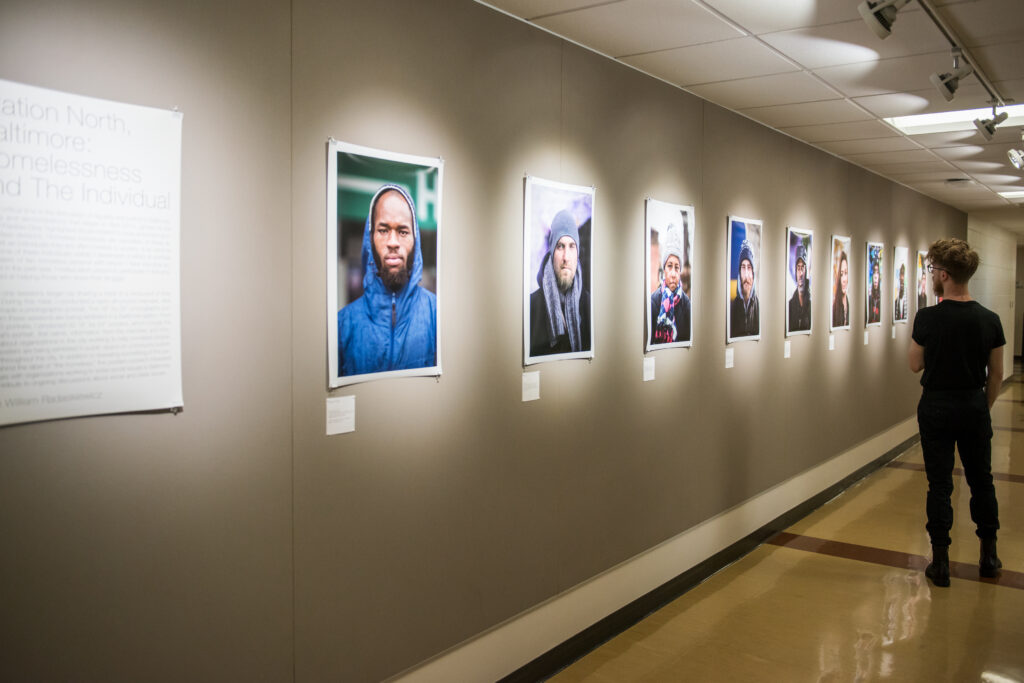 Sean William Radaskiewicz's exhibit at URCAD 2017.


Fellow artist Stephen Dan '17, dance, presented "East vs. West," a dance quartet for four women that incorporated hip hop dance styles that Stephen learned on the west coast as well as a wide variety of dance forms he has studied at UMBC.

Working in basic research at vastly different scales were Sigfredo Soto-Diaz '17, physics, and Khizra Ehsan '17, biochemistry. Soto-Diaz has developed a new model for the structure of jets streaming from black holes in Eileen Meyer's astrophysics lab. "Modeling helps us understand the cause of these jets, and better understand physical phenomena in space overall," he explained. Meanwhile Ehsan is helping to develop and refine a technique for inserting proteins into lipid bilayers, which make up cell membranes, in Ryan White's biochemistry lab. Certainly, the work has potential future applications, but at this stage, says Ehsan, it's "just really interesting."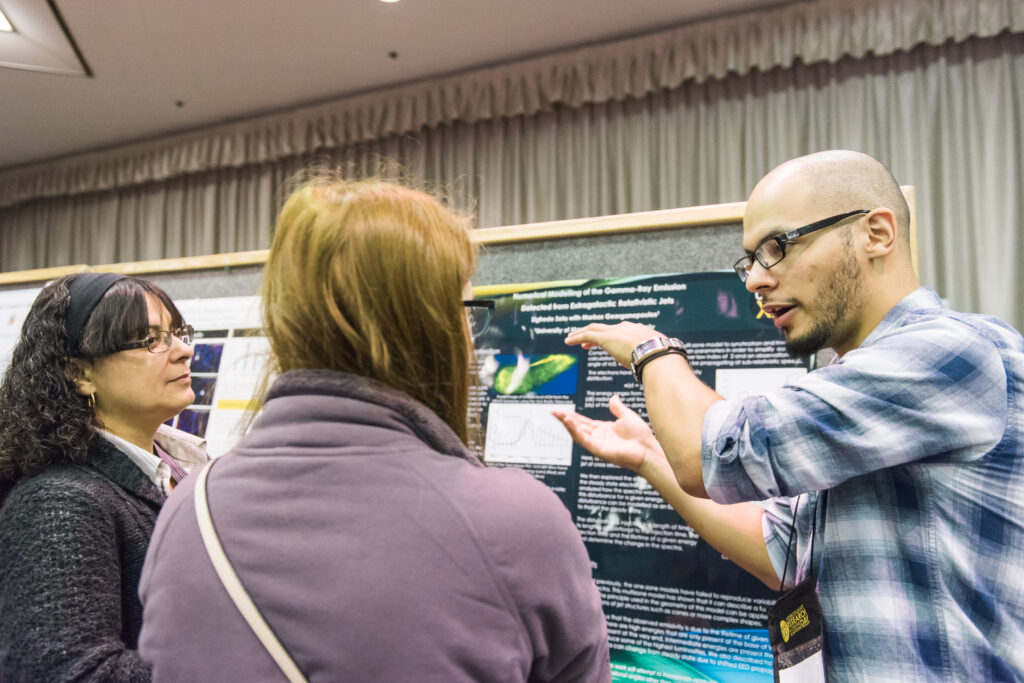 Sigfredo Soto-Diaz presents at URCAD 2017.


Whether students are focused on basic research, immediate applications, or something in between, Simon Stacey explains that this stage of the scholars' growth is all about asking compelling questions. Because UMBC undergraduates are asking such complex, difficult questions this early in their careers, says Stacey, "we all stand such a good chance of seeing their questions, both today's and so many more, answered in the years to come."

Header image: URA Scholar Georgina Stephanie '18, CBEE, presents "Analyzing the Dynamics of Intracellular Trafficking and Processing of Lipid-tailed Peptides in Immune Cells." All photos by Marlayna Demond '11 for UMBC.