June 2, 2017 by
Dinah Winnick


The Retriever community came together late last week to celebrate UMBC's final spring commencement in downtown Baltimore's Royal Farms Arena. Two decades after outgrowing its original campus home, the ceremony will return to Hilltop Circle next year, taking place in the new Retriever Events Center that will open in late 2017.
Both the undergraduate ceremony on May 25, and the graduate ceremony at UMBC on May 24, featured inspiring reflections from accomplished students and thoughtful advice from honored alumni. The festivities embodied a close-knit community feeling even as they invited thousands of family, friends, faculty and staff, both present and tuning in through a live webcast, to join in celebrating the graduates' achievements.
Valedictorian Daniel Ocasio '17, chemical engineering, shared in his moving remarks what made the difference in his college experience.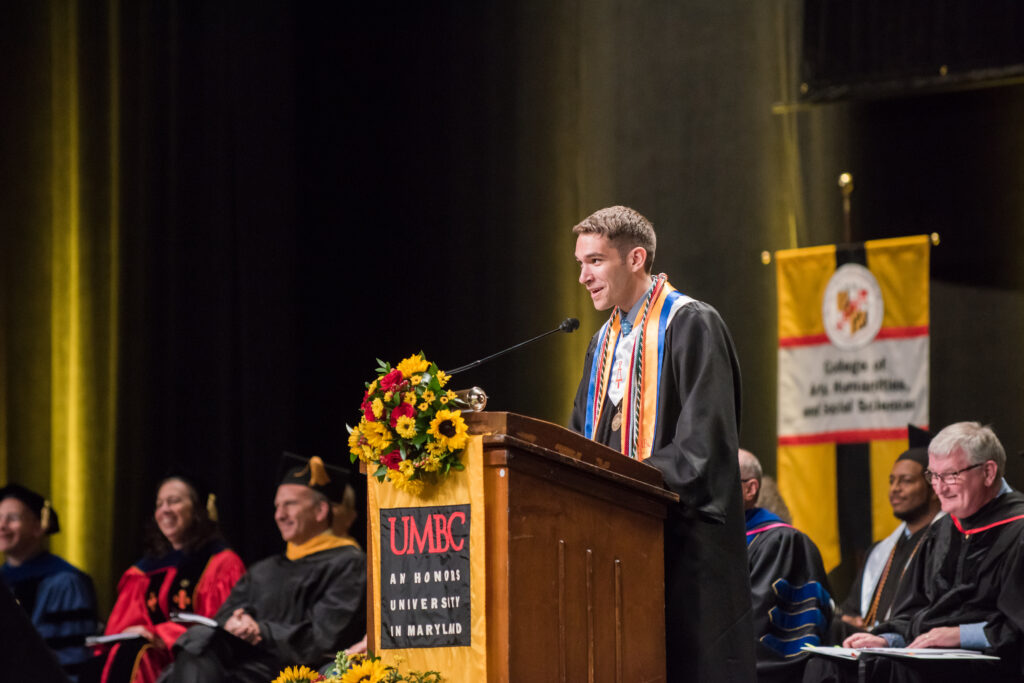 Daniel Ocasio delivers the valedictorian's address.

Ocasio told his fellow undergraduates, "as a first generation college student and Latino in STEM, I sometimes felt out of place and doubtful of my own abilities. The lack of representation of people from backgrounds like my own in my field has made it difficult for me to envision myself succeeding in it." But through connecting with supportive mentors and fellow students, he was able to counter that self-doubt with a clear vision of his future.
Ocasio reflected:
…the diverse community at UMBC has helped build my personal confidence and given me hope for the future of the global workforce. At UMBC, people from all over the world, every race, every socioeconomic background, cooperate — not just exist together, but really work together — to better themselves and each other through education. Through mutual support and encouragement, my peers and mentors helped me envision myself not only succeeding in my field, but being a leader in it.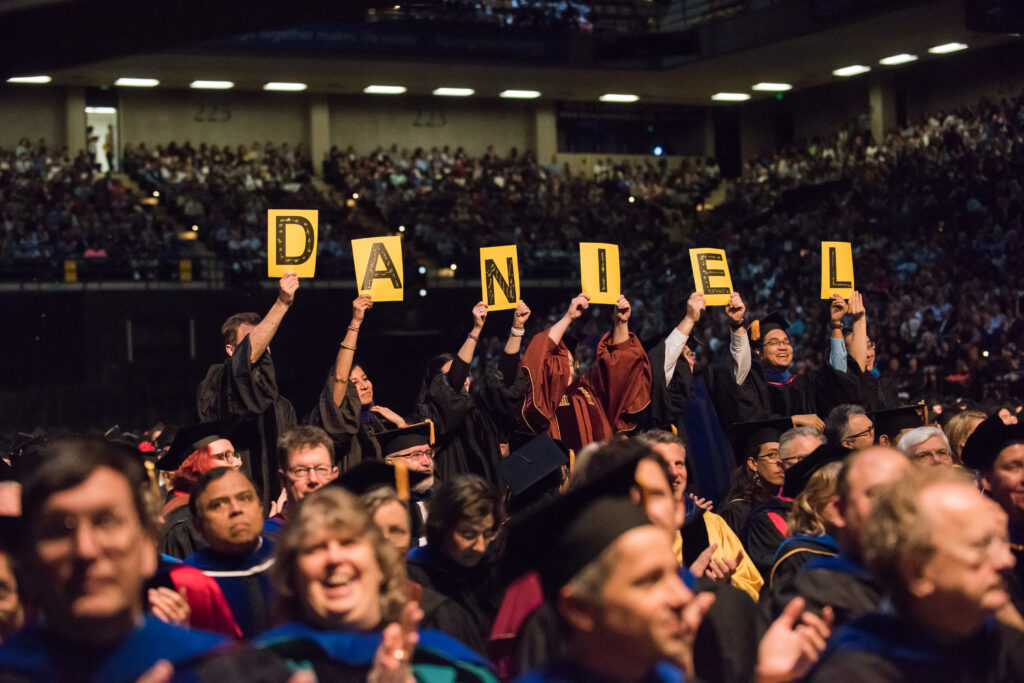 Valedictorian Daniel Ocasio's professors cheer him on as he takes the stage.

Ocasio also described how found his passion for improving access to clean water worldwide, which has set him on a path to pursue a Ph.D. in environmental engineering from the University of California, Berkeley. Speaker Stephanie Hill, who received an honorary doctorate of public service for her deep and longstanding commitment to mentorship, picked up on this idea of identifying your passion in her own remarks.
Hill '86, computer science and economics, is now the vice president and general manager of Lockheed Martin's Cyber, Ships and Advanced Technologies (CSAT) line for Rotary and Missions Systems. Speaking directly to students who may not yet have a clear sense of their career path or intellectual passions, she told graduates:
Focus on infusing purpose into each day of your life, because when you do that you can truly make a difference. […] Remember that purpose does not choose you, you choose it. […] We can all be that beacon of light that helps someone to be better than they are…to do better than they would have done.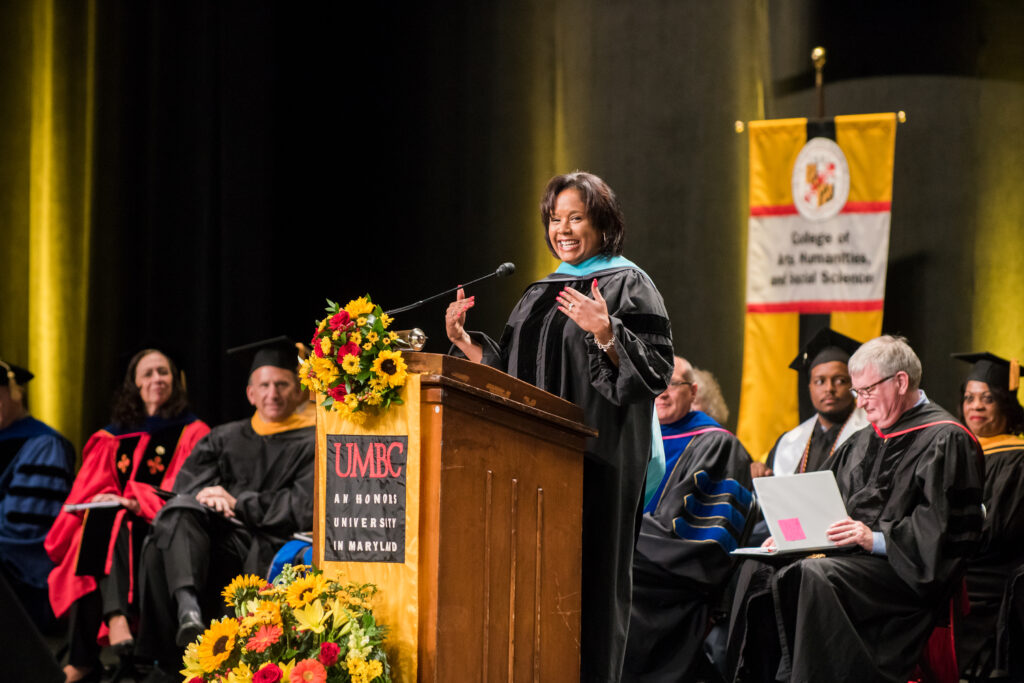 Stephanie Hill speaks during the undergraduate ceremony.

Hill also spoke of how proud she was when her own daughter recently graduated from UMBC, a community that embodies the core values of "diversity, excellence, and community." She shared, "Each time I have the privilege to return to my alma mater, it's really like coming home."
UMBC's graduate commencement ceremony also featured personal, heartfelt advice from another UMBC alumnus who is now a global leader in research and technology. Ralph D. Semmel, '92, computer science, director of the internationally-renowned Johns Hopkins University Applied Physics Laboratory (APL), spoke of appreciating what we can each uniquely offer the world after receiving an honorary doctorate of science.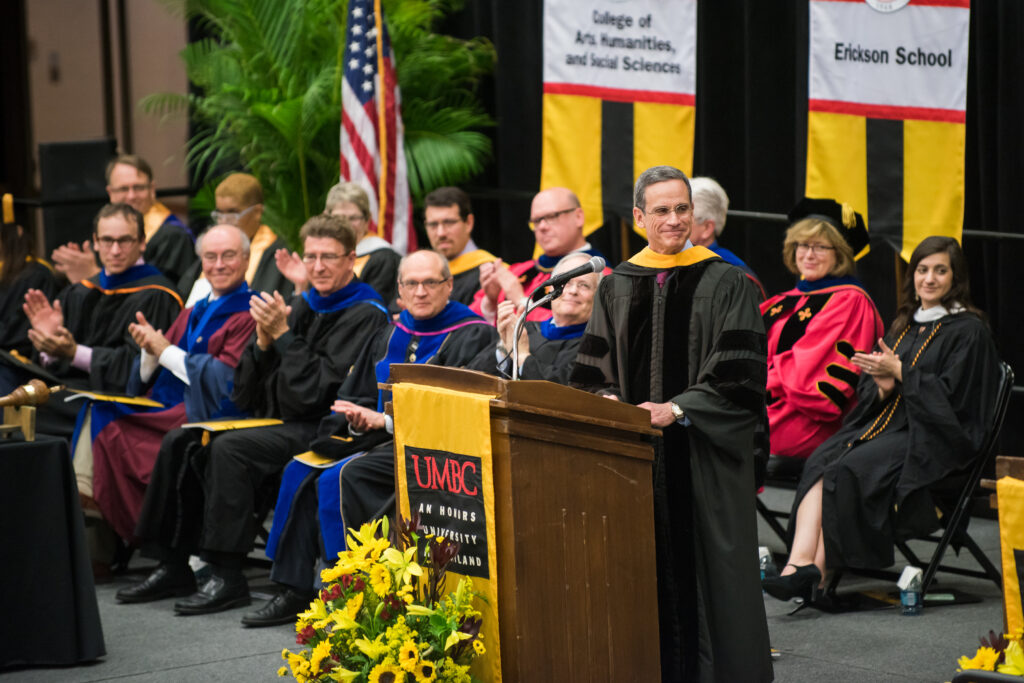 Ralph Semmel speaks during the graduate ceremony.

Reflecting on how he came to value his own unique strengths, and even eccentricities, Semmel told graduates, "Keep striving. Keep learning…Keep nurturing your gifts and your uniqueness…for yourselves…your communities and the world."
Semmel also spoke of his faith in the graduates' values and motivations, and how those factors directly impact what it is possible to achieve in one's career. "At the core of doing great things is doing the right thing, which requires unquestionable integrity," said Semmel. "Reach beyond the good enough answer and aspire to the great." After all, he told the graduates, "If you wanted it easy, you wouldn't be here today."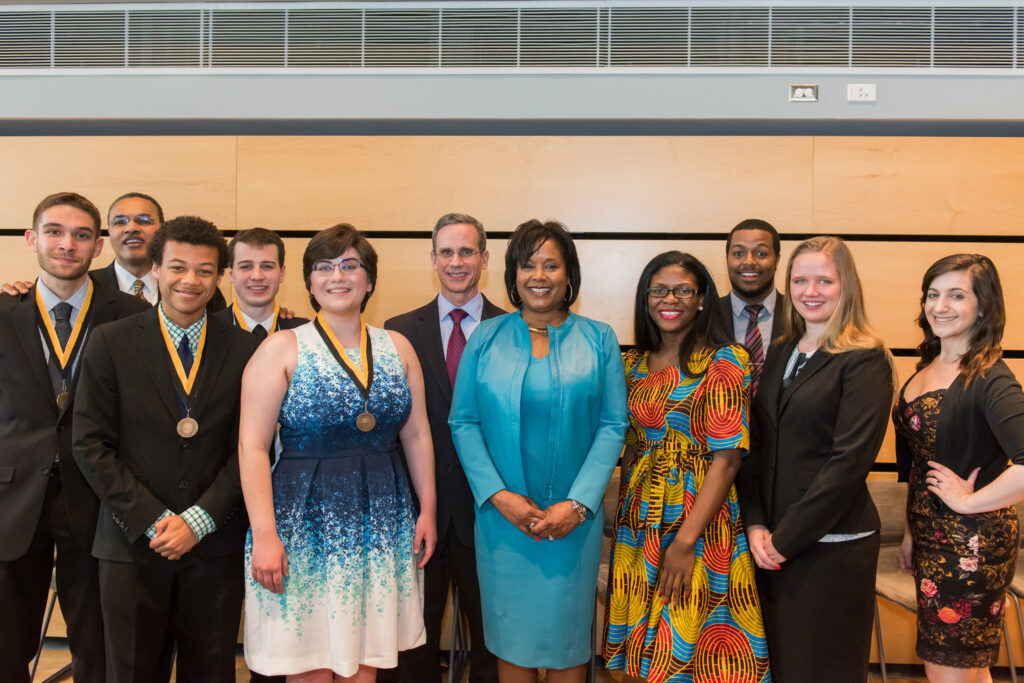 L-R: Ocasio, President Hrabowski, valedictorian finalists, Semmel, Hill, and UMBC student leaders at a reception recognizing the honorary degree recipients.

During each ceremony, President Hrabowski asked for a moment of silence and reflection "for eradicating hatred from humankind," in recognition of people who have recently lost their lives to acts of violence in Maryland and worldwide.
President Hrabowski also took time to honor graduating students who will pursue careers in social work and teaching, and encouraged guests to view the personal stories of 34 Retrievers from the Class of 2017 highlighted for their academic excellence and for demonstrating a commitment to a greater good through research, scholarship, creativity, and work with underserved communities.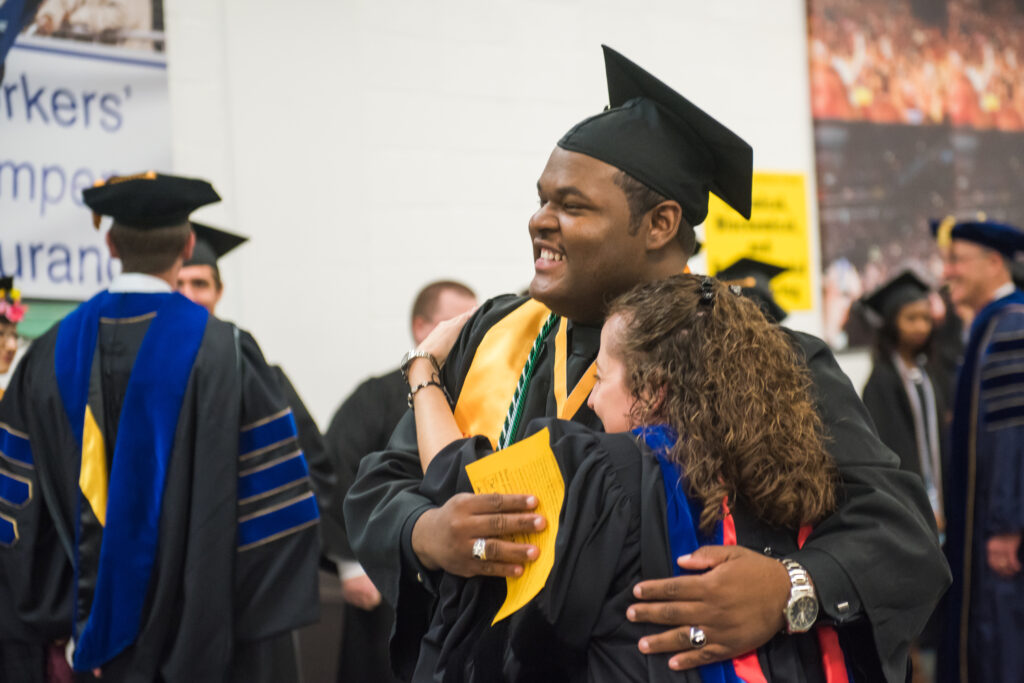 Tara Carpenter, senior lecturer in chemistry, congratulates Da'Kuawn Johnson, highlighted in UMBC's Class of 2017. He'll next pursue an M.D./Ph.D. at the University of Maryland, Baltimore.

Even as he highlighted several students for particular accomplishments—graduating with a perfect GPA or receiving a Fulbright fellowship—President Hrabowski also reminded the thousands of friends and family members in the audience that, "Each student here has a wonderful story."
As an example, picked up by The Baltimore Sun, he shared the story of Heather Frank '17, biochemistry and molecular biology. The first in her family to receive a bachelor's degree, Frank has already published her research on the HIV genome and will pursue a Ph.D. in biochemistry at Harvard University. Reflecting on her time at UMBC recently, Frank put it simply, "The environment here provided me all the opportunities so I could become my best self."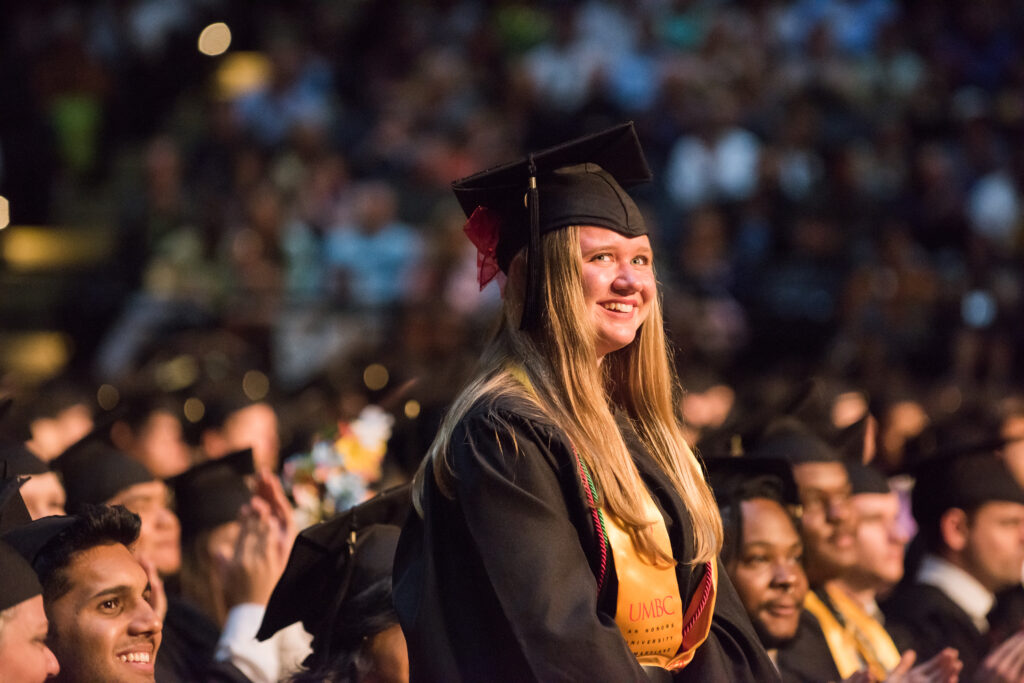 Heather Frank stands during the undergraduate commencement ceremony.

President Hrabowski's full remarks, as well as those of the honorary degree recipients; valedictorian; Graduate Student Association President Deanna Cerquetti, Ph.D. student in language, literacy, and culture; and others are now available through UMBC's commencement ceremony videos (full captioning coming soon).
Undergraduate Commencement Ceremony:

Graduate Commencement Ceremony:


Graduates and those cheering them on can share memories, well wishes, and photos through #UMBCgrad, and view UMBC's Facebook page, Instagram, and Twitter accounts for coverage of the festivities. Media coverage of UMBC's spring 2017 commencement ceremonies is available in The Baltimore Sun and Catonsville Times.
Header image: Professor Tim Nohe congratulates Melissa Cormier upon receiving her MFA degree. All photos by Marlayna Demond '11 for UMBC.