The COEIT Celebration has quickly become a defining annual event for the community of faculty, staff, and students in UMBC's College of Engineering and Information Technology (COEIT). The celebration showcases the achievements of COEIT's numerous highly active student organizations and senior capstone projects. It's also an opportunity for COEIT Dean Keith J Bowman to reflect on the year and to honor those whose work has been essential to the College's impact and growth.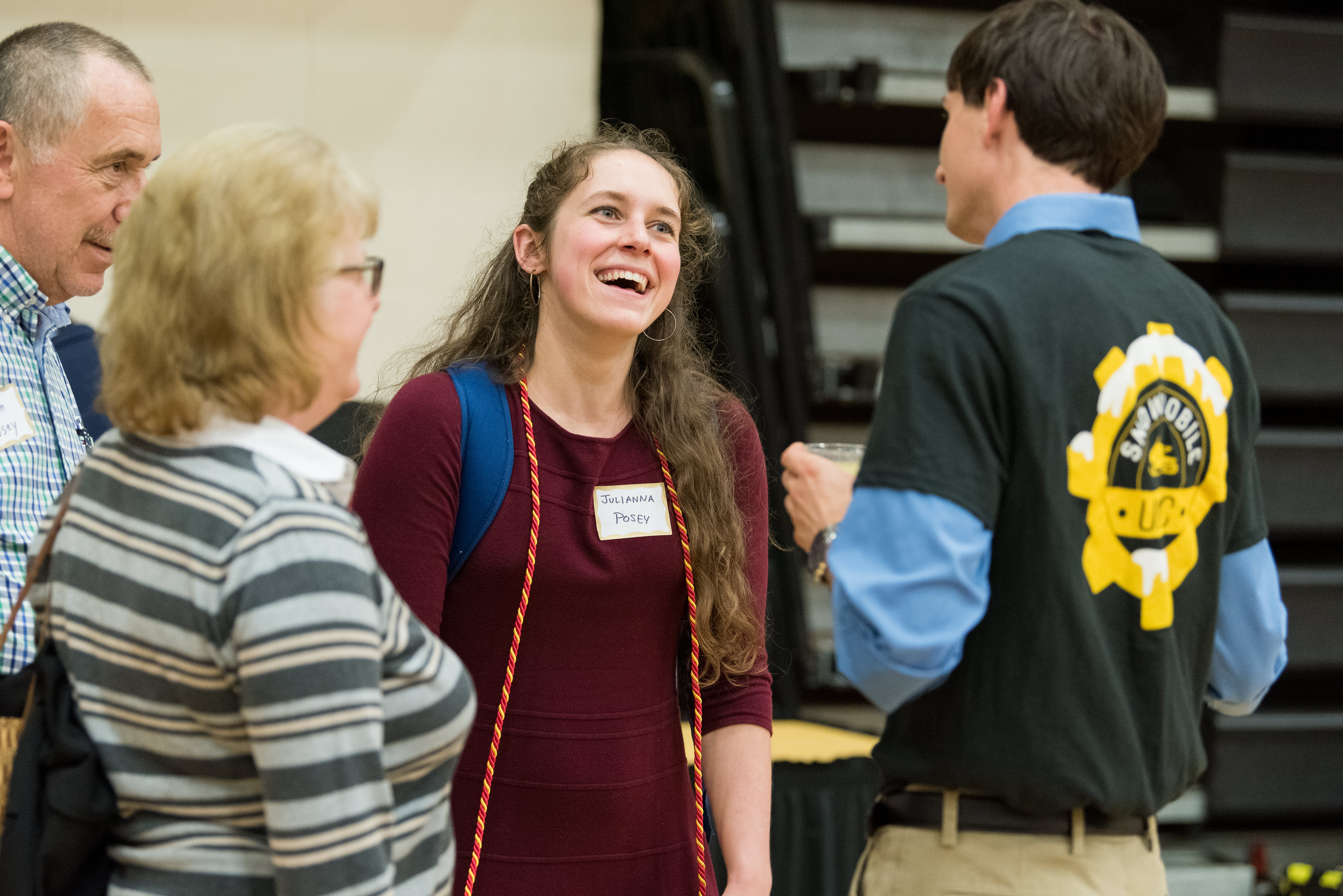 Julianna Posey '19, mechanical engineering, a Center for Women in Technology Scholar.
Throughout the year, innovative research and strong teaching have contributed to student success, and have also helped faculty establish new connections and opportunities. "The COEIT Celebration allows our community to acknowledge the tremendous accomplishments of our faculty, students, and staff at all levels," Bowman says.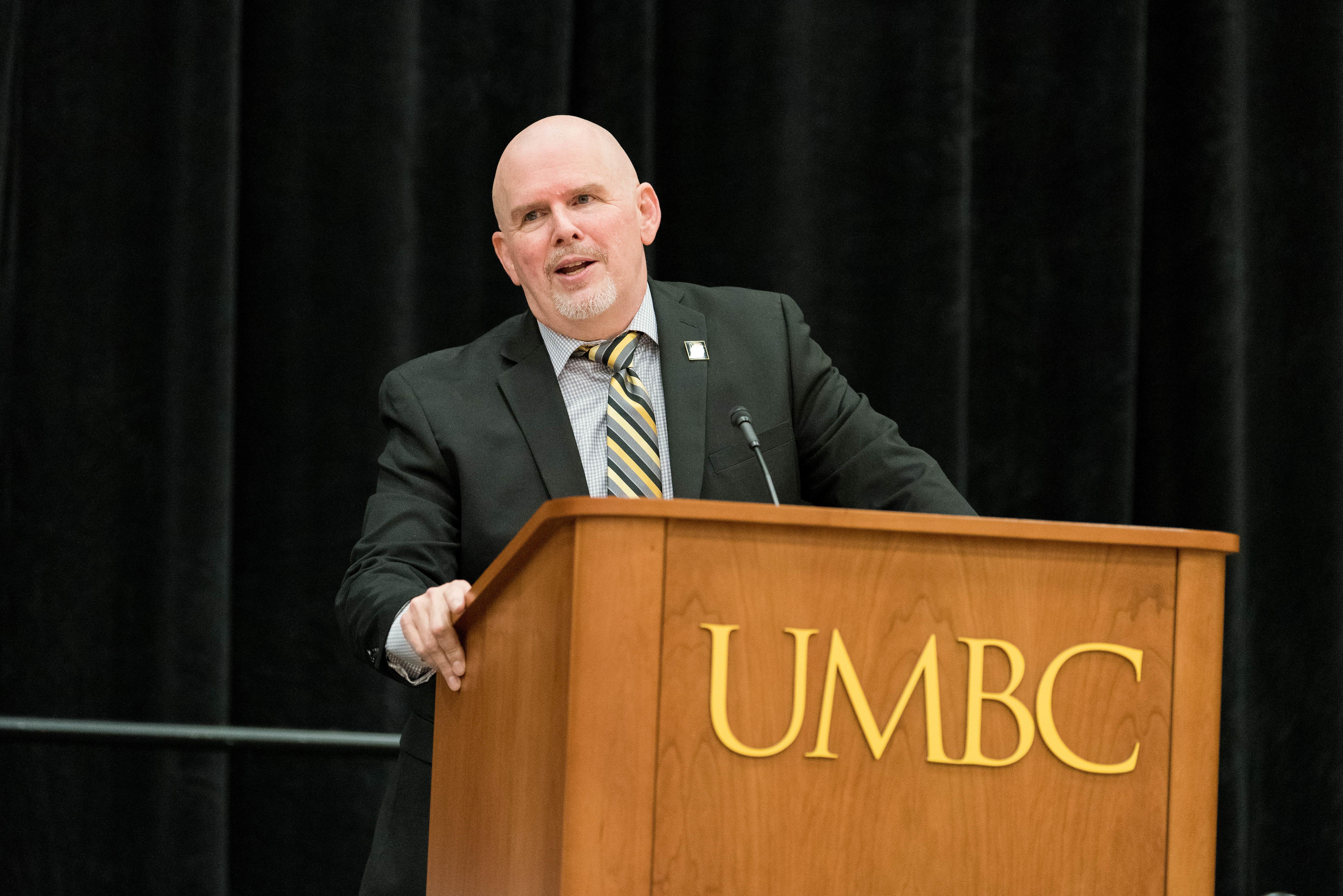 Dean Keith Bowman delivering remarks at the COEIT Celebration.


Student achievements
Each academic program recognized students who have demonstrated strong leadership during their time at UMBC.
Noah Owens '19, information systems, and Michael Piccinini '19, information systems, with faculty from the department.
Information systems recognized Victor Cho and Musarrat Khan as Superior Students. Noah Owens and Michael Piccinini, both in business technology administration; computer science's Aditya Kaliappan; and Edward Hanson, computer engineering, received Student Leadership Awards. Chemical, biochemical and environmental engineering (CBEE) recognized Elizabeth Tan and mechanical engineering honored Shannon Clancy with Student Leadership Awards as well.
Edward Hanson at the COEIT Celebration.
Two departments also presented special named awards. Information systems honored Jana Burns with the Vijay Jose Award for exceptional involvement in student life. CSEE presented Emily C. McGovern with the Manoharshyam Joshi Award for a computer science student who has demonstrated exemplary achievement in a multitude of areas across academics, service, and leadership.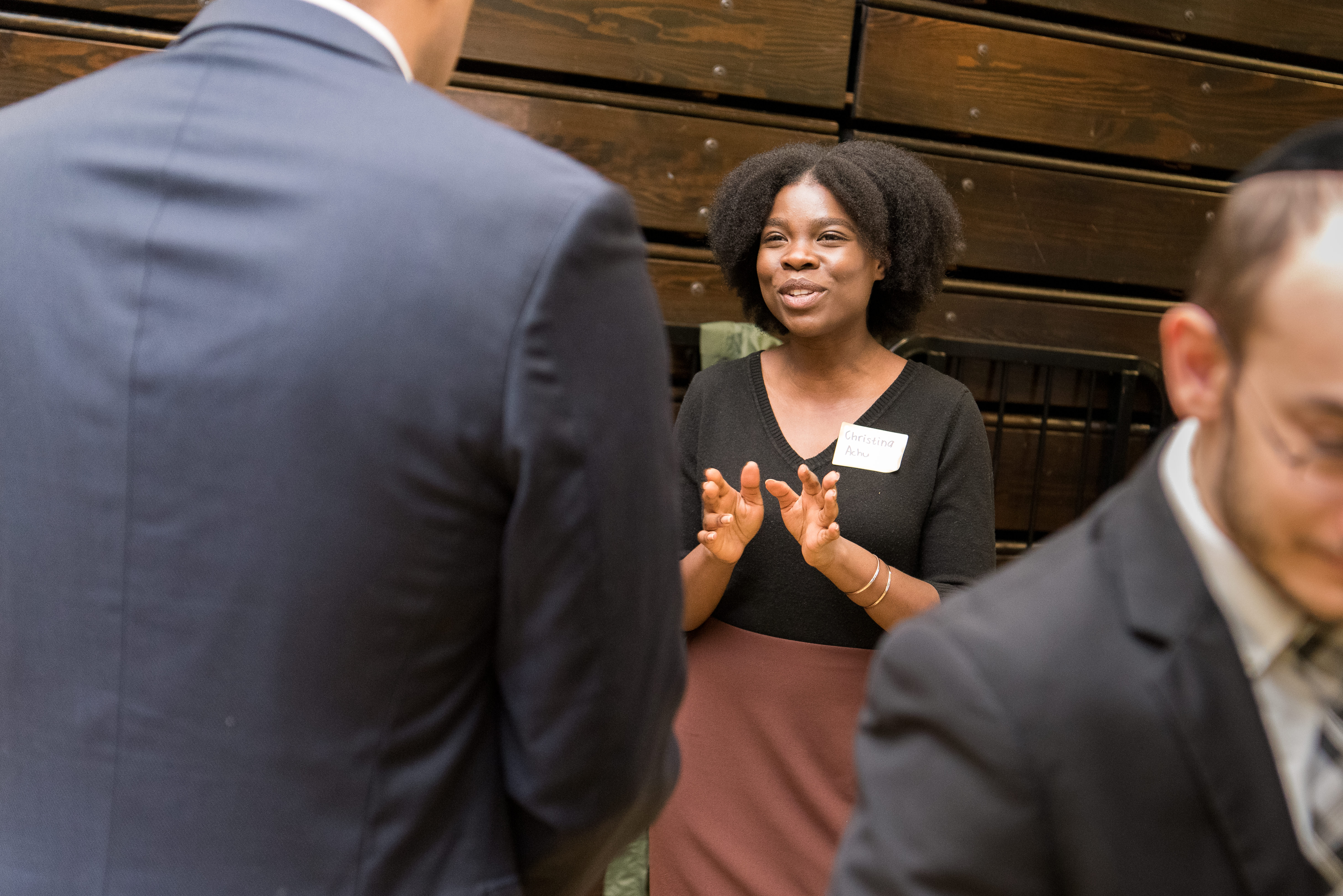 Christina Achu '19, mechanical engineering. 
Beyond these specific awards, the College and Provost's Office recognized nearly a hundred graduating seniors for their outstanding achievements in academics and research.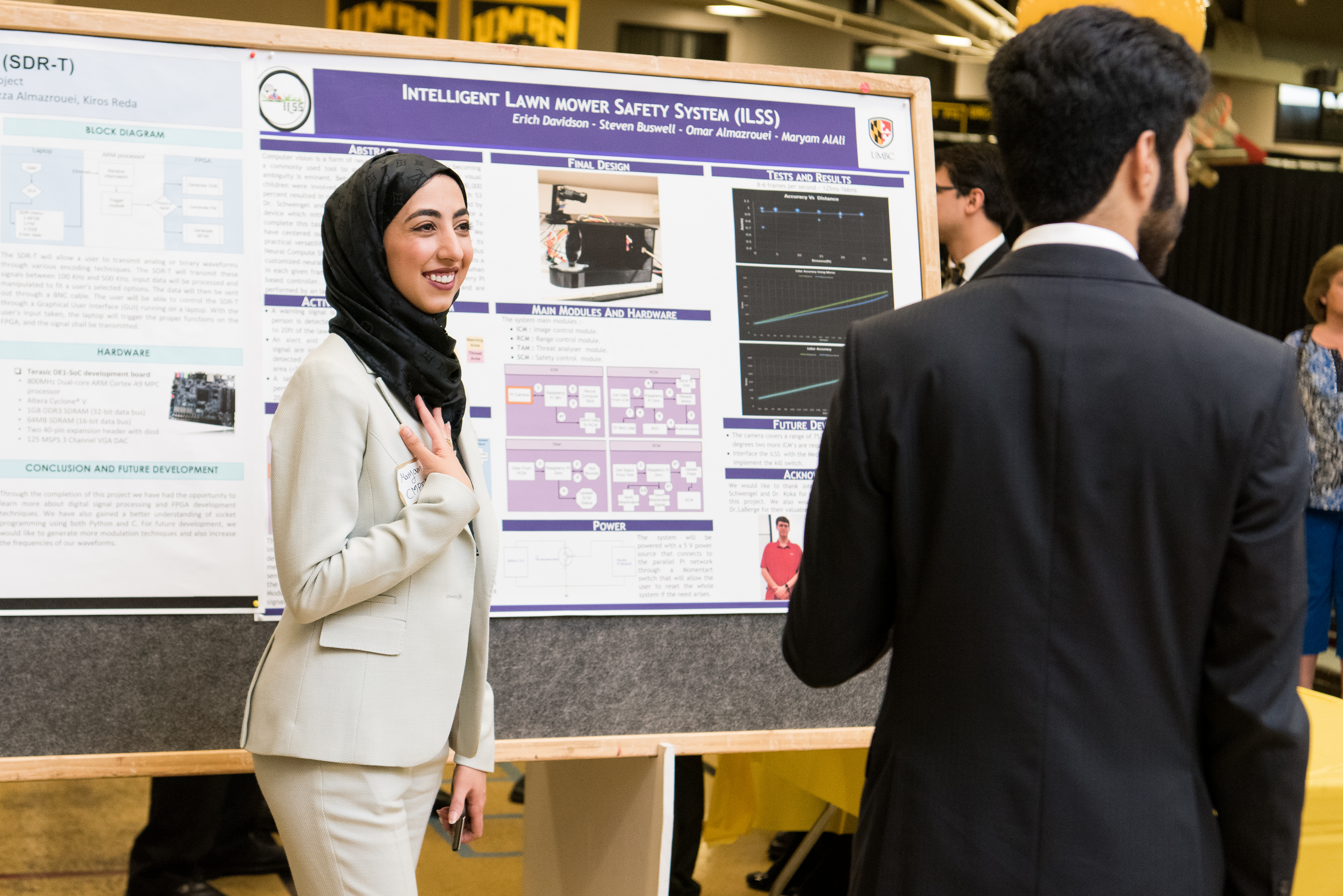 Maryam AlAli sharing her work at the COEIT Celebration.


Faculty and staff honors
During the COEIT Celebration, the Provost's Office presented five COEIT faculty members with awards for their commitment to excellence. Jeffrey Ray, a graduate faculty member in the systems engineering program through the Division of Professional Studies, and William Ryan, an adjunct faculty member in information systems, received Adjunct Faculty Excellence Awards.
Jianwu Wang, assistant professor of information systems, received the Early Career Faculty Excellence Award, and Carolyn Seaman, associate professor of information systems and interim director of UMBC's Center for Women in Technology, was presented with the Mid-Career Faculty Excellence Award. During the Celebration, Mariajosé Castellanos, senior lecturer in CBEE, was recognized for her innovative pedagogical approach with the Excellence in Teaching Award.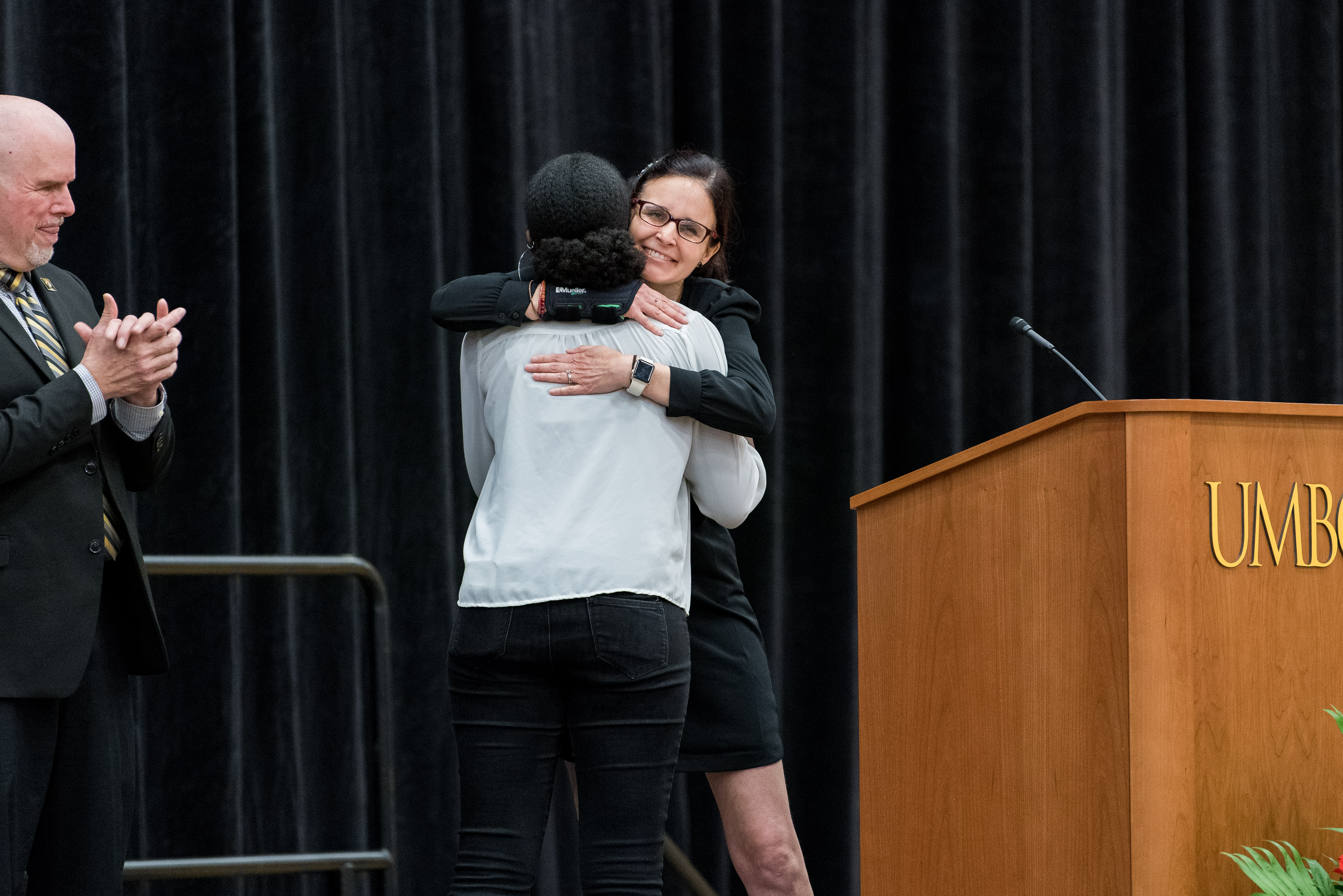 Mariajosé Castellanos, CBEE senior lecturer and undergraduate program director
The COEIT Dean's Office also honored staff members for their dedication and service. Joshua Abrams, assistant director and advisor of COEIT's Undergraduate Student Services; Lina Chung, program management specialist in information systems; and Michael Frizzell, engineering technician in CBEE, were recognized with 2019 Staff Awards for Superior Service.
"The COEIT Celebration is a day of fun for students, faculty, and staff. It is truly a celebration, and a chance for graduating students to share the festivities with family, friends, and mentors," says Catherine Bielawski, assistant dean for undergraduate student services in the College. "This annual spring event exposes underclassmen to the breadth of opportunities offered at UMBC."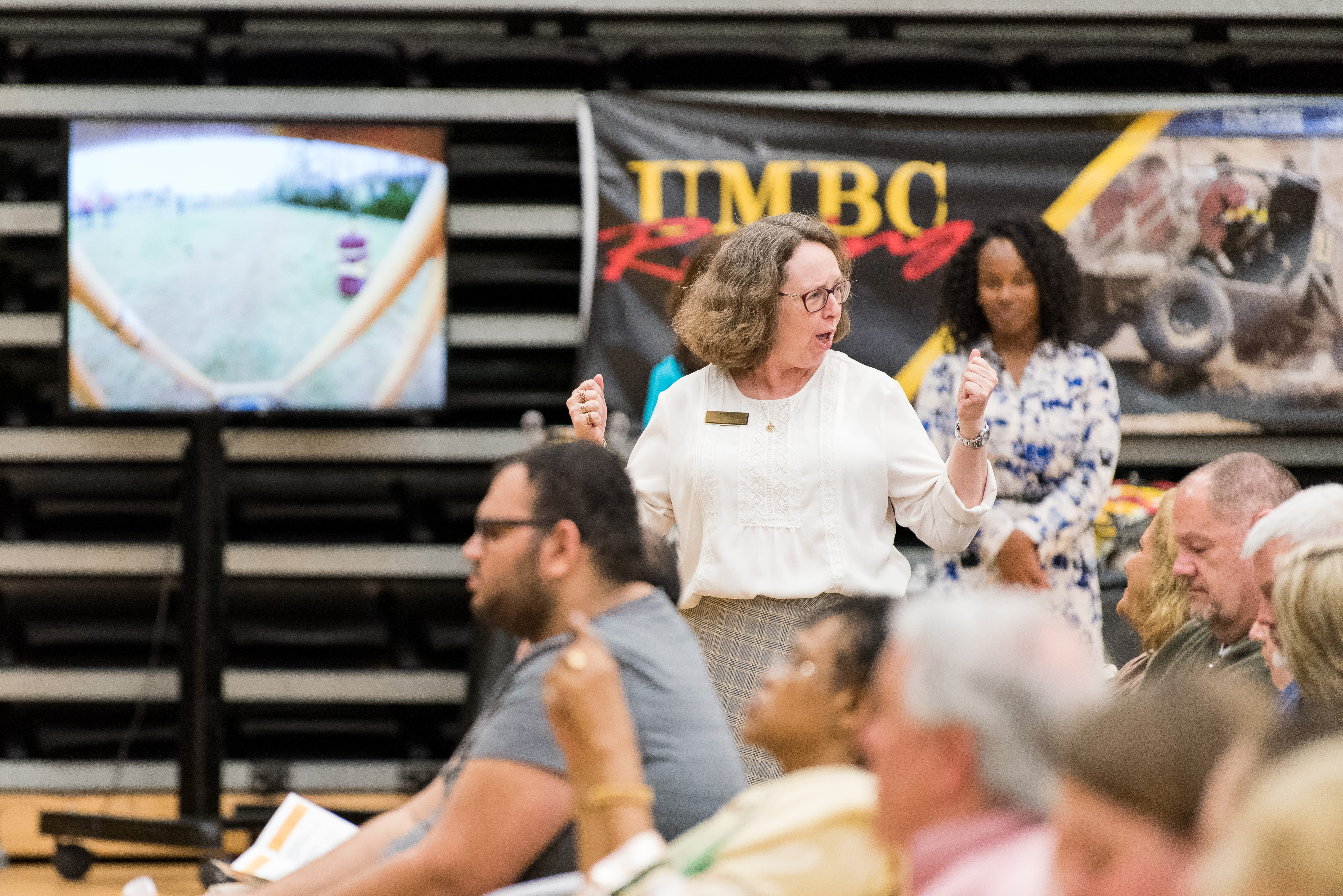 Professor Carolyn Seaman cheers on award recipients at the COEIT Celebration.
Read more stories of COEIT student achievement on UMBC News, on students who have had transformative study abroad experiences; who have created their own highly unique UMBC paths; who have found inspiration in their life experiences; and who have come to UMBC from abroad and found meaningful personal connections on campus.
All photos by Chris Ferenzi Photography.