August 30, 2019 by
UMBC News Staff


The start of the school year is invigorating for the whole university community, whether you're starting your first year in college, transferring from a different institution, or gearing up to teach for the tenth year. And UMBC is channeling all that energy in classic Retriever ways.
Inflatable games in The Commons, a petting zoo on Erickson Field, food trucks everywhere—nothing says Welcome Week like a campus filled with activity. New students also have opportunities to reflect on what they hope to experience and achieve as college students, as well as learn about the foundational principles that are essential for our campus community to thrive.
Each student has a story
"We received a record number of applications this year, and the class of 2023 has all the strong academic credentials we've grown to expect at UMBC," says Dale Bittinger '16, M.P.P., assistant vice provost of undergraduate admissions, orientation, and school partnerships. "But even though you might start with the class's numbers, it goes far beyond that. The students' stories make the foundation of the class's greatness."
Hailing from 28 states and 31 countries, the incoming class of 2023 is eager to join in the unique community UMBC fosters among students. "UMBC has always been on my mind," says Samiksha Paudel, biology. "I think it's the best fit for me because of the size and the sense of community."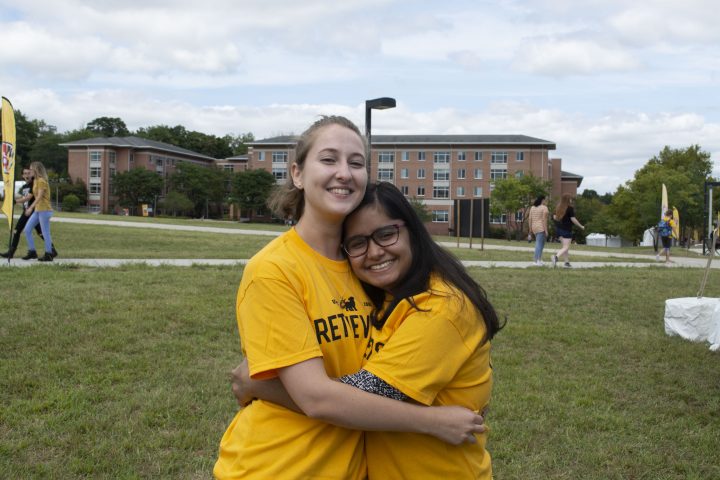 Paudel hugs a newfound friend, Erica Doerrter, pre-nursing. Photo by Kennedy Lamb '20.

"I chose UMBC because I heard that it's cool to be a nerd here," adds Natalie Davenport, psychology, "and so far, I haven't been disappointed."
Before gathering to take the annual class photo, Davenport stands in front of The Commons. Photo by Kennedy Lamb '20.

Warm welcome from leaders
At Convocation ("a calling together" from Latin, as President Freeman Hrabowski pointed out), leaders of the campus community welcomed new students as fellow Retrievers. He encouraged them to take risks while also reminding them that they are in control of their destiny.
He also emphasized the principles that make Retriever Nation such a special place to grow and learn. He noted, "We value treating others with respect, standing against any kind of prejudice, and speaking out with courage about what is right and wrong."
SGA President Vrinda Deshpande affirmed that failure happens—it's trying new things that is so important.
At the annual Fall Opening Meeting for faculty and staff, students reminded them of their mission at UMBC. Incoming student and Honors College member Zinedine Partipilo Cornielles fled Venezuela with his family and settled in Howard County in pursuit of stability and access to education. He shared that during his time in high school, all he heard about was UMBC.
"When I first stepped on campus, I felt overwhelmed. Not just because of what college represents in everyone's lives, but also because of how incredible the school was," said Partipilo Cornielles. "I was able to see how there were so many opportunities for everyone."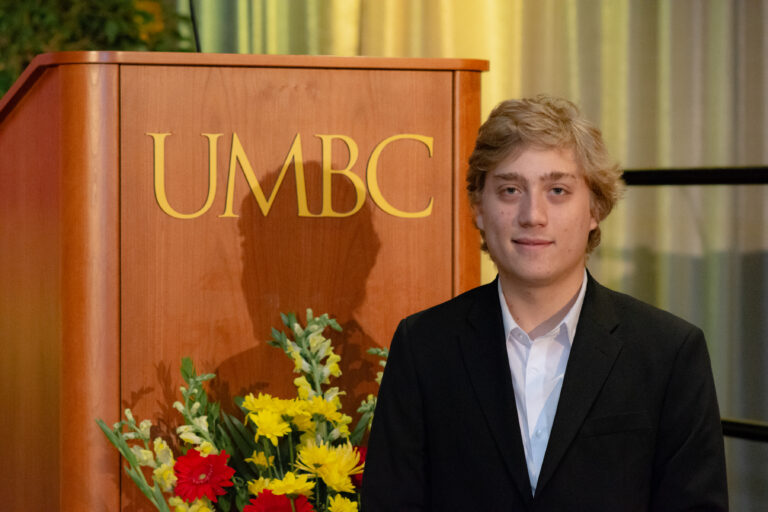 Zinedine Partipilo Cornielles at UMBC's 2019 Fall Opening Program. Photo by Arionna Gonsalves '19.

President Hrabowski ended the event with a brief version of his State of the University report and the familiar words attributed to Aristotle: "Choice, not chance, determines your destiny." He then added an addendum, saying that recently a colleague had pressed him, asking, what if someone doesn't have the chance to have a choice? "The nobility of what we do," answered President Hrabowski, "is that we are creating opportunities for so many people to have that chance to make a choice."
Campus is growing for students
Soon came the first day of classes. New and returning students walked through the doors of the Interdisciplinary Life Sciences Building (ILSB) for the first time, glimpsing bold colors and high tech classroom and lab spaces. With anticipation, they patiently stood in line to try the new line up of halal meals in The Commons and relaxed in True Grit's updated dining hall, reconnecting with friends. Others enjoyed walking across the fresh green grass of the quad and spotting new pocket gardens with native plants.
UMBC's Shady Grove campus is also expanding this year as construction continues on a building that will house the new translational life science technology major. Students in this major are eager to apply their skills and interest in the life sciences to creating innovative biotechnology solutions that will transform the health, agriculture, and environment sectors. They will find a welcoming home in the Biomedical Sciences and Engineering (BSE) Education Facility at Shady Grove this fall.
Discovering your place at UMBC
While not all of the first week of the fall semester is fun and games, there are also literal games, as the soccer teams kick off their new season. In an opening game against St. Francis, the women's team kept the score tied 2-2 into overtime. The men's soccer team is matched with Incarnate Word at 7 p.m. on August 30, giving new and returning Retrievers a chance to join their voices in a big WOOF WOOF as they cheer on the team.
Junior Kathryn Moormann deflects the ball from the goal. Photo by Ian Feldmann '20.

Though it's a fast-paced introduction to campus, Welcome Week allows incoming students to bond with each other, and get an introduction to the UMBC experience from returning Retrievers. Whether they're attending a pool party, morning yoga by the UMBC Library pond, or a "unity web" community activity, UMBC students use this week as a chance to start building relationships that will serve as the foundation for their years at UMBC.
Students collaborate on the unity web project. Photo by Marlayna Demond '11.

"I'm excited to see what these students can do," says Bittinger. "I don't even know if they know what they're capable of, but I hope they discover their place in the world here at UMBC. I'm as excited as they are to see them succeed."
Banner image: New Retrievers gather to spell out "UMBC" on Erickson Field. Photo by Marlayna Demond '11.