It's 3 a.m., and Cindy Chelius rolls out of the pull-out couch in the grad student lounge. Time to check on her fungi. For this experiment, measurements must be taken every four hours for forty hours. Thankfully, the undergraduates she mentors took the day shift. Tonight, as the lead on the project, it's her turn.
"I think it just makes you feel like you really earned it when those results come back," Chelius says. She has earned it—on December 18, she'll walk across the stage to receive her Ph.D. in chemical and biochemical engineering from UMBC. The signaling pathways of fungi might seem like niche research, but fungal species are commonly used in industry as tiny, living factories. They can produce substances found in an array of products, including medications.
Cindy Chelius, Ph.D. '19 (third from left) with her advisor Mark Marten (far left) and the rest of their lab group. Photo courtesy Cindy Chelius.
After graduation, Chelius will take her skills to Bristol-Myers Squibb's upstream processing development team in Devens, Massachusetts. She'll help the company improve the ways they use organisms to produce therapeutic compounds. 
Chelius's UMBC experience has prepared her well for a research career in ways that go beyond a successful dissertation. Encouraged by her Ph.D. advisor, Mark Marten, professor and chair of chemical, biochemical, and environmental engineering, Chelius learned how to use bioreactors. "These industry positions really like someone coming in with that working knowledge," she explains.

Chelius also took advantage of the Biochemical Regulatory Certification program at UMBC, organized by Tony Moreira, vice provost for academic affairs. It's a four-course series including training in FDA regulations and good manufacturing practices, local lab tours, and more. "I think it really helped with my job interviews, because I was able to understand the acronyms they were talking about and reference the literature on these topics," Chelius says.
She's also expanded her cultural awareness by being active in a dynamic, diverse department with students and faculty from across the U.S. and the world. By participating in department intramural basketball and soccer teams and other departmental social events, "I definitely learned a lot more about different cultures and opinions," Chelius shares. "Everyone comes from different places here, and it's been awesome."
Cindy Chelius, Ph.D. '19, fourth from left, with her intramural soccer team. The team includes members of the labs of Mark Marten and Lee Blaney (third from right). Photo courtesy Cindy Chelius.
Freedom to explore
Miranda Marvel, who is graduating with her Ph.D. in marine and estuarine environmental sciences, studied zebrafish development at the Institute of Marine and Environmental Technology with Yonathan Zohar, professor and chair of marine biotechnology. Her research focused on the role of a fish hormone, revealing that it plays important roles in feeding and reproduction. Understanding both processes is critical to optimize the aquaculture industry. After she defended her thesis in August, Marvel assumed a new post as a postdoctoral fellow at the National Institutes of Health, where she continues to study zebrafish development.
"Yoni encourages independent thinking and gave me the freedom to come up with my own experiments and be the leader on their execution," Marvel says. "Ten-Tsao Wong was also always willing to drop whatever he was doing to help me." Wong was a postdoctoral fellow when Marvel joined the lab, but later transitioned to assistant professor of marine biotechnology at UMBC.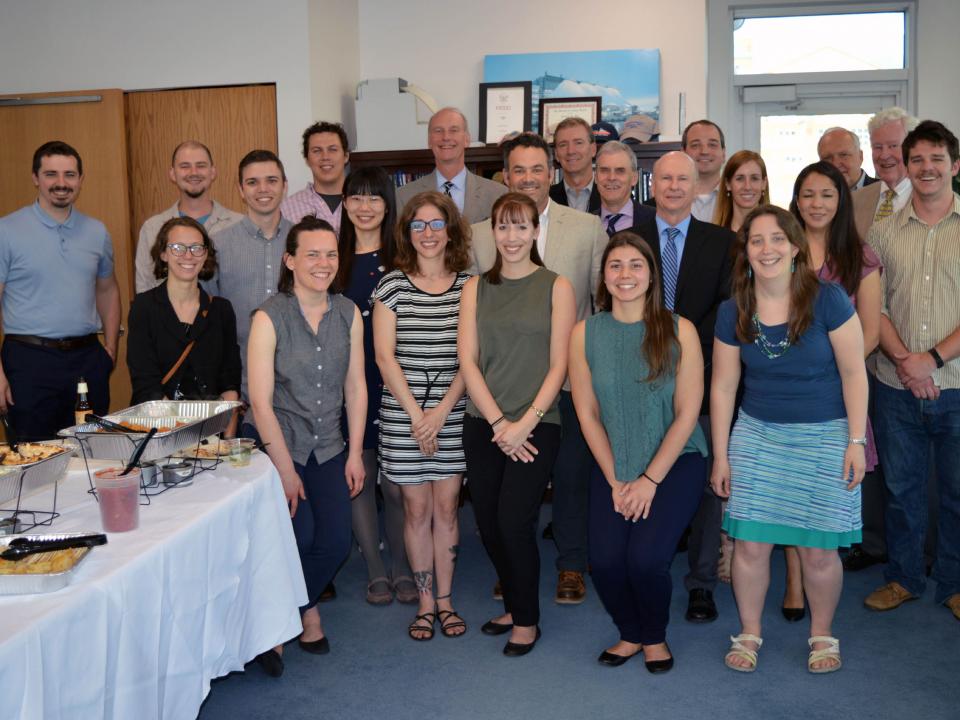 Miranda Marvel, Ph.D. '19, center in front row, with the IMET REEF program participants. Photo courtesy Miranda Marvel.

Like Chelius, Marvel also took advantage of opportunities to receive training beyond her research. She participated in the Ratcliffe Environmental Entrepreneurship Fellowship (REEF), which offers training in business skills. "The skills you learn—like networking, public speaking, and making an elevator pitch—can be applied anywhere," Marvel says.
As a result of the program, Marvel developed SensorFish, a line of fish bred to change color when they first experience common stressors, and took third place in UMBC's 2018 Cangialosi Business Innovation Competition. The color change allows people to take action quickly to keep their fish healthy, even before symptoms may be apparent.
Miranda Marvel, Ph.D. '19, gives her pitch at the 2018 Cangialosi Business Innovation Competition. Photo courtesy Miranda Marvel.

When she arrived at UMBC, Marvel says she was quiet and shy. But the REEF training and supportive university environment changed that. "Seeing how helpful and friendly everyone was during my time here really helped me come out of my shell," she says. "I attribute that to the collaborative nature of UMBC and IMET, and especially the researchers' willingness to support young scientists."
Creating positive change
Naqiya Ghulamali '19, psychology, has also been transformed by her research and service-learning experiences, which she sees as going hand in hand. Her research with Bronwyn Hunter, assistant professor of psychology at UMBC, focused on factors that influence the experience of re-entering society after incarceration. In an internship at the International Rescue Committee, Ghulamali says, "I got to work directly with clients on their paths to self-sufficiency during resettlement."
As a result of these experiences, Ghulamali shares, "I am pursuing careers where I can apply my skills and knowledge to create positive social change."
Naqiya Ghulamali '19, psychology, during her internship at the International Rescue Committee. Photo courtesy Naqiya Ghulamali.

UMBC mentors like Hunter and Ghulamali's academic advisor Nkiru Nnawulezi, assistant professor of psychology, have influenced her future path. "They supported me and encouraged me to pursue my goals," Ghulamali says. "Dr. Hunter and the graduate students in the lab helped me with projects and conference presentations, and generally created an environment conducive to critical thinking."
Leaders of UMBC's Alternative Spring Break and the STRiVE program, a five-day leadership retreat organized by the UMBC Center for Democracy and Civic Life, also shaped Ghulamali's UMBC experience, and her future. "I'm grateful for how they've contributed to my sense of my own civic agency," she shares.
As a member of the Honors College and a Sondheim Public Affairs Scholar, Ghulamali not only met mentors and established her career path, but also forged friendships "with others deeply invested in public service," she says.
The power of an open door
Ryan Oliver '19, biological sciences, also met life-changing mentors at UMBC. After struggling with addiction for almost four years at a college in another state, he took a year off to begin recovery with family in Maryland. When he was ready to return to college, Oliver chose UMBC because of what he had heard about the rigorous academics and supportive atmosphere.
It was a good choice for Oliver. This December, he will graduate with a 4.0 GPA. Next fall, he's headed to his first-choice graduate school, Hebrew University in Israel. His master's degree will focus on neuroscience using bees as a model organism, which builds on research he completed with UMBC's Fernando Vonhoff, assistant professor of biological sciences. That project explored environmental factors that affect how fruit flies respond to alcohol exposure, and whether or not they become addicted.
Ryan Oliver '19, rear, green shirt, with members of Fernando Vonhoff's lab. The lab members include undergraduates, graduate students, and a high school student. The UMBC students affiliate with programs such as STEM BUILD, LSAMP, MARC U*STAR, and the Meyerhoff Scholars. Photo courtesy Fernando Vonhoff.

The connection between his personal experience and academic research is no accident. "I would say my history has opened the door into neuroscience for me," Oliver shares.
When he came to UMBC, Oliver knew he wanted to pursue undergraduate research, so he started knocking on doors. The first open office door he came to belonged to Vonhoff, who welcomed him in for an impromptu meeting. "By the end of that first conversation, he told me I could develop any project I wanted, and he would support me," Oliver recalls. "I think him letting me do that is what really sparked so much enthusiasm and dedication on my part." 
During his time at UMBC, Oliver traveled to University of Chicago to present his research at the Society for Neuroscience Annual Meeting. Oliver is drafting the manuscript for a scientific paper on which he will be the first author.
Ryan Oliver presents his research at UMBC's Undergraduate Research and Creative Achievement Day 2019. Photo courtesy of Fernando Vonhoff.

Regarding his identity as a person in recovery, "I've been able to create more opportunities by being open about it than if I had hidden it. And I don't think most people realize that," Oliver says. "I think it needs to be destigmatized, and hopefully I'm doing my part in that by being as open as I can so that other people can get help, be embraced, and be given a chance in the real world."
"My message would be that UMBC is a place that encourages and enables success through connection with and discovery of a real, personal identity," he shares.
As they move beyond UMBC, Chelius, Marvel, Ghulamali, and Oliver all remain driven to contribute to positive change in their communities through their research. They also hope to carry forward the support they found at UMBC as mentors to a future generation of researchers.
Banner image: Ryan Oliver, second from left in back, with Fernando Vonhoff, third from right in back, and members of the lab in summer 2019. Oliver served as a mentor to members of the UMBC STEM BUILD program. Photo courtesy Fernando Vonhoff.