Danilo Symonette, right, with his friends at a restaurant. Photo courtesy of Symonette.
---
Unique research experiences open doors for UMBC's Class of 2020
---
Danilo Symonette, Robin Bailey, and Hye-Jin Park are earning their UMBC degrees this month having researched in top labs and being invited to present their findings to colleagues across the country. They sound like phenomenal Ph.D. students, but they're actually all undergraduates.
Symonette '20, computer science, has earned one of the most prestigious graduate fellowships in the U.S. after completing years of research in artificial intelligence. Bailey '20, biological sciences, conducted research at Harvard Medical School's Joslin Diabetes Center. Hye-Jin Park '20, psychology, researched the experiences of Asian immigrants in the United States, including discrimination and resilience. 
Their interests vary greatly, but each celebrates the impact that UMBC mentors have had on their college careers, including the chance to access incredible opportunities.
Finding a community
When Symonette transferred to UMBC from the College of Southern Maryland in La Plata, Maryland, he knew he wanted to study computer science and conduct research on artificial intelligence, which he sees as a "revolutionary" field. He quickly found a supportive community of friends and mentors at UMBC, and became a McNair Scholar. 
UMBC's McNair Scholars program is a Federal TRIO program that supports students from disadvantaged and underrepresented groups in preparing for graduate education. The program emphasizes intensive research experiences and mentoring. Symonette's McNair mentors helped him define and achieve his goals and navigate challenges along the way.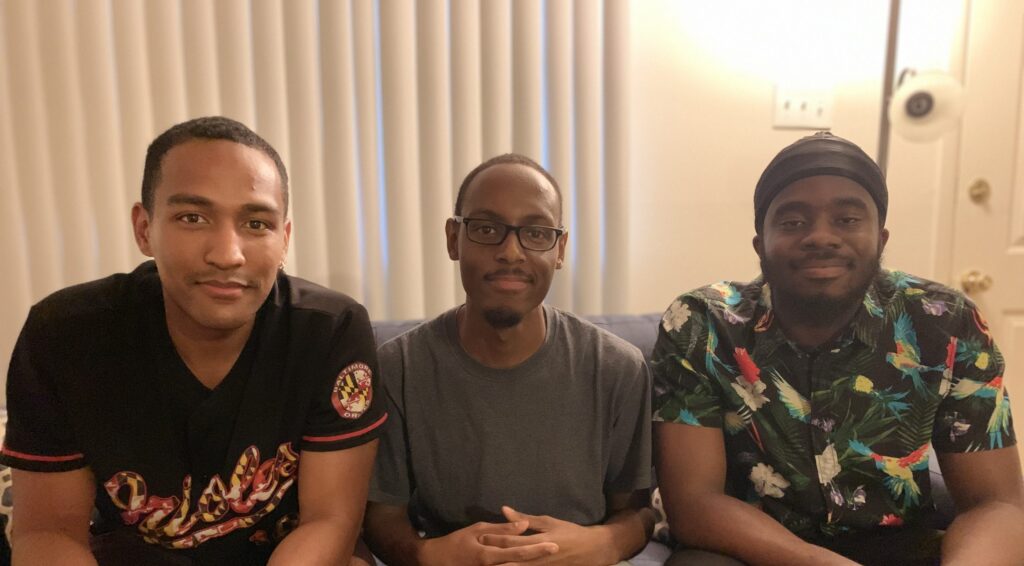 Danilo Symonette, left, and two of his friends at UMBC. Photo courtesy of Symonette.
"Being a McNair Scholar has entirely shaped my experience at UMBC and given me the community I needed to support my ambitions and pursue opportunities," says Symonette. The program also introduced him to some of his favorite people at UMBC.
The value of mentorship
Don Engel, assistant vice president for research, is Symonette's advisor on the award that supports his artificial intelligence work. He has been one of his most impactful mentors over the years. "Don Engel gave me the freedom to explore any and all of my ideas," says Symonette. "He advised me on career decisions, wrote countless letters of recommendation, and always supported and believed in me no matter how lofty my goals seemed." 
Engel connected Symonette with the neuro-AI lab at the Johns Hopkins Applied Physics Lab, where Symonette is currently interning. Symonette accepted a full-time job offer to work at APL starting in June. This allowed him to explore his interests at the intersection of computer science, neuroscience, and psychology, and further refine his graduate school career goals. 
"Danilo is one of the most talented and motivated students with whom I've had the pleasure to work. He has been a wonderful teammate to a broad range of student, faculty, and external research collaborators," shares Engel. "I'm looking forward to following Danilo's career, which I'm sure will be exciting and impactful."
Symonette has also found mentors outside his discipline who have helped him develop a well-rounded perspective. They include Simon Stacey, director of the Honors College; former UMBC professor Marie DesJardins, now a dean at Simmons College; and Christy Ford Chapin, associate professor of history. Symonette says that Chapin helped him elevate his grad school essays and fellowship applications "to the highest level they could be."
Exploring opportunities beyond UMBC
In addition to connecting Symonette with mentors, the McNair Scholars program also provided him with travel funding to visit several graduate schools across the country. 
In 2018, he completed the Louis Stokes Alliances for Minority Participation (LSAMP) summer research program and focused on machine learning. The following year, he attended the NSF Graduate Research Fellowship Program at the Institute on Teaching and Mentoring, which was sponsored by the Southern Regional Education Board. "I saw a slew of Ph.D. students from underrepresented backgrounds come on stage and encourage me to pursue graduate education," Symonette shares.
In 2019, he headed to MIT and studied models that detect confusion in features that rely on voice. His work was used as a foundation to develop sensors for a teacher education platform, to make it more effective. 
"That experience equipped me with the inspiration, motivation, and knowledge to plan my next steps," he says. Over the next 18 months, Symonette explains, "I was accepted to the top computer science Ph.D. programs in the world and won the NSF Graduate Research Fellowship." 
Today, he describes the LSAMP and McNair programs as "the vehicles through which I arrived at many of the pivotal moments in my journey."
Inspiring younger students
While focusing on his courses and research at UMBC, Symonette also enjoyed gaining early experience as an educator. He served as a teaching assistant for Computer Science 202, inspired by his own earlier challenges with the course. 
"I struggled a lot in CS202 when I came from community college," Symonette recalls. "Seeing all the errors and mistakes troubling students during office hours and being able to help them through those same situations…was extremely rewarding." 
Symonette also found ways to connect with younger students, to encourage them to pursue degrees and careers in computing. He served as the head of outreach for UMBC's Computer Science Education Club, establishing strong partnerships with local high schools.
"I wanted to expand our outreach efforts so that more people could volunteer," he says. He connected with Lori Hardesty, associate director for applied learning and community engagement at UMBC's Shriver Center, to ensure the program would have the structure to be successful in the long term. 
"We managed to get a consistent group of students volunteering at Landsdowne High School last semester and supporting the high school's computer science and robotics club," says Symonette. "It's been great to connect with high school students, especially at a school like Landsdowne. There are students from similar backgrounds as me that I have a chance to inspire. It continues to motivate me to do research in AI and education." 
After working at APL for a year, Symonette will begin a Ph.D. program in computer science at Stanford University in fall 2021, with the goal of becoming a professor. "I'm looking forward to broadening my perspective, accessing opportunities, and developing as a researcher and educator—everything that comes with studying in a top-tier Ph.D. program," he says. "I can't wait to bring all of that back to my community." 
---
You can read more about Robin Bailey and Hye-Jin Park in the UMBC News article from which this was excerpted. Adapted from a UMBC News article written by Megan Hanks.
The post Unique research experiences open doors for UMBC's Class of 2020 appeared first on Department of Computer Science and Electrical Engineering.