By Shesh Batni
When you first declare Media and Communication Studies as your major, you may notice at the end of the road sits a little course titled MCS 499: Capstone Senior Seminar. But beyond the big course number and daunting name, you may want to know more. 
What is MCS 499?
MCS 499 is simply a seminar-style class, intended to be taken in your final semester here at UMBC, which acts as the culmination of a student's MCS experience with the completion of an original research paper and presentation focusing on a topic within media and communication studies. While word of mouth may boil down the class to just completing a big paper, Dr. Adelman – MCS Department Chair and frequent MCS 499 Professor – wants students to know there's more to it.
Dr. Adelman describes MCS 499 as providing a final undergraduate opportunity to reinforce the certain kinds of foundational knowledge, shared histories, vocabulary, etc. relevant to media and communication studies that students can take with them into their future endeavors. She also notes the class acts as a unique transition point in many ways. In addition to a student's overall transition from an undergraduate student moving onto things like graduate education or joining the workforce, she notes that the class "marks the transition from students operating as consumers of knowledge to now producers."
She's proud of the fact that the department gives professors the opportunity to craft their sections of MCS 499 thematically around their areas of strength and interest. For Dr. Adelman, that means thematically involving many topics and readings on visual culture, one of her areas of specialization which she believes students should know more about. 
Dr. Yang chose to base her Fall 2021 section of MCS 499 on the intersection of race and technology, which she describes as "a timely study about the social production of technologies like facial recognition software and the ways in which they perpetuate or intensify racial (among other) inequalities." 
Though no matter the professor, students can be sure they'll be adequately primed and prepared for not only their research project, but an entire future of critical thinking, consuming, and producing.
Am I ready for MCS 499?
The idea of entering your final MCS course and completing a "big honking" paper can definitely feel intimidating; Dr. Adelman has noticed this trend herself in advising students and polling MCS 499 students on the first day of class. However she assures that when a student makes their way through the major and finally enrolls in MCS 499, it means they're ready for the challenge.
She adds that benchmark courses like MCS 333 engage students in the many theoretical discourses, while the direct lead-up course MCS 399 presents students with all the research methods and tools they'll need for their paper. MCS 399 also gives students the opportunity to pursue research ideas and topics they can either carry onto MCS 499 or use as learning experience to select a new topic.
Besides just making your way through the major, Dr. Adelman says there is one thing students can do to prepare for MCS 499: "Relax." She continues "trust the process, come in with an open mind, with the expectation that it's going to be hard but that's ok."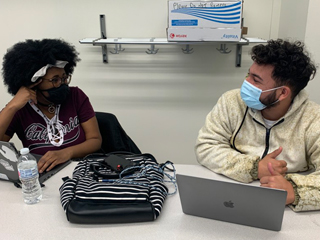 But wait! What am I going to write about?
Remember: trust the process. Even if you're unsure of what topic to write about, MCS 499 is scheduled and designed to get students through the process. With plenty of time, students will get the chance to draft research topics and questions, and workshop them with feedback from both the professor and their peers.
Both Dr. Adelman and Dr. Yang note that certain themes and topics pop up every semester, with common areas including social media, influencers, pop culture, and more. "Almost always I'll get a few projects on video games and the gaming industry" Dr. Adelman adds. 
Dr. Yang also mentioned the timeliness of some projects which are relevant to the ongoing COVID-19 pandemic. "Some things quite exciting this semester are several projects looking at the role of technologies in shaping social processes/interactions particularly in the pandemic moment." These include projects talking about work-from-home technologies and even my own project about streaming and the pandemic's effects on the decline of movie theaters. My personal advice for students entering MCS 499 is to look for a topic and research question that matter to you. Be curious and inquisitive about your interests and the ways you can explore them. That way you might stumble upon a question that begs further investigation.
What can I expect from MCS 499?
As Dr. Adelman notes, MCS 499 is meant to be a seminar-style experience, something that emulates smaller sized graduate school courses, with plenty of interactions with other students that facilitate productive conversations. Peer collaboration is not only encouraged but an integral part of the entire process.
Dr. Yang furthers peer collaboration and conversation in her sections of 499 by having students group up and present their projects in panels, emulating the experience of presentations given at academic conferences. Panels allow students to engage deeper with the common topics and theories that bridge their projects. It's interesting to see what connections students make, and what fun names they give their panels.
MCS 499 can look intimidating, but students should know they're being set up for success. As an MCS 499 student myself nearing the end of the semester, I'm seeing my own project, and peers' projects, fully come to life. The theories and perspectives I've encountered throughout the major, especially in MCS 333, are coming back around and appearing in the topic I'm researching. And the various research and analysis methods learned in MCS 399 are giving me the exact tools I need.
Dr. Yang ultimately adds, "Please don't be afraid to go on this adventure, to discover something new by researching a topic that you are passionate about!" 
You got this!