16th PROMISE Summer Success Institute (SSI)
Postdocs, Professors, and Professionals – PP&P segment
---
We get tons of requests for professional development for postdocs, professors, and professionals. For that reason, the PROMISE: Maryland's AGEPdeveloped the PP&P track for the Summer Success Institute - SSI. Alumni, postdocs, professors, professionals - Join us!:
Registration is FREE. 8/18/18. http://bit.ly/PROMISE2018
The following segment is part of the 11:30 am #ThinkBigDiversity Breakout Sessions (information will be updated once confirmed on the main event's site in the link above):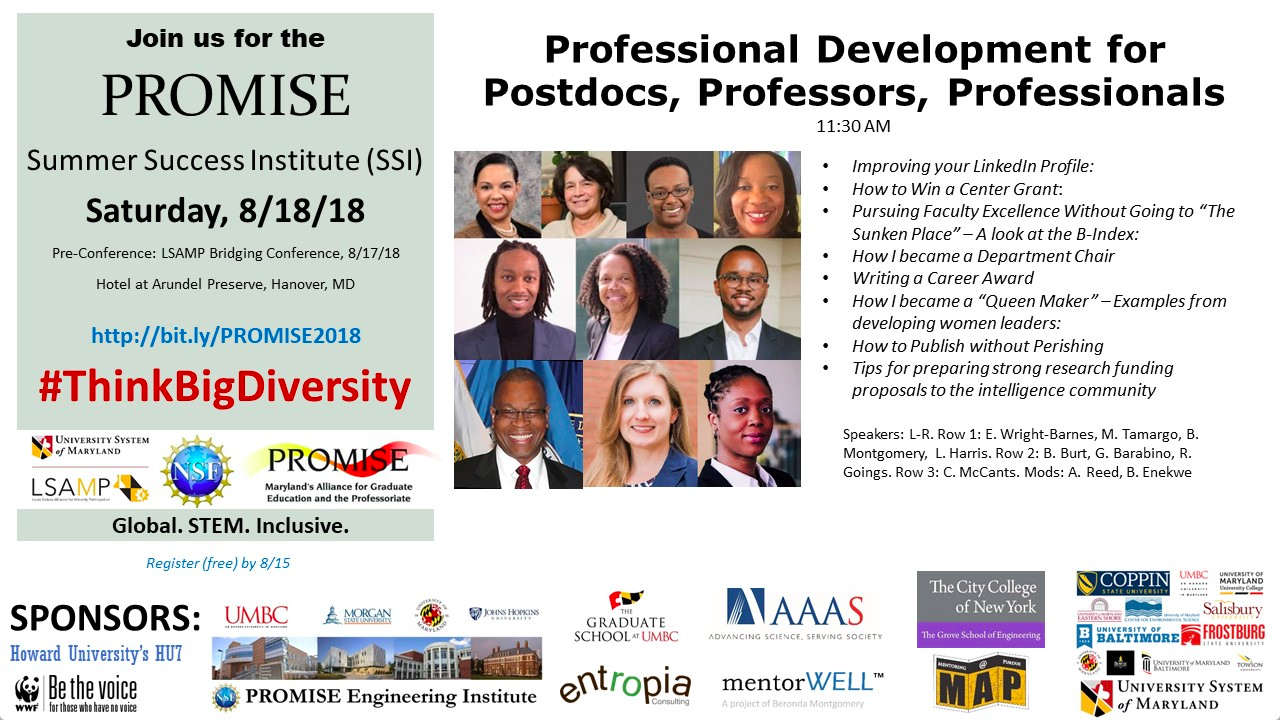 Postdocs, Professors, and Professionals – PP&P: Advancing Your Professional Life
Moderators: Dr. Autumn Reed & Dr. Blessing Enekwe

Improving your LinkedIn Profile: Dr. Elisse Wright Barnes, LinkedIn Trainer.
How to Win a Center Grant: Dr. Maria Tamargo– City College of New York.
How I became a Department Chair: Dr. Leona Harris, Chair of Computer Science, UDC.
How I became a "Queen Maker" – Examples from developing women leaders: Dr. Gilda Barabino, Berg Professor and Dean of The City College of New York's Grove School of Engineering.
Prepare to apply for an NSF Career Award:Dr: Brian Burt, Iowa State University, and Dr. Idalis Villanueva, Utah State University.
Pursuing Faculty Excellence Without Going to "The Sunken Place" – A look at the B-Index:Dr. Beronda Montgomery – Michigan State University, Lead for "mentorWELL."
How to Publish without Perishing:Dr. Ramon Goings, Loyola University [via Twitter @RamonGoings].
Tips for preparing strong research funding proposals to the intelligence community:Dr. Carl McCants, Technical Director at Office of the Director of National Intelligence, National Counterintelligence and Security Center (ODNI-NCSC).