PINNED ITEMS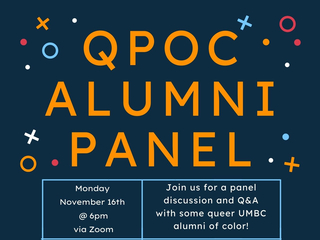 Join us to meet some UMBC queer alumni of color for Q&A!
Hey QPOC!  On Monday, November 16th @6pm QPOC will be hosting a Queer Alumni of Color Panel Discussion + Q&A! We have invited several different UMBC alumni who identify as queer people of...
QPOC will now be meeting every other Monday
Hi QPOC,  Given the stress of balancing classes, the pandemic, and everything else that's going on in everyone's lives, we are switching GBMs to every other week. That means we will not be...
Follow us on IG to keep up with QPOC
Hi everyone,  QPOC now has an official Instagram page so please feel free to follow us @qpoc_umbc! You can also share our page with any UMBC students you think might be interested in our org :)  
LATEST UPDATES