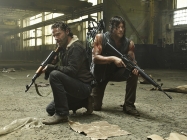 The Walking Dead season finale packs a punch
With writing and acting worthy of an Emmy, the AMC hit series The Walking Dead, shattered all expectations in its season 5 finale.

AMC's hit series The Walking Dead follows a diverse group of survivors in a post-apocalyptic America where zombies, called "walkers," seem to have taken over. The main character, Rick Grimes (portrayed by Andrew Lincoln) was a sheriff before the apocalypse and has become the undisputed leader of his small group.
In the second half of season five, Rick and his gang find themselves confined to a walled community named "The Alexandria Safe Zone." The band of survivors struggle to assimilate into the community after having lived the life of a road warrior for so long. Other conflicts arise with the Alexandrians inability to grasp the true danger of the world in which they now live.
The season five finale was a special length, running 90 minutes, as opposed to the show's usual 60 minute time slot. The lengthened finale was overflowing with plot-twists and plenty of suspense to set up season six.
Norman Reedus and Melissa McBride play Daryl Dixon and Carol Peletier, respectively. They, along with Lincoln, topped off yet another season of stellar acting with performances worthy of an Emmy.
Seth Gilliam displayed some of his acting prowess as his character Father Gabriel fought an internal battle with his past transgressions. Some viewers may recognize Gilliam from the Baltimore-based hit The Wire, where he showed off his superb acting skills.
Glenn's character, portrayed by Steven Yeun, gained momentum as a core character as his leadership developed in season 5, which was amplified by the events surrounding Glenn in the season finale.
The Walking Dead, based on the graphic novel of the same name, often pulls dialogue from the graphic novel. Sometimes, the dialogue is word-for-word, as it was in the "we are the walking dead" speech that Rick gives in the barn in episode 10.
The speech Rick gives at the end of the season finale, at the campfire forum, is based largely on a similar speech given in the comic books. During this speech, Lincoln's acting is as intense as the words he is saying and they exist in perfect harmony.
This speech serves as an attempt to expose the very real dangers of the Alexandrians' world, something Rick has been trying to convey since his arrival. The culminating moment of the episode follows the fiery speech.
As a whole, the writing in The Walking Dead is very detailed, leaving very few words and interactions without particular meaning. Close to everything that is done or said has an intent or underlying purpose that serves to further the plot.
Season six is rumored to have shootouts with human foes, unprecedented herds of walkers and a return to the "Ricktatorship" of earlier seasons.
Photo credit: AMC
Read more stories from: The Retriever Weekly