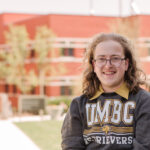 Caleb Ruck
Degree: B.A., Modern Languages & Linguistics (Spanish and German)
Minors: Anthropology and Latin American Studies, certificate in Intercultural Communication
Hometown: Ellicott City, MD
Plans: M.A., Intercultural Communication at UMBC 
"I like that grittiness we have at UMBC—that you chose to be here and everyone is here because they're just into what they study and want to grow."
An aspiring polyglot, Caleb Ruck '22, modern languages and linguistics, collected languages like Pokemon when he was young. No college felt right, however, until the day he toured UMBC. He knew right away that it was where he belonged. "I genuinely think that UMBC is the best possible fit that I could have gotten," he says, "it has a very deliberate underdog spirit."
Caleb Ruck with host family in Argentina. (Image courtesy of Ruck)
Soon he began to find that the cultural aspects of language were just as appealing as the mechanics. His advisor Elizabeth Arévalo-Guerrero, who he calls his "main cheerleader," pointed out that he could earn an intercultural communication certificate with just a few more classes, so he decided to go for it. Ruck delved into how people use language and never looked back. 
In Fall 2019 he studied abroad in Argentina, which gave him "a taste of communicating with people who experience the world in a very different way." Back at UMBC, he went on to do a research project and presentation focused on understanding differences in the perceived prestige of native English-speaking bilinguals versus English language learners on social media. 
Ruck looks forward to continuing his studies with a master's degree in intercultural communication, a field he describes as "vital" for broadening perspectives and opening doors.
Story by Karen Stysley.