Kimberly R. Moffitt is the new dean of UMBC's College of Arts, Humanities, and Social Sciences (CAHSS). Moffitt, a professor of language, literacy, and culture (LLC) and affiliate professor of Africana studies, has served as interim dean since August 2020, leading CAHSS through the challenges of COVID-19 while achieving several notable milestones.
As Provost Philip Rous shared in his announcement to the university community, "Moffitt has served with distinction as interim dean of the College by providing outstanding leadership during one of the most challenging times for our entire campus community."
Dean Moffitt earned a Ph.D. in mass communication/media studies from Howard University and holds an M.A. in mass communication from Boston University and B.A. in political science from UNC-Charlotte.
Moffitt began her career at UMBC in 2006 as an assistant professor of American studies and she became director of the LLC program in 2018. She is UMBC's first Black dean of a college. She brings an exceptional record of leadership in shared governance, having previously served as president and vice president of UMBC's Faculty Senate, among other key leadership roles.
"The campus is delighted by the appointment of Dr. Moffitt as dean—in many ways, she represents the best of UMBC," shares President Freeman Hrabowski. "Most importantly, she will be a strong voice for the arts, humanities, and social sciences, both on and off campus."
Dean Moffitt interviewing President Hrabowski at the 2022 RetriEVER Grateful Tour.
"I am excited about the opportunity to continue serving the College of Arts, Humanities, and Social Sciences," says Dean Moffitt. "As a communication scholar I'm hopeful to use my expertise to elevate the great scholarship of our faculty colleagues and the initiatives carried out by our staff for all to see, learn, and experience."
Dedication to CAHSS
As interim dean, Moffitt led a series of key projects to advance and support faculty and student research, teaching and learning, and development. 
Moffitt and co-PI Patrice McDermott, vice provost for faculty affairs, received a $3 million grant from the Andrew W. Mellon Foundation to launch Breaking the M.O.L.D. (Mellon/Maryland Opportunities for Leadership Development) with partners Morgan State University and the University of Maryland, College Park. This program will develop a pipeline to higher ed leadership for scholars in the arts and humanities. It will focus on interested faculty members at the rank of associate and full professor, particularly women faculty and Black, Hispanic, and American Indian/Alaska Native faculty.
Dean Moffitt and Patrice McDermott, 2021.
Speaking of the project collaborators, Moffitt shared, "This experienced team of diverse senior leaders has an opportunity to create a structural answer to elevate diverse leaders from the arts and humanities. This will enable faculty to apply distinct knowledge, skills, and perspectives to address our communities' needs as leaders at their respective institutions."
Moffitt has long been committed to diversity, equity, and inclusion at UMBC and in Baltimore. Following the recent global call for social justice for Black lives and rise of anti-racist work Moffitt developed the "Looking in the Mirror" speaker series with Patricia Young, professor of education and special assistant to the dean for strategy and innovation. Over the past two semesters, UMBC faculty and staff have discussed topics related to microaggressions, mental health in academia, equity, and systemic racism to create strategies for moving forward as a college.
Additionally, she has led a redesign of the CAHSS website to better reflect the college's vast range of majors, programs, and diverse student and faculty scholarship. In fall 2021 and spring 2022, Moffitt also spearheaded faculty media workshops to provide faculty with strategies and resources to share their work with the greater public. 
Commitment to Baltimore
Moffitt is also known for her dedication to Baltimore. Her community-engaged work has benefited Baltimore families and community organizations. 
In addition to being a board member of Maryland Humanities and the Greater Baltimore Cultural Alliance, she is a founding board member of the Baltimore Collegiate School for Boys. The school aims to "provide the finest liberal arts education possible to Baltimore's next generation of young men, ensuring that they will become global citizens trained to learn, lead, and serve our community, our nation, and our world." 
As a frequent guest host on WYPR's former The Marc Steiner Show, she has spoken about race, politics, education, and culture in Baltimore. She has also shared her work through The Baltimore Sun and other local media outlets, reaching broad public audiences.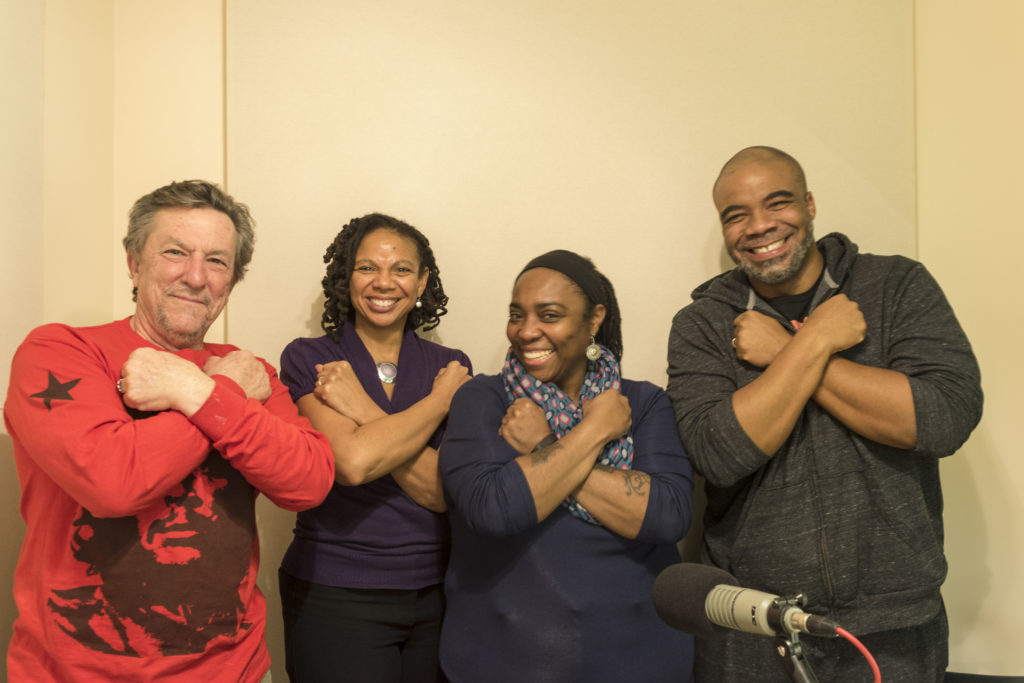 (L-R) Marc Steiner; Kimberly Moffitt; Kalima Young, assistant professor of electronic media and film at Towson University; and Nathan Connolly, the Herbert Baxter Adams associate professor of history at Johns Hopkins University, on "
The Black Panther: Academic and Visceral Readings
" episode.
Photo courtesy of The Marc Steiner Show
.
National engagement
In conjunction with her collaborations in Baltimore, Moffitt has also taken her scholarship to national audiences. This includes her work on mediated representations of marginalized groups as well as the politicized nature of Black hair. 
Moffitt is co-editor of Blackberries and Redbones: Critical Articulations of Black Hair/Body Politics in Africana Communities. She also co-created the Black Hair Syllabus with Tunisia Lumpkin, a language, literature, and culture doctoral student. This is the first website with resources and scholarship about Black hair in media, business, children's literature, and more.
This February, she launched ColorStuck? a podcast interrogating color and hair politics among Diasporic Black women.
Dean Moffitt has published numerous articles and book chapters, as well as five co-edited volumes. In addition to Blackberries and Redbones, these include Michelle Obama and the FLOTUS Effect: Platform, Presence, and Agency (2019), Gladiators in Suits: Race, Gender, and the Politics of Representation in Scandal (2019), The Obama Effect: Multidisciplinary Renderings of the 2008 Campaign (2010) and The 1980s: A Transitional Decade? ( 2011). 
Moffitt doing research.
Her work on media representation includes exploration of the Black body in Disney programming (presented at Grit-X 2018) and the impact of colorism on Black girls and mother-daughter relationships. Moffitt serves as vice president of the National Association for Media Literacy Education as a national expert in this field.
Dean Moffitt speaking at UMBC's Grit-X 2021.
Next steps
As dean, Moffitt looks forward to collaborating with colleagues to promote innovative interdisciplinary teaching and research, as well as fruitful partnerships. She recently contributed to UMBC securing the largest-ever gift in university history – $21 million from the Sherman Family Foundation to support UMBC's K-12 and early childhood education work. 
The largest gift in UMBC history will go toward educational research, teacher preparation and partnerships with Baltimore city schools. https://t.co/BRZoguot3J

— The Baltimore Sun (@baltimoresun) February 24, 2022
Also, with Moffitt as interim dean, UMBC established its first endowed professorship in economics, with a $1 million gift plus a $1 million Maryland state match in memory of Fred and Virginia Pausch. Moving this work forward will be a priority. 
Dean Moffitt with
Tim Gindling
, professor of economics, and
Denise Meringolo
, associate professor of history and acting director of UMBC's Dresher Center for the Humanities.
"On behalf of our faculty, staff, students and the UMBC leadership team I would like to take this opportunity to thank Dean Moffitt for her hard work and commitment as interim dean and welcome her to her new permanent position," says Provost Rous.
"I look forward to being a part of UMBC's bright future as a newly-designated R1 institution that has much to offer higher education and our students," says Moffitt.
Featured image: Kimberly Moffitt. All photos by Marlayna Demond '11 unless otherwise noted.