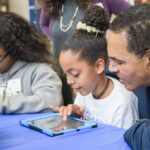 Today, the National Academy of Engineering (NAE) announced the election of UMBC President Freeman A. Hrabowski, III as a member. This prestigious honor recognizes Pres. Hrabowski's leadership in higher education—serving as president of UMBC for three decades and working to increase diversity in STEM fields, including engineering, at a national level.
President Hrabowski joins more than 2,000 leaders in engineering who have been previously elected as NAE members, including top researchers, practitioners, and educators from both the U.S. and international community. 
Membership to NAE is one of the highest honors granted within the field of engineering. The NAE describes individuals elected for membership as having made "outstanding contributions" to engineering research or practice. Members also make significant contributions to engineering literature, new and developing fields of technology, and innovative approaches to engineering education.
"It is a tremendous honor to be elected to membership of the National Academy of Engineering," says President Hrabowski, who will retire at the end of the 2021-2022 academic year. "This recognition highlights UMBC's distinctive approach to engineering education. It also honors the remarkable students, faculty, and staff at UMBC who are committed to increasing diversity in engineering and STEM disciplines more broadly."
A career of leadership and innovation
"I can think of no one more deserving of this honor than President Hrabowski," said University System of Maryland Chancellor Jay A. Perman. "Over 30 years of leadership at UMBC, he's revolutionized engineering education—how we open access to engineering education, how we ensure equity and excellence, how we nurture students' success."
Keith J Bowman, dean of UMBC's College of Engineering and Information Technology, says that Pres. Hrabowski's election as a member of NAE highlights the important contributions of academic leaders in the field of engineering. 
"This is simply awesome," Bowman shares. "President Hrabowski's election to the NAE recognizes one of the foremost figures in our country working to advance equity and inclusion in who does engineering research, who leads engineering academia, and the social responsibility inherent to our engineering fields."
Pathways to increase diversity in STEM
Pres. Hrabowski has held many high-profile, high-impact roles, including leading President Barack Obama's Advisory Commission on Educational Excellence for African Americans in 2012. Under his leadership, UMBC has become the nation's #1 producer of Black undergraduates who go on to complete  Ph.D.s in the natural sciences and engineering.
Three Meyerhoff Scholars connect at UMBC in spring 2021.
An important driver of this success is UMBC's Meyerhoff Scholars Program, which works to increase the diversity of STEM leaders by providing students from underrepresented groups with paths to academic research. Institutions across the country, from Penn State to UC Berkeley, have developed programs based on the Meyerhoff model.
"It is a pleasure to welcome President Freeman Hrabowski as a fellow member of the prestigious National Academy of Engineering," says Darryll J. Pines, president of the University of Maryland, College Park, and an aerospace engineer. "His contributions to creating a diverse STEM pipeline are unmatched."
The newly elected member class will be formally inducted during the National Academy of Engineering's annual meeting in October 2022.
Banner image: Dr. Hrabowski, right, with two K-12 students during an on-campus event organized within UMBC's College of Engineering and Information Technology in 2016. All photos by Marlayna Demond '11 for UMBC.