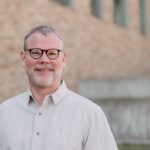 The Smithsonian National Museum of Natural History (NMNH) has announced its top ten discoveries of 2021, featuring "attention-grabbing findings" by UMBC's Erle Ellis, professor of geography. Ellis collaborated with an international team of researchers, which included Torben Rick, study co-author and curator of North American archaeology at the museum. Their analysis revealed that people have sustainably shaped Earth's ecosystems for over 12,000 years. 
The boundless curiosity of the researchers at @nmnh drives them to explore Earth, the species that depend upon it, the cultures that inhabit it, and the forces that alter it.

Here are some of our scientists' top natural history discoveries of 2021.https://t.co/UUG0lWRq4q

— Smithsonian's NMNH (@NMNH) December 31, 2021
"Our work shows that most areas depicted as 'untouched,' 'wild,' and 'natural' are actually areas with long histories of human inhabitation and use," Ellis previously shared with UMBC News. They might be interpreted like this, he suggests, because in these areas, "societies used their landscapes in ways that sustained most of their native biodiversity and even increased their biodiversity, productivity, and resilience." 
The team found the current biodiversity crisis is due to the appropriation, colonization, and intensified use of lands previously managed sustainably.
"It is so exciting to see our work recognized by the Smithsonian," says Ellis, in response to the NMNH coverage. "I hope that 2022 will mark a turning point in our understanding and care for nature—by learning from and empowering the Indigenous and traditional peoples and practices that have sustained nature across the planet for more than 12,000 years."
Ellis will be speaking about this discovery on Wednesday, January 19, 2022 at the Global Land Programme Webinar: Prehistoric land use reshaped most of terrestrial nature – does that matter now?
Banner image: Erle Ellis. Photo by Marlayna Demond '11 for UMBC.