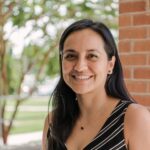 Sustainable management of common pool resources (CPRs) such as water, forests, clean air, and fisheries is a global concern that's getting increased attention in the context of climate change. All over the world local communities manage CPRs, and these institutions are especially important in regions where government capacity to protect CPRs is limited. Despite decades of observational studies, it is unclear what features determine successful local CPR governance models. This is because of the challenge of isolating which variables make these models successful. New research has made headway on this challenge.
UMBC's Maria Bernedo Del Carpio, assistant professor of economics, and colleagues have conducted a field experiment to isolate one feature of local CPR governance: externally supported, technology-facilitated community monitoring. Bernedo Del Carpio has collaborated on the research with Francisco Alpizar, professor and chair of the Environmental and Natural Resource Economics Group at Wageningen University, and Paul J. Ferraro, Bloomberg Distinguished Professor of Human Behavior and Public Policy at Johns Hopkins University.
They initiated their study in Costa Rica, to isolate and test community monitoring, publishing the results in the Proceedings of the National Academy of Sciences (PNAS) earlier this year. Jointly with scholars in the U.S, Canada, the U.K., Kenya, and China, they then implemented the approach in six other countries. The results, also published in PNAS, are promising.
"These studies allow us to directly see how community-based monitoring can support more desirable natural resource management outcomes and to analyze the ways to attain those outcomes," says Bernedo Del Carpio. "Monitoring a natural resource or an institution can generate valuable information that will improve governance, but it is necessary to engage decision-makers and the community."
Maria Del Carpio and UMBC's
Tim Gindling
, professor of economics.
Community monitoring of CPRs
In Costa Rica, Bernedo Del Carpio, Alpizar, and Ferraro worked with community-based water management organizations (CBWMOs) in 16 communities in the Pacific coast and northern plains regions. These areas have long dry seasons and progressively decreasing water access. 
Using SIMA, a water monitoring smartphone app designed by the authors, monitors collected and reported information about residents' experiences with water service. This included interruptions in fresh water service, water clarity, water's unusual taste or smell, leaks, unauthorized use of water connections, and land use around water sources. 
The app produced weekly summaries that were shared with the CBWMOs and the rest of the community over a period of nine months. After one year, measures of water use showed small effects in the desired directions: reductions in groundwater pumping, better water quality, and more satisfied users.
The team then partnered with scholars from several other universities to implement randomized controlled trials of community monitoring in other contexts. This stage of the research included 747 communities in six countries. The features of the community monitoring programs, the experimental designs, and the outcome variables were harmonized across sites to facilitate comparison of data over time.
With the use of a variety of technologies, monitors collected and reported data on groundwater in arid regions of Brazil; surface water in urban China; and forests in rural Liberia, Peru, and Uganda. For example, community monitors used a well water level sensor in Brazil. In Peru, a smartphone app transmitted monthly remote-sensed early deforestation alerts to monitors. 
Community and global impacts
The meta-analysis of the results shows that community monitoring can improve CPR management in different contexts, even when the monitoring is externally-supported.
This research is distinctive in both its ability to isolate the effect of community monitoring and to test it across different contexts. It offers important insights with tangible public impacts. The results provide evidence of the effectiveness of externally-supported community monitoring. They also contribute to an emerging literature that uses multisite trials to study causal effects.
"Understanding how we can make institutions and governance more effective is essential for successfully addressing the most important policy challenges of the twenty-first century," says Ferraro. "We believe this study is an exemplar of how such an understanding can be more effectively generated by careful field testing using the very best scientific practices."
Featured image: Maria Bernedo Del Carpio. All Photos by Marlayna Demond '11 for UMBC.