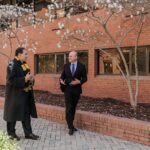 Although we may still be limited in terms of opportunities to physically visit campus, there are still many ways UMBC alumni can engage with the community. In a recent chat with UMBC President Freeman Hrabowski, Alumni Association President Brian Frazee '11, political science, and M.P.P. '12, the vice president of government affairs for the Maryland Hospital Association, shares why it's so important to stay connected. And no, you don't have to live next door to do it.
Frazee: You know, from the very beginning, I was so fortunate to have a great experience at UMBC. When people talk about UMBC they say that you get individualized attention, that people care about you, it's a community. I felt that way right away. I was a Sondheim Public Affairs Scholar, and I did the B.A./M.P.P. program and I went straight through, stayed for five years to finish my master's in public policy. And then I actually bought a house right next to UMBC. I did, I lived right next to the campus. I thought, now there's really no excuse for me not to give back to this university. So I participated in every opportunity I could—alumni events, Homecoming, mentoring students, and staying connected with my professors.  
A few years went by doing that, and then Dr. Art Johnson, the former provost and director of the Sondheim Public Affairs Scholars Program said, "You should think about joining the alumni association board of directors." Long story short, I applied, he nominated me, and I got on the board and the rest is history, and now I feel that my role is really twofold. Number one is to keep my fellow alumni engaged with UMBC. And two, is encouraging my fellow alumni to give back to the university, whether that's financially and or through their time of volunteering. 
Hrabowski:  That's wonderful. UMBC is all about stories, and I love hearing about those experiences and the memories of connecting to UMBC and the Sondheim program. And Brian, you reflect the significance of that program as we think about producing leaders in our state…and thinking about the whole picture, who are we as a campus, as a university, and how do alumni connect to the rest of campus and to the larger society? Your story is a great example of alumni engagement and the reasons why giving back is so important. It's inspiring to me.
Frazee:  The past year has been incredibly challenging for obvious reasons, but it has also presented us incredible opportunities to learn from what we have been through. I think one of the greatest ways we can do that is through the virtual opportunities that we now have learned work very well. Retrievers Connect is one example of that. It is a new platform where folks can make those virtual connections from alumni to alumni, to current students, to faculty, or to any member of the UMBC community. It's been very active…and it's been interesting to connect with old friends and old professors in this new way. 
Our alumni are busy like everyone else, and they are all over the world, which is a great thing. So the ability for us to really expand our network of alumni beyond just the folks that happen to live in this area has been huge. We now have alumni board members that live in Atlanta. We have another one coming from Chicago; before that just wouldn't have been possible. It's wonderful. Nothing replaces the in-person networking opportunities, but at same time, how can we leverage the virtual environment to connect more people? And how do we find that right balance when things go back to "normal."  
There are other ways, too. There are so many alumni chapters that are very active, depending on your interest area. You can reach directly out to a board member as a first step to engagement. You can connect with any member of the alumni engagement staff. Many alumni may not know that there is an entire staff that is dedicated to alumni relations and they are incredible. And when we are able, be sure to come to events, or connect with your favorite professor or your old department. There are a multitude of ways to stay involved. You just have to figure out what's right for you.
Hrabowski: And we'll look forward to seeing you when you do. You know, we always remember how people make us feel, and how universities make us feel. We really do. And either the university tells students in so many ways that they're special and they will be fine and to be their best selves or they don't. We are determined to do that. Thank you, Brian, for all you do. We're so proud of you.
Learn more about Retrievers Connect and other ways of engaging with Retriever alums at alumni.umbc.edu.
*****
Header image: President Hrabowski and Brian Frazee walk on campus in early spring 2021. Photos by Marlayna Demond '11.