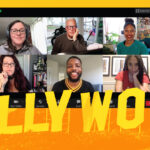 Dimmed lights, Twizzlers, and a big bowl of popcorn. Most of us may not have had the traditional movie theatre experience this year, but in living rooms across the country this year, many have found much-needed solace and escape through television and movies. Behind the scenes, Retrievers working in Hollywood as writers, producers, and directors have embraced the challenges of the moment—and remained ever-thankful for their audiences and creative roots. UMBC Magazine editor Jenny O'Grady sat down with five alumni working in entertainment to hear more about how they got their start, and what has kept them going creatively during this unusual time. 
UMBC Magazine: What has it been like to continue working during the pandemic in order to keep up with demand for entertainment? What does that look like? 
Kara Corthron: Well, I'll just say, I feel really fortunate that I've been able to work, because 40 percent of our country is experiencing food insecurity. But, the biggest shift for me in TV writing was that everything became Zoom meetings…and I still am not in love with it. We've found a way to make it work and be productive, but I still would much rather be with humans, and I miss that a lot.
Brandon Spells: On the network side, making that transition from our office on Sunset Boulevard, to taking pitches on Zoom, it's just a different energy when you're in the room with talent, and taking pitches and getting excited about things…it's just different. Initially we stopped all productions, so that was tough. Once we got the green light, we first started productions in countries overseas, and then slowly, during the summer, we started picking up back in America. Last fall we were going nonstop, trying to catch up, because there was a gap from when we stopped. This year, you're probably going to see that things kind of slow down, as far as the launch cadence. But maybe that's not a bad thing, because we come out with something every week, and maybe we don't need to launch a million things in one weekend. 
Brian Dannelly: For me, when the virus came on, we were writing all the scripts, prepping everything, trying to figure out the COVID situation and trying to be ahead of it, so that when we were able to get back on set we'd be ready to go. We had no idea when we were going back, and so during that time period I had a physical, and my doctor didn't want me flying, so I had to give up the show (In the Dark), which was terrible and sad…and really scary, too. I went into the pandemic with the hopes of coming out a better person, a better creator. We're so lucky because there are so many people who are really struggling, so you're trying to balance that with how you can use this time for good. And so I helped In the Dark transition to the third season, and then I just started writing like a crazy person. I became a whole food plant-based vegan, I learned how to cook. I'm adopted, so I found all my brothers and sisters—there's nine of them. And I just really tried to kind of reconnect with who I was when I started the business, who I was when I was at UMBC, and what got me into the business, and I feel like so far I've come out in a place that's really good.
Cat Mihos: For me, it's been fascinating watching the budgets balloon for COVID compliance. We have two shows in pre-production for Amazon right now that are going to be filmed in Scotland, so we were trying to share things, like catering, so we have one bubble, also trying to make new workarounds so we use the same COVID compliance officers—we're trying to work smarter. It's been a year. Brandon, I get it, Netflix has definitely been our biggest supporter, and we love working with them. It comes down to Zoom meetings, our writer rooms are all remote, so if there's any technical glitch…where you're just frozen on a screen, ugh. It's learning to cope, that's the best skill on any set that you can have. I did work on Brian's first couple films when he was in AFI (American Film Institute), so we have quite an old friendship. We're old. But it's lovely to have that support just right down the street. 
UMBC Magazine: Is there anyone who particularly influenced you, or some other takeaway from your time at UMBC, that you still look to now in your careers?
Dannelly: You know, I was a little broken when I got there, which is interesting because UMBC really put me back together again. My first college was Morgan State University, so it was there I made my first film at a satellite program that they had in Towson. I went from being vice president of my class to failing out because I was so freaked out about making this film. And so I struggled for like two years. It didn't make sense that I could do this, because at the time we didn't have internet, and we weren't connected all over the world. It was like, I'm in this small town, how do I go from here to Hollywood? 
I knew that John Waters edited his early films at UMBC, and I knew they had a lot of film equipment. I went to a meeting there, I was so scared. And so UMBC said come on in, come do this. And I had teachers like Kathy O'Dell, Holly Rubenstein, Jill Johnson—these women carried me. In fact, I was so broken when I went there, when it came to applying for a master's degree, I applied to all of the film schools that I thought I could get into, and Kathy O'Dell sat me down and said, "You apply to the best schools." And I applied to AFI (the American Film Institute) literally running to the train station in Washington, D.C., to put my application in the mail, because I was late and it had to be in by that night. And I never thought in a million years that I would get into that school. So, not only did they help me tap into my creativity and be who I am, but they helped put me back together again.
McKenzie Chinn: For me, part of my identity as a creative person is working in multiple spaces, in multiple disciplines. I'm still an actor, but I've forged more space for my own projects, my own writing. I have a poetry collective. And all of these things I do in equal measure. When I was at UMBC, I was an actor, in a very conservatory-like program. And I think the thing that I learned the most, was a level of discipline that allowed me to succeed as much as I have thus far, and that work ethic was reinforced by all my instructors in the Theatre Department. But I think it has been applying that discipline to carving out space for my own ideas and my own stories, and taking my own agency as an artist, especially as a Black person and a woman in this world, that have really benefited me as an artist and advanced my career beyond what I imagined it could be. And it has been that rebellion, frankly, that I think has allowed me to be able to pivot in the ways that I have during the pandemic. Theater is on pause right now, and so we're all finding ways to do what we do in a different space.
Corthron: In my senior year, I was part of a group that just started writing, and were kind of performing our own works and listening. And we're like it would be really cool to have a playwriting class, but we don't have one. So we went to the department head who was Wendy Salkind at that time, who is lovely. We told her we were really interested in writing, and she created a class for us. She found a teacher, and they added it to the curriculum. It was really cool. I feel like she saw that what we were getting wasn't quite enough, so she thought let's try and figure out a way to make it enough.
I've never thought of myself as one thing, either, which is hard, because people really want you to do your one thing, stay in your lane. And eventually I realized I'm a writer, so I write. But whether that's playwriting, whether that's novels—I write young adult fiction—or it's TV or film, I finally got to a place that's taken a long time, to realize I can do all of it, it's my choice if I want to be exhausted. It's really up to me. So I think that some of that was instilled in me at UMBC.
Spells:So my freshman year, I was a graphic design major, and I was supposed to do this portfolio, but of course being a freshman, I procrastinated and I threw something together and submitted it to the program. And I didn't get in. I wanted to be a cartoonist, graphic design—that was always what I was going to do. And so when I didn't get into the program, it was a crossroads moment.What other things do I like to do? What are my other passions?
And I remembered me and my friends would shoot and edit YouTube videos and stuff, and so I was like I kind of like entertainment, but I don't know anyone who is in the entertainment industry. I don't even know how you get into making films, or any of that stuff. Nobody in my family ever did that. And so I started going into media communications. And the first class that I took was Baltimore Film with Kimberly Moffitt. I enjoyed it, but I just wasn't looking at film or television in a very analytical way. Professor Moffitt, she broke things down in such a creative way, it really helped me see things I hadn't thought of before. And I literally use those techniques today. Giving notes on a cut, and kind of using the analytical eye to look at things creatively, I use that everyday. And I honestly think it started with that class, because watching The Wire, watching Crybaby, she was breaking each scene down and why this led to this, and I'm like how? I would never have thought of something like that. And so it was really a full circle moment for me.
Mihos: I was a photography major. I worked in the darkroom at UMBC, and Alan Rutberg was one of my teachers, and I was very sad to hear we lost him two years ago. When I was 12; I built a darkroom with my dad. So it was always about analog film, and poor Alan, really I put him through the paces. I was adamant, why do I have to learn digital, there's still going to be film. He said nope, and he pulled me into the digital age. He was great, he was challenging. Chris Peregoy, as well, was excellent. Very different teachers, but they both contributed important parts of my photographic life, which I do still use. I've done photo shows, I need to return to that. Digital is still not my true love. I had sort of two dads telling me digital is the future, get with it, forget complaining about it, just go. And Peregoy was like no, keep your analog film love, because it is still there, it's just almost gone.
UMBC Magazine: Why do you think entertainment has been such a unifying force during the pandemic, and what are you hearing from people that keeps you going creatively?
Spells:I feel like some of our stuff has definitely provided people with escapism, because everyone's cooped up in their house, they're not traveling, not experiencing things. And so being able to just get out of your little box and put yourself somewhere else for a little bit is always helpful. Love is Blind, for instance, people loved that show. And I feel like people were unified in people's misery, craziness, misfortune. They're like this is so crazy, this is so wild. But having that connectivity with people, especially when you feel so far away from them, is always nice.
Corthron: Yeah, I totally agree, I think we'd all love a little bit of a vacation from what's going on. These shows have helped a lot. I also think not only is it giving us something to connect about, because of the past year, it was giving people a reason to connect over something that wasn't politics. I feel like there was so much going on that was painful, that it was a way not to have to, at least for like a moment, to have a conversation that wasn't about how stressed we should be. It was a stressful year.
Chinn: I agree with both of you, Brandon and Kara, the world is a lot right now. Even now, if I just think too hard about it, I get really overwhelmed. And I think as creative people we have sensitivity, where we are deeply impacted by things going on around us, and the suffering of others. But in order to be able to show up for ourselves and our families, we need to be able to dispel some of that anxiety, some of that sorrow, some of that tension, because it is so strong.
And so having these various forms of entertainment from prestige television to the trashiest of the trash, has been, I think, for me, been a lifesaver…. I've had this really amazing experience over the last year, where my movie, Olympia, got distributed and hit streaming platforms in 2019. And then everything stopped, and so people were watching more media than they ever had. And so I think smaller indie films that maybe would not have gotten as much attention were suddenly being watched by a lot of people, mine included. And my movie is mostly Black people and people of color, and it's a comedy. It's got some heavier moments, some heartfelt moments, but it is a lighter movie….I remember thinking, does anybody need this movie right now? Little did I know, that was exactly what people would need during this time. And I got an experience I'm so grateful for, where I've had just so many Black people, specifically Black women sliding in my DMs just to thank me for the movie, from all over. And every time it happens, I'm just beside myself with gratitude.
Dannelly: One thing I don't think people realize is that people making film and TV, they work 16 hours a day. Everyone works so hard, they're away from their families….The other thing I always say to people, is that Hollywood is just a bunch of people from small towns and cities. It's not like a bunch of people from L.A. Cat and I came from a little small town, and we didn't go there as Hollywood people, and I'm sure you guys have the same experience—you go there because that's where you go to make films and TV. 
Mihos:Well, I wanted to add on that note, my dad came from Greece, he came over when he was 16. I went home to see him recently with great concern, because I thought I don't want to get him sick, he's 90, and he's like, please come home. I asked him, "Dad, should I be doing this? Should I be doing this with my life?" He said, "You know what, we need to laugh, we need entertainment!" His 90-year-old wisdom just kind of turned my brain around, because I was thinking, what really is this? Is this going to matter in the big picture? Shouldn't I be out there fighting for people, healing people, doing something more important? I really appreciated that from my dad, because you never know what you're giving back to the world. 
Dannelly: This is what I love about our business. Yes, we entertain people, that's part of our job. I think hopefully we're doing it for good, even if it's a laugh. But also, we have the ability to affect every single person we work with. We have the ability to change culture by inclusiveness, by who we choose to hire. So it's like this sort of weird external thing, where we entertain people on many different levels, and it's also this very active, internal mechanism for change, which I love. I'm always going into a project with an agenda, always, always.
UMBC Magazine: So, what advice would you give a student or recent grad who's trying to get into this business?
Mihos: I think what's really important in life is you come up with your people. The other assistants, the people working with you on the ground. It's important to keep checking in with people, even if you have nothing to say, no news, just be like, "how are you doing?" I do so many little mentorships, because I didn't have much of that, and I didn't know how to find it. There's no rule book, and I think the younger kids, they do seem to be fine with asking. I just never thought you were supposed to ask. So please, be generous with your time.
Dannelly: While you're there at school, understand who you are and what kind of stories you want to tell. Really connect with why you're at UMBC. Take a lot of different classes outside of the arts department, because no one wants to make projects with people who only have a theater degree. Whatever other interests you have, spend time doing that. Create as much content as you can. Short films, Tik Toks, YouTube. I can't tell you how many people I discover on Tik Tok and I'm like, that person is interesting, I wonder what they would be like in a film or show.
And then the other thing that's hugely important, and I think McKenzie and Kara, you touched on this so well, is write. The fastest way to have a career is to have something that you've written that somebody wants. You don't have to do anything but have this thing that you've written that you want to direct. And I guess the final thing I would say is don't sell yourself short, like I did. 
Chinn: This year, what I come back to is what a wonderful opportunity this was to enrich yourself as an artist, as a creative person. Before things got surprisingly busy again, I was just like, oh my gosh, I'm going to read so many books. I'm going to watch so many movies that have been on my list. I'm going to grow things in my apartment. I was actually quite excited for the opportunity to connect with the other parts of myself that feed my artistry, that give me something to even talk about, that give me a perspective to have in the world that I bring with me when I sit down at my laptop, or when I walk onto a set. I feel like I need space. I need literal time and space in the world, and also in my head and my heart, to realize what it is that I have to say. And I think if there's an opportunity like one the pandemic has presented for some people to have that time and space. Or, rest, right? We don't always have to be productive. We don't always have to be in making mode. We can also just take a nap, that's also important work.
Corthron: I'm just going to go with what everybody said, particularly Brian. Write, and write scripts that cannot be ignored. 
Mihos: And a P.S. on that, hold onto your intellectual property. Don't give it away, be careful with that. Starting out, especially. I see it happen so often.
Spells:And like Cat said, relationships are just so important, not only in this industry, but obviously in every industry. A lot of it is about what you can do, but it's also about who you are and how you connect with the people around you and work with the people around you. And then networking, it's also not bad to ask for help. When I was just graduating, I quickly found out that no one has made it on their own. And the moment I started connecting with other people, and asking for help, is the moment that they saw how genuine I was, and I saw how genuine they were, and we made those connections. And I was able to help them along the way, and they helped me. And so it's all a collaborative effort.