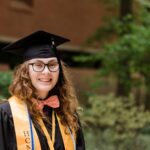 On the back of every UMBC black and gold ID card is a guide to essential emergency resources, including numbers for health, counseling, sexual assault, and suicide prevention helplines. The new card design was the result of student advocacy through UMBC's Retriever Courage initiative, seeking to better prevent and respond to sexual assault and violence. And the person who suggested that change is Autumn Cook '21, M29, chemistry, and gender, women's, and sexuality studies (GWST), graduating this week.
A Meyerhoff Scholar and Honors College student, Cook has been a tireless advocate for all UMBC students, with a focus on supporting survivors of sexual assault and helping trans students find and build community, in the sciences and at UMBC broadly. 
Committing to visibility
"I was the first openly trans Meyerhoff Scholar in the history of the program and I quickly learned that I would have to build my own community of transgender scholars at UMBC," Cook shares. "Without having any friends like me, I connected and built bridges with people who did. I was lucky enough to find more trans people through both the LBGTQ+ Student Union and its programming, and then through the Women's Center." 
Autumn Cook in front of the Women's Center. Photo by Marlayna Demond '11 for UMBC.
Cook launched the LBGTQ+ Student Union's weekly trans discussion group, then worked to restart and become a co-facilitator of the Women's Center's trans discussion group, Spectrum. "I always make it a priority to be extremely visible because I want to demonstrate to other people that transgender people exist, transgender people can thrive, and transgender people can be successful," they share. 
"I want to potentially be a role model for other transgender people," says Cook, "to show them that I can do it, therefore so can you."
Calling for change
Thinking about the impact of the new campus ID design, Cook says, "I'm proud that every UMBC student, faculty, and staff member now carries that card and that it is part of a legacy I'm leaving behind at UMBC." 
Their legacy also extends to other important changes that impact the daily life on campus. For example, Cook joined UMBC community members in calling for updating and expanding all-gender restrooms, including multi-person restrooms. The first multi-person, all-gender restroom opened in Sherman Hall A Wing in June 2019 and more have followed across the campus.
Amelia Meman, assistant director of the Women's Center and Cook's supervisor and mentor, says Cook is an asset to campus who will be missed. "As a student heavily involved with the administration in advocating for this project and later ensuring accountability in implementation, Autumn has left an indelible mark on our campus by ensuring access for everyone–affirming all people's gender diversity."
Autumn Cook on National Coming Out Day in 2019. Photo by Amelia Meman.
In recognition of their scholarship and advocacy work at UMBC, Cook received two Lavender Awards: LQBTQ+ Scholar of the Year in 2021 and Emerging Student Leader in 2020. As a GWST major, they received the Jo Ann E. Argersinger Academic Achievement Award for GWST in 2020 and 2021.
Helping students succeed in science
Cook also sees important interconnections between their two majors: GWST and chemistry. After graduating from UMBC, they will pursue their Ph.D. in chemistry at University of Illinois, Urbana-Champaign, but they see GWST as foundational in their work to boost inclusion in science. 
"I'll be able to use my degree to push through more advocacy work within the next step of my educational and professional journey," says Cook. "Whether it's conducting research after I finish my Ph.D., dictating science policy on a national level, or supporting transgender scientists, I want to continue to fight for my community." 
Autumn Cook in front of the Meyerhoff Chemistry Building. Photo by Marlayna Demond '11 for UMBC.
Cook plans to become a chemistry professor and has already completed research with Joseph Bennett, research assistant professor of chemistry, and became one of the department's youngest teaching assistants (TAs). They tutored students in the Chemistry Tutorial Center, and for that work, received the 2021 Mittino Award for Service from the chemistry and biochemistry department. 
"When I started in chemistry, I struggled a lot. But because of the time and effort other people put into helping me, I was able to grasp the knowledge on a really deep level," says Cook. "Tutoring and TA'ing was at first a way to pay it back to those people who helped me, but it quickly turned into a passion."
"Once I realized that teaching chemistry as a professor was what I wanted to do, I made sure to take every opportunity that I could," they add. "Being able to help students succeed is extremely gratifying and rewarding."
Finding opportunities to lead
Christian Figueroa '21, social work, and Henri Maindidze, '21, psychology, say building community for students at UMBC-Shady Grove has been at the heart of their undergraduate experiences. 
A first-generation student who transferred from Montgomery College, Figueroa dedicated himself to helping create a culture of belonging at UMBC-Shady Grove. It all started in 2019 when he "took a chance" to run for a leadership role as vice president of UMBC-Shady Grove's Social Work Student Association (SWSA). 
Figueroa says that experience opened more doors and encouraged him to apply for additional opportunities, like representing UMBC on the Universities at Shady Grove (USG) Student Council. He also served on the UMBC-Shady Grove Peer Advisory Team, collaborating with faculty, staff, and current students on recruitment and retention events for transfer students. 
Christian Figueroa on the UMBC-Shady Grove campus. Photo courtesy of Figueroa.
After becoming SWSA co-president in 2020, Figueroa gained additional leadership experience and learned the importance of flexibility and creativity in building community during challenging times. When UMBC transitioned to virtual classes during the pandemic, he wanted to provide ways for social work students to stay connected. 
Collaborating with co-president Mariandree Paiz '21, social work, and clinical instructor Jeanette Hoover (SWSA's advisor), Figueroa developed community discussions focused on current events, featuring clinical instructor Nicole Belfiore. They also coordinated self-care nights and opportunities for students to do service work.
Serving communities
While committing so much time to leadership and supporting his fellow students, Figueroa took advantage of professional development opportunities offered by USG as well. He was selected to participate in the Montgomery County Department of Health and Human Services (DHHS) Interprofessional Scholar Program, which enables students to collaborate on real-world projects. Figueroa says the experience validated his desire to be a social worker.
After graduation, Figueroa will enter the master of social work program at the University of Maryland, Baltimore with advanced standing, and will specialize in behavioral health. He will serve as an intern with the Montgomery County Crisis Center, one of the sites he worked with as part of his DHHS Fellowship.
Christian Figueroa on the UMBC-Shady Grove campus. Photo courtesy of Figueroa.
"Christian exemplifies our Retriever spirit and UMBC grit," says Chelsea S. Moyer, director of UMBC-Shady Grove. "He is a committed and engaged student leader exhibiting the social work value of service. He gives generously of his time and talents and is genuinely enthusiastic about and driven to make a difference in the lives of others. Importantly, he serves as both a problem-solver and bridge-builder in helping to create and build an inclusive community at the Universities at Shady Grove."
Making space for conversations
Maindidze, who received his associate's degree from Montgomery College, says getting involved in campus life at UMBC-Shady Grove was always a given. Seeing opportunities to create connections to support fellow students, Maindidze took the initiative to make them happen. "As students, we have a unique responsibility to make a difference and we only get a few years to do so," he says. "It's important to make this time worthwhile and leave a lasting impact."
Henri Maindidze. Photo courtesy of Maindidze.
As relationship-building became more challenging because of the pandemic, Maindidze decided to create a conversation space where members could address current issues, share their stories, and celebrate their diverse voices. In August 2020, he launched the Nine Tea podcast, a name combining the nine University System of Maryland institutions that make up USG with the expression "spill the tea." Featuring topics such as social justice, race relations, and mental health, Nine Tea has already reached around 900 listeners. 
Someone to rely on
For his senior year, Maindidze took classes at both UMBC's main campus and UMBC-Shady Grove. He joined Off-Campus Student Services (OCSS) at the main campus as a Transfer Student Network leader and again looked for ways to build community during COVID-19. 
Maindidze hosted events so main campus students could meet their peers at UMBC-Shady Grove and get to know one another, which he hopes will continue. He also mentored incoming transfer students, providing a connection as they navigated a new campus. "It was important to try to reach students and let them know they could rely on me to help them along the way," he says. 
Henri Maindidze. Photo courtesy of Maindidze.
Chloe Terrell, OCSS coordinator for transfer student success, says Maindidze's mentees shared how helpful he was at guiding them through their first semester at UMBC. "Henri has been a crucial team member in OCSS. He brings a calm yet confident energy to any space he's in," says Terrell. "Henri's work in OCSS will leave a legacy."
Like Figueroa, Maindidze represented UMBC-Shady Grove as a member of the USG Student Council. He was also on the USG assessment committee and vice president of the UMBC-Shady Grove Psychology Student Association, participating in service projects, study groups, and speaking engagements.
After graduating, Maindidze will pursue his Ph.D. in industrial and organizational psychology at SUNY Albany. He plans to continue creating community-building initiatives and mentoring students. He shares, "I want to create welcoming spaces where I can help students and make sure they have what they need to be successful."
---
Featured image: Autumn Cook in graduation regalia on Academic Row, May 2021. Photo by Marlayna Demond '11 for UMBC.
Article written by Eleanor Lewis, communication specialist in the Division of Student Affairs.