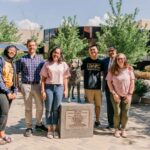 When listeners tune in to the Retriever Tales podcast hosted by Tirzah Khan '21, information systems, who is graduating this week, they'll hear UMBC voices sharing their journeys of finding and creating community. Moving, inspiring, funny, and thought-provoking, the show is a testament to Khan's own UMBC experience and a broader culture of co-creating community at UMBC.
One key experience kick-started Khan's growth as a student leader: STRiVE, a leadership for social impact retreat led by the Center for Democracy and Civic Life (CDCL). "Everything began for me when I went to STRiVE during my sophomore year," she shares. "Before STRiVE, I stuck to myself and didn't venture outside my comfort zone often. I gained so many insights about myself during the retreat, and I learned to reimagine the world as it could be." 
Tirzah Khan. Photo courtesy of Khan.
After returning from the retreat, Khan says, "I developed the confidence to get involved in other organizations," like hackUMBC (becoming a design team lead) and the Student Events Board (as vice president for design). Along with STRiVE 2019 members Shrijana Khanal '21, economics; Sofía Encarnación '22, economics and mathematics; and Juhi Naik '21, history and political science, she also founded the TEDxUMBC student organization, launching her work as a community storyteller.
Reimagining the world through stories
When Khan dives into something, she does it in a big way. She committed to UMBC community work through CDCL, serving as a ConnectionCorps intern to create Retriever Tales; helping to coordinate Election Night Extravaganza, an election night returns watch program; and joining other community members in facilitating and organizing "Together Beyond November" post-election discussions. She also participated in initiatives like the fall 2020 Cast Your Whole Vote campaign, featuring events to encourage the UMBC community to recognize voting as just one of many ways to make a difference. 
Tirzah Khan. Photo courtesy of Khan.
Khan is passionate about the intersection of graphic design and social impact. She worked as a social media engagement and design intern with the Mosaic: Center for Culture and Diversity, and she has also been active with Retriever Immigrants United and the Women of Color Coalition. 
In her final semester, Khan wanted to focus on bringing the UMBC experience to community members who had largely been away from campus for a year due to COVID-19. She brought the Retriever Tales podcast to life, featuring authentic conversations with Retrievers about what brought them to UMBC, what it means to them to be here, and what hopes they have for the UMBC community. Khan shares,"These conversations have truly reshaped my understanding of what it means to be part of a community, and what it means to be part of UMBC's community."
"As students we have the opportunity to try and mold UMBC's future and its impact," says Khan. "There's this idea that I think describes UMBC's culture really well: that we're all co-creating UMBC. What that means is everyone here has the ability to help shape this institution in some way. We all have both the opportunity and the responsibility to create the UMBC that we want to see together."
Visible, actionable change
Like Khan, graduating senior and Honors College member Brandon Liu '21, biological sciences and visual arts, says STRiVE and CDCL transformed his time at UMBC. 
As a first-year student, Liu and friends Ella Hawkins '20, biochemistry and molecular biology, and Manny Ali, '20, computer engineering, who is hard of hearing, learned UMBC didn't offer American Sign Language (ASL) classes or clubs, so they co-founded Sign of Life. The club teaches ASL and educates students interested in being more involved in the Deaf community. "This was my first experience collaborating with friends, reaching out to stakeholders, and making a visible, actionable change on something as large as a university campus community," says Liu.
Brandon Liu. Photo by Alexis Harris '19.
Building on that experience, Liu attended the STRiVE retreat in his second year at UMBC. Over the next three years he returned to STRiVE as the campus civic engagement intern, supporting faculty, staff, and student coaches who guided groups of undergraduate student participants. 
"The Center's Alternative Spring Break and STRiVE are the most important experiences I can recommend, especially for those who don't feel like they have what it takes to make change or think that change doesn't happen," says Liu. "STRiVE transformed me from a student that kept my head down and didn't think I was powerful enough, smart enough, connected enough to make change into someone who knew that coming as I am, I am already valuable and capable of affecting my communities." 
Strength in community
Those around Liu quickly began to see his impact and his potential as a leader. In 2018, he received the Lavender Award for Emerging LGBTQ+ Leader from the Initiatives for Identity, Inclusion, and Belonging. He kept his focus on community leadership and, today, says the agency students have at UMBC is what makes a UMBC education so valuable.
"As assistant speaker of the senate for our Student Government Association (SGA), one of my biggest responsibilities was coordinating undergraduate participation in UMBC's shared governance committees," says Liu. "I connected the undergraduate senators with chairs of key university committees, to make sure undergraduate voices were heard in campus decision-making." 
Brandon Liu and other members of UMBC's delegation at the 2018 Civic Learning and Democratic Engagement Meeting. Photo courtesy of Hoffman.
Seeing fellow students grow in their ownership of the UMBC community and learn to increase student agency on campus was both gratifying and motivating to continue the work, he shares. 
"The real strength of UMBC is within the community," says Liu. "I've been able to learn so much more about myself and surround myself with many other genuine, compassionate, caring, and active people. The academic rigor allows students to receive a valuable degree, but the community is what makes UMBC a home."
Front row (l-r): Tess McRae, Romy Hübler, Brandon Liu, and David Hoffman. Back row (l-r): Pat Michael and Timothy Farrell. Photo courtesy of Hoffman, 2019.
Liu is graduating as a Sherman STEM Teacher Scholar and will soon begin his master of arts in teaching for secondary biology at UMBC. He shares, "I know that UMBC values the same things I do. And with a master's in teaching from UMBC I know I'll be able to take on the responsibility of building and supporting communities in the schools and classrooms where I'll teach in the future."
Creating shared spaces
Meghan Lynch '18, political science, and M.P.P. '21, will soon become a double alumna of UMBC, after earning her master's in public policy. She says she still thinks about one particular class on civic agency during her undergraduate years, which shaped her UMBC experience, her career path, and her perspective on the world. Her a-ha moment: "I realized that the idea of creating shared spaces and bringing democracy into the classroom was a very concrete way to realize the power we all have in every space," she says. 
Lynch describes UMBC as a place that supports, nurtures, and encourages political engagement in all forms. Creating spaces for community dialogue and mutual support was especially important during COVID-19 and the intense election cycle. As vice president of UMBC's Graduate Student Association (GSA), Lynch is proud of how the group helped to offer space for dialogue and build community as a co-host for the CDCL's "Together Beyond November" post-election discussions. 
Meghan Lynch. Photo by Poulomi Banerjee '16.
"Amidst all the fatigue and difficult news in the world, the Center, SGA, and GSA were able to coordinate very meaningful and well-attended events leading up to and after the election," says Lynch. "It was clear that the UMBC community wanted to spend time coming together to think about our role in bringing about change and hearing about the issues. I left every one of these events feeling refreshed in a humble and grateful way."
Resources for success
During the COVID-19 pandemic, Lynch and other GSA officers created a well-being committee, recognizing the importance of students' mental, physical, and spiritual well-being. "We've had an excellent turnout to committee meetings in part because people are looking for a place to reflect on how to help each other," she says.
"Amidst all the chaos and uncertainty, I'm so proud that GSA has found ways to connect students to the resources they need and serve as a gathering space–even virtually," Lynch says. "I'm also proud of the strides we are making to ensure that graduate students are intentionally included in programming and other opportunities across campus."
Creating community, Lynch reflects, "is a way for people from different departments across campus to collectively work towards solutions that benefit all of us." And every new relationship or new project "starts from just one conversation," she shares, so "there's beauty in just talking with people."
Meghan Lynch and True Grit. Photo by Poulomi Banerjee '16.
After graduation, Lynch will teach an introductory political science class at UMBC and serve as the new director for the Catonsville Chamber of Commerce. She says, "I hope to take all of the transformative experiences I've had at UMBC beyond Hilltop Circle to help others realize their ability to make their communities better for everyone."
One person who looks forward to seeing the impact of her work is CDCL Director David Hoffman Ph.D. '13, language, literacy, and culture. Hoffman shares that Lynch, Liu, and Khan all "embody the idea that we can bring our whole, unique selves to the work of shaping our communities." He says, "Their contributions have helped make UMBC even more deeply and visibly what it has been all along: caring, inclusive, and engaged."
---
Featured image (l-r): Mariam Abalo-Toga, Roy Prouty, Anjali Dassarma, Brandon Liu, President Freeman Hrabowski, and Lilly Keplinger stand by True Grit, 2018. Photo by Marlayna Demond '11 for UMBC.
Article written by Eleanor Lewis, communication specialist in the Division of Student Affairs.