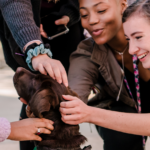 As we prepare to close the book on 2020, we want to take a look back at some of UMBC's most important chapters from this past year. Here are our top 20 top memories from 2020:
COVID-19 vaccine
Kizzmekia Corbett '08, M16, biological sciences, has served as scientific lead for the NIAID team that developed the NIH-Moderna vaccine against COVID-19. President Freeman Hrabowski and his wife Jackie both participated in the NIH-Moderna vaccine trial, showing what leadership looks like in action. In addition, Kaitlyn Sadtler '11, biological sciences, is leading an NIH study to estimate how many people in the U.S. have been infected with COVID-19, including asymptomatic people.
A Black woman from North Carolina will go down in history as one of the leaders of the COVID vaccine effort: Dr. Kizzmekia Corbett, a research fellow and scientific lead at the NIH, is on the frontlines working with a team studying Moderna's vaccine. https://t.co/nYRr9g6MFK

— Kyle Griffin (@kylegriffin1) December 16, 2020
UMBC's second Rhodes Scholar
An honor so nice, we did it twice! Sam Patterson '21, M29, is now the second student in UMBC history to receive a Rhodes Scholarship. Only 32 American students are awarded the prestigious scholarship each year, which supports graduate study at the University of Oxford. Among other prestigious scholarships earned by UMBC students, Jordan Troutman '21, M29, computer science and mathematics; Dominique Brooks '21, M29, biological sciences; and Olumide Fagboyegun '21, M29, biochemistry, were all named Barry Goldwater Scholars.
Sam Patterson '21. Photo by Marlayna Demond '11.
Preparing for Fall 2020
The cost to attend UMBC was lowered by 22 percent for in-state undergraduate students in fall 2020 to help mitigate the financial challenges caused by the global pandemic. Hundreds of faculty also spent the summer training to create engaging, high-quality virtual classroom experiences for students through a program called PIVOT.
Record Fulbright Awards
UMBC was officially named a Fulbright Top Producing Institution in early 2020. Over 43 percent of UMBC's Fulbright U.S. Student Program applicants earned awards last year. Eleven recent UMBC alumni are recipients of 2020 – 2021 Fulbright U.S. Student Program awards, including seven from UMBC's Class of 2020.
Inclusive excellence
Jasmine A. Lee, director of inclusive excellence in UMBC's Division of Student Affairs, now also leads UMBC's new Initiatives for Identity, Inclusion and Belonging (i3B). Ariana Wright Arnold joined UMBC as director of the new Office of Equity and Inclusion, which launched an Inclusion Council made up of faculty, staff, students, and alumni.
Basketball fans celebrate this season
Through strict adherence to COVID-19 safety guidelines, UMBC men's and women's basketball were both able to return to play in winter 2020. Although current precautions prevent fans from attending games, #RetrieverNation is still showing up however they can for our teams.
We have liftoff!
UMBC's Hyper-Angular Rainbow Polarimeter (HARP) was named the Small Satellite Mission of the Year by the American Institute of Aeronautics and Astronautics. 
The HARP team and colleagues from SDL in Utah, with family members, on the morning of the rocket launch (11/2/19). Photo by Sarah Hansen.
New books in the news
Among the many books published by UMBC faculty this year, Elizabeth Patton, media and communications studies, explored how Americans think about the modern home office and why in Easy Living: The Rise of the Home Office. Her article about gender and working from home has been read 150,000 times through CNN, Fast Company, and other news outlets. Marjoleine Kars, history, wrote about a massive rebellion of enslaved people in Berbice in the 1700s in her new bookBlood On The River, featured as one of NPR's best books of 2020.
Student-led events
Students kept our campus community engaged virtually with HackUMBC and TEDxUMBC, both held fully online and drawing huge audiences. 
Faculty COVID-19 research connects with the public
Zoë McLaren, public policy, published several articles explaining COVID-19 testing and clinical trials, including a piece on the winter surge in COVID-19 cases. Katherine Seley-Radtke, chemistry and biochemistry, and colleagues received a Fast Grant to study antivirals' effectiveness against COVID-19. Seley-Radtke's articles explaining drugs used to treat COVID-19 have been read more than one million times.
Lucy Wilson, emergency health services, joined an interdisciplinary team of experts in developing "The Roadmap to Recovery: A Public Health Guide for Governors." A team of researchers led by Charissa Cheah, psychology, was one of the first to receive an NSF Rapid Response Research award on COVID-19, to examine an increase in racism and discrimination experienced by Chinese Americans during the pandemic. 
Cyber Dawgs take first place
The UMBC Cyber Dawgs took first place in the Mid-Atlantic Collegiate Cyber Defense Competition, which was held virtually. 
Six feet = seven squirrels
Still having a hard time visualizing how far apart six feet is when social distancing? We pride ourselves on innovation at UMBC, and that's how we came up with the perfect example: six feet apart is the same as seven squirrels. Researchers have not yet confirmed if this is before or after they ate the fries stolen from your lunch.
Artists get creative
Confronted with a global pandemic, UMBC alumni artists got creative in finding ways to share their work with the world. Comedians, photographers, writers, and more proved that the show must go on, and that art can help make people make it through difficult times.
Inclusive language event with global reach
UMBC hosted "The Evolving World of Inclusive Language" online in June. Nearly 800 people from across the U.S. and around the world registered for the day-long event, and 250-300 participants joined each session. The event was organized by Catalina Sofia Dansberger Duque of UMBC's Office of Institutional Advancement, funded by the Council for the Advancement and Support of Education.
Lumbee archives
Ashley Minner, American studies, is working with a fellow Lumbee scholar to bring the Lumbee history and archives back to the community. Her work has been featured this year by the Baltimore Sun, Smithsonian, and others.
Essential contributions of women in science
Evangeline Rose, Ph.D. '20, biological sciences; Karan Odom, Ph.D. '16, biological sciences; and Kevin Omland, biological sciences, wrote about the key role women have played in revolutionizing our understanding of female bird song, and the importance of diversity in scientific research.
First Generation Network
UMBC faculty and staff who are first-generation college graduates came together to develop the First Generation Network, dedicated to supporting UMBC's first-gen students, approximately 25 percent of our student body. 
Happy birthday, Chip!
We were thrilled for any reason to celebrate in 2020, and the first birthday of our best girl Chip was one of our favorites. She'll accept IOUs for any in-person pets you'd like to give her when we're back on campus.
U.S. News rankings: teaching, innovation
UMBC has advanced to #11 for undergraduate teaching and holds the #9 position on the list of most innovative schools in the nation in the 2021 U.S. News and World Report Best Colleges rankings.
Reaching the finish line
With classes predominantly online this fall, former students who've had to pause their studies re-enrolled at UMBC through the Finish Line initiative. Roughly a quarter had just one course left to complete, and UMBC celebrated their graduation this month.
We look forward to making new memories with our UMBC family in 2021! Check out these stories and more through UMBC News and UMBC Magazine.
Header image taken by Marlayna Demond '11 in 2019.