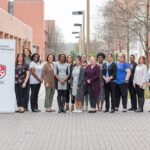 When COVID-19 spread across the United States, essential workers scrambled to find open childcare centers with available spots. The pandemic exposed a longstanding shortage of licensed early childhood education providers, exacerbated by the public health crisis.
Among the many causes of this shortage has been a lack of professional development and career pathways for early childhood education providers and leaders who serve children from birth to age five. This is a challenge UMBC and the State of Maryland are working to address. 
Investing in early childhood leaders
UMBC's Sherman Center for Early Childhood Learning in Urban Communities has been leading change in this field in Maryland since 2017 through its Maryland Early Childhood Leadership Education Program (MECLP). The program's 12-month post-baccalaureate course equips current leaders in early childhood education with the skills, knowledge, and network needed to implement effective and long-lasting change in classrooms, school districts, and nonprofits across the state. 
(L to R) Betsy Sherman, Sanders, Corwin, and Meredith Callanan a MECLP advisory committee member.
Photo by Chris Ferenzi for UMBC
.
In 2017 the Maryland State Department of Education (MSDE) granted $100,000 to UMBC's Sherman Center. The MSDE grant, along with $50,000 from a $6 million grant from the George and Betsy Sherman Family Foundation to the Sherman Center, helped establish MECLP. In May, MSDE granted an additional $150,000 award to the Sherman Center to sustain MECLP's programs and initiatives.
"We are thrilled to be a founding supporter of MECLP. It is the capstone of our workforce support for the Maryland early childhood community," explains MSDE's Steven Hicks, assistant state superintendent in the Division of Early Childhood. "We're creating a career ladder that ensures quality learning and development. It will also ensure a robust supply of highly qualified early childhood leaders."
Systems to support emerging leaders 
Mavis Sanders, professor of education and director of the Sherman Center, welcomed Louise Corwin to the Sherman Center in 2018. Corwin would help the Sherman Center assess Maryland's early childhood needs and create a framework to meet those needs. As the former executive director of the Ready at Five school readiness organization, housed at bwtech@UMBC, she brought extensive experience in early childhood education. 
Sanders presenting at a MECLP meeting.
Photo by Chris Ferenzi for UMBC
.
"The Sherman Center decided to bring Louise onboard as an executive in residence. We wanted her to help anchor and develop this idea at UMBC," shares Sanders. Corwin developed an advisory committee of leading voices in Maryland's early childhood work. Sanders and Corwin have continued to work together since 2018 to further develop MECLP.
Louise Corwin.
Photo courtesy of Corwin
.
After identifying the needs they wanted to help the state address, Sanders and Corwin sought researchers across the country who had successfully implemented early childhood leadership programs. This includes experts like Anne Douglass, founder and executive director of the Institute for Early Education Leadership and Innovation at University of Massachusetts Boston. 
Douglass tests, studies, and implements new policies, practices, and systems that increase the capacity of early educators to lead change and improvement in the field. She conducts her research in partnership with professional, community, government, and philanthropic systems that share this vision. Sanders and Corwin partnered with Douglass to adapt Boston's program to meet Maryland's needs.
Putting theory into practice
Through the post-baccalaureate program, fellows learn the leadership skills necessary to create and support pathways for organizational progress. They also learn to sustain improvements in early childhood education settings. 
UMBC expects to graduate 12 early childhood professionals in December at the conclusion of the first year-long course. This cohort includes diverse leaders in policy development at the school district and state levels; high-achieving early childhood program leaders; and advocates for families, children, and childcare professionals across the state. 
"Exposed to training in entrepreneurial leadership, cohort members advance their knowledge," says Douglass. "They become more effective leaders, and implement new practices and systems to better support young children, their families, and communities.
Photo by Marlayna Demon '11 for UMBC.
During the program participants are connected with a network of mentors in the field. They will continue to have access to them after completing the program. This community of support proved to be invaluable for the educators during the transition to virtual education due to COVID-19. 
At a moment when transformative leadership is needed in education, Corwin is confident that "MECLP graduates will affect state-level change in systems, policies, and programs, and advocate for equitable high-quality early childhood care and education for all children" in the years to come.
Banner image: The MECLP 2019 – 2020 cohort, fall 2019. Photo by Chris Ferenzi for UMBC.