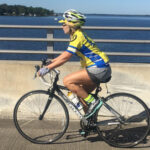 Sitting together, side-by-side in a video call, it's easy to see the familial resemblance between Susan Sonnenschein, professor, Applied Developmental Psychology, and Elyse Grossman, M.P.P. '08, Ph.D. '14, public policy. However, similar facial features, matching bold colors, and statement necklaces aside, it's the back-and-forth interaction that gives the duo away as mother and daughter.
A playful sense of ease to gently correct, pause the conversation, or reassert herself comes naturally to each woman, who understands their own dynamic better than most research pairs. 
During the COVID-19 pandemic, Grossman has been staying with her mother and sister Julie in their Rockville townhome, sheltering-in-place together. Grossman cooks gourmet meals; Sonnenshein insists they stay up-to-date on cultural events by attending performances and tours online. And one more thing—they combined their research interests to create a nation-wide survey that looks at the stresses on parents during the period of distance learning and what role this has played in their alcohol consumption. Sonnenschein and Grossman are sharing the task of writing several papers drawn from the data, and a brief version of their findings, "Parents with Children Forced to Do School at Home Are Drinking More," was recently published in The Conversation.  
All in the Family 
Unlike her sister Julie Grossman, who teaches psychology alongside Sonnenschein at UMBC (and is assisting in coding the data from their joint survey), Elyse Grossman had no interest in studying her mother's area of expertise. However, as her undergraduate years at Cornell passed, she found herself graduating with a degree in psychology. 
"I ended up really enjoying it, but it was funny," says Grossman. "I had always been very adamant that I was never going to go into psychology." Sonnenschein chimes in, "and when I brought that up afterwards she said, 'Well I always knew I would.'" They exchange looks.
In 2018, Grossman won the "Keeping It Safe" Community Service Award for her work at preventing and reducing alcohol use among those under age.  And of course, her mother was there to support her.  All photos courtesy of Grossman and Sonnenschein.
At Cornell, Grossman already knew she wanted to get a law degree afterward, assuming she'd work with patent law, based on her science-focused undergrad. But as she shifted toward a new degree plan, Grossman discovered her research interest in alcohol policy.
Rethinking Drinking Traditions
Traditionally, end-of-the-year classes at Cornell were celebrated by students and their families on Slope Day, Grossman shares. However, more recently, Slope Day had become a day marked by excess drinking where rules regarding minors were often ignored. Grossman recounts a Slope Day she attended. "The first person who went to the hospital [for alcohol poisoning] was a 13-year old girl who had a note in her pocket that said, 'I allow my daughter to go to Slope Day.'"
According to Grossman, the local hospital canceled all of their elective procedures that day to address the influx of patients from the university. This sparked Grossman's interest in alcohol policy and public health. Now a policy fellow at the Johns Hopkins Bloomberg School of Public Health and a senior legal policy advisor at a consulting firm, Grossman specializes in researching state alcohol policies. But, it began with Slope Day. "I really got involved with rethinking this event, and we worked to change it from a day about drinking to a day about music and fun and food with alcohol."
A Survey of Overlapping Interests
Sonnenschein, whose degree is in developmental psychology, describes her scholarly interest in educational formation and the factors that facilitate or interfere with a child's development in language, literacy, and mathematics. "And that's what I've done research for for years," says Sonnenschein. "Then there was COVID, and the whole nation basically turned to homeschooling or distance learning. And that intrigued me."
Grossman gave two presentations in October 2019 at the National Alcohol Beverage Control Association 25th Annual Administrator's Conference in Denver.  
Sonnenschein gave a presentation at the Headstart Conference in Ocean City, Maryland, in 2018 on the importance of supporting and engaging children in math learning at home.
Meanwhile, Grossman—who is also an adjunct instructor at UMBC's Honors College—noticed an uptick in memes on social media with variations on the theme "Well, when I get out of COVID I'll either be an excellent cook, an alcoholic, or both." Past research, says Grossman, shows that "when there's traumatic, emotional, or stressful events, alcohol consumption generally increases two to three years after the event, for example, after 9/11, Hurricane Katrina, et cetera. So this is something that really interested me, seeing how COVID-19 was affecting stress and alcohol consumption now and whether we'll see the same increase in two to three years."
Here Sonnenschein and Grossman discovered the perfect overlap of their research—were parents who were suddenly responsible for their child's educational growth turning to alcohol more often?
From their online survey, completed in May 2020 by 361 parents with children under 18 years old currently living with them, the research duo found that "parents who are stressed by having to help their children with distance learning during the COVID-19 pandemic drink seven more drinks per month than parents who do not report feeling stressed by distance learning." Furthermore, they write inThe Conversation, "These stressed parents are also twice as likely to report binge drinking at least once over the prior month than parents who are not stressed, according to our results."
Parents' roles have not only shifted, say Sonnenschein and Grossman, but they've multiplied. "In addition to being parents, they're teachers, they're employees, they're coaches, they're motivators," says Grossman. "And all of this happened relatively quickly," Sonnenschein adds. 
Making Sense of the Unexpected 
Sonnenschein and Grossman are eager to see where their research leads them next while they continue to share homemade meals and online cultural events. 
The family in Vilnius, Lithuania, in 2016, while waiting for a bus to Riga, Latvia. Sonnenschein likes to joke that the coldest winter she ever spent was a summer in Vilnius.
"It's been neat to see how our research and perspectives overlap," says Grossman. "We have different styles and different backgrounds, so it's been interesting just to see how all that works together and to learn from each other."
"This is a moment in time that I believe is going to change the world," says Sonnenschein. "And I've always thought when some unexpected event occurs, we should contribute to try to make sense of it."
*****
Learn more about UMBC Graduate School's Applied Developmental Psychology program or the available specializations in the School of Public Policy. The Graduate School is currently accepting applications through December 1 for a fall 2021 start date.
Header image: From left to right: Julie Grossman, Susan Sonnenschein, and Elyse Grossman at the International Society for the Study of Behavioural Development (ISSBD) Conference in Vilnius, Lithuania, in 2016.  All three presented.