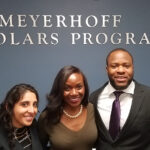 Clinical trials seeking a vaccine to prevent COVID-19 are galloping forward around the world, and Kizzmekia Corbett and Barney Graham's research team at the National Institute of Allergy and Infectious Diseases (NIAID) continues to lead the pack.
In a study of non-human primates published in the prestigious New England Journal of Medicinelast week, the team became the first to demonstrate that their vaccine successfully stopped viral replication in both the lungs and nose. The findings were a significant advance compared to previous studies, which only showed protection in the lungs. The day after Corbett's results were published, Johnson & Johnson published similar results for their vaccine, although the animals in the Johnson & Johnson trial were exposed to a lower amount of the virus.
"Protection in the upper airway is something that's hard to come by, so it's a big deal," says Corbett '08, M16, biological sciences and sociology, scientific lead for the Coronavirus Vaccines Team at the NIAID Vaccine Research Center. "We were very excited when we saw it."
Next steps
The next step is a phase III human trial, which began with 30,000 participants on July 27. The participants will either receive the vaccine or a placebo, "and then they will go live their lives, and either be exposed to the coronavirus or not," Corbett says. Over time, enough of the participants will be exposed so that researchers can measure the efficacy of the vaccine. 
Our (co-inventors @McLellan_Lab) COVID-19 vaccine (spike delivered by @moderna_tx's mRNA) was just injected into the 1st human in phase 1 trial, only 66 days after viral sequence release… a testament to rapid vaccine development for emerging diseases