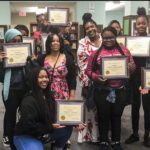 Eric Ford, director of The Choice Program at UMBC, has been appointed to serve as chair of Maryland's State Advisory Group (SAG), a part of the Governor's Office of Crime Prevention, Youth, and Victim Services (GOCCP). 
Ford has dedicated his career to serving young people facing inequalities. As director of Choice, he guides the program in providing community-based, family-centered services for youth. Choice seeks to promote positive outcomes for young people who are incarcerated, on probation, or would benefit from support to avoid entering the juvenile justice system. Ford's new leadership role with Maryland's SAG extends the impact of his work across the state.
Ford, first on the right, with Choice youth unveil a mural created over spring break at Lane Manor Recreation center in partnership with Artivate Inc.1
As SAG chair, Ford will assist in the review of grant proposals, monitor juvenile justice programs, and advise the governor and legislators on compliance with the Juvenile Justice and Delinquency Prevention Act. The appointment, which began July 1, 2020, comes after four years of service. Ford also served as the vice chair of the SAG for one of those years. During this period, he helped develop a three-year plan outlining the goals and objectives for the SAG. 
Dedicated to serving young people
Ford has focused on supporting youth for more than 25 years through a range of community and educational institutions. He actually began his work with Choice as a case worker in 1993, before serving as a case manager, career counselor, community schools coordinator, and in other high-impact roles. 
Ford later returned to Choice in 2011 as assistant director, before becoming associate director of operations in 2014. Four years later he advanced to acting director and was then selected as director. 
"I am pleased to name Eric Ford as the next Chair of Maryland's State Advisory Group," shares Glenn Fueston, executive director of the GOCCP and a fellow former Choice case worker. "As the SAG continues to address Maryland's juvenile justice system needs, Eric's background in youth development programming will help solidify the SAG's commitment and responsibilities under the Juvenile Justice and Delinquency Prevention Act."
Supporting reform at the state level
The SAG chair appointment is Ford's second recent appointment from the governor. Last year he was appointed to Maryland's first Juvenile Justice Reform Council (JJRC), a part of Maryland's Department of Juvenile Services (DJS). The council develops a statewide framework to reform the state's juvenile justice strategy and its implementation at the local level. 
DJS and Choice have worked closely together over the years. DJS is the top funder for Choice programming, which has demonstrated over decades the value of investing in youth. Choice has supported DJS in developing practices that include youth and family voices and that recognize the importance of racial equity.
Eric Ford (second on the left) with President Freeman Hrabowski and other Hampton University alumni at the Department of Juvenile Services Leadership Conference.
"Eric's inclusion on the JJRC is important because The Choice Program has been a great partner with DJS for decades," said Sam Abed, secretary of DJS. "They have a tremendous trove of first-hand knowledge and experience working to support our youth in the community. That perspective is vital to help us shape the future of juvenile services in Maryland."
Representing youth voices
Both new appointments are important to Ford. Each furthers Choice's anti-racist mission of a collaborative mentorship process led by young people's goals for themselves. Ford sees this work as integral to addressing current disparities in the juvenile justice system, including arrest rates and detention rates for young men of color. 
Ford (on the right) presents an award to a Cherry Hill community youth during Choices yearly Jam and Slam Back to School event.
For decades, Ford has supported youth in reaching toward their futures while facing incredible challenges. Now, as Choice's longest-tenured leader of color, chair of the SAG, and a member of the JJRC, he hopes to offer other leaders a glimpse into the experiences of young people of color in the juvenile justice system. 
"I represent all young men and men of color that are still in a juvenile facility who may not have a voice," says Ford. "I have to speak for them."
Banner image: Ford (first on the left) Ford (first on left) with students and staff at John Bartram High School in Philadelphia. This mentoring program was run in partnership with Pride Youth Services. All photos courtesy of Eric Ford.