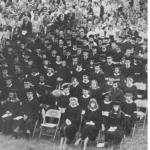 Fifty years ago, UMBC's very first class crossed the stage for the university's inaugural Commencement ceremony. Among the faces of the 239-member founding class captured in black and white in the Skipjack 1970 yearbook are men and women eager to explore their world. Together with brand-new faculty and staff, they helped set the foundation of UMBC as a true community of inquiring minds. 
Although they are decades apart, the graduating Class of 2020 has made just as indelible a mark on UMBC. Like their 1970 counterparts, they have contributed fresh takes on timeless conversations, challenged norms for the public good, created timely scholarship of all types, and pioneered entirely new ways of learning. 
As we celebrate UMBC's Golden Commencement, we hope you will enjoy these conversations between members of the Classes of 1970 and 2020 and take pride in what it means to be a Retriever—and how those principles have remained consistent year after year.
Timeless Teammates—Louie & Kaya
For decades, many students' UMBC experiences have been shaped by the teams they cheered for and the championships they competed in. But when Linda "Louie" Sowers '70, American studies, first arrived at UMBC in the school's inaugural year, athletics were hardly a blip on the map of the school's three-building campus—and women's sports did not exist at all. It was Sowers herself who made the change. 
Formerly a high school volleyball player, she approached the school's athletic director and struck a deal: If she could gather enough interest, the school would sanction a women's volleyball team.
In the end, sixty-six women—around a tenth of the school's entire population—signed on, demanding women's athletics. A volleyball team was formed, followed by field hockey and basketball, and the rest is history.
"I often wondered what would've happened if I hadn't…said, 'hey, we have girls that are interested in playing,'" Sowers told Kaya Knake '20, computer science, a member of the Track and Field team, over lunch at True Grit's early last semester. "How many years would've gone by with no women's sports here?"
Louie Sowers '70
Kaya Knake '20
The women's teams at the time had few resources at their disposal; they initially practiced in their gym uniforms, had difficulty finding schools to compete against, and were relegated to practicing in the late evening, once the boys were done using the field. 
Even once they did get their own uniforms, girls who played more than one sport got only one uniform that they used year-round—including Sowers, who wore lucky number 13 for all three teams. You can spot the jersey scattered across the pages of UMBC's 1970 yearbook, which Knake and Sowers flipped through together as they chatted.
Now, 50 years later, women's athletics at UMBC not only persists but thrives, with eight NCAA teams, including basketball and volleyball; field hockey, sadly, did not stand the test of time. 
Sowers and Knake at True Grit's looking at photos of UMBC's women sports teams from 1970 and today.
Knake, who will graduate this semester into a new career at Northrop Grumman, is one of the many students whose UMBC experience is inextricably tied to athletics. After all, Knake is a Michigan native who would not have heard about UMBC if she hadn't been recruited by the university's Track and Field team.
Unlike in Sowers's time, Knake's team has never had any dearth of schools to compete against. One of the most memorable experiences she has had as part of the Track and Field team, she said, was when UMBC hosted the America East Outdoor Track and Field Championships at the end of her sophomore year, bringing nine teams and tons of fans to campus. There, Knake won two events and even set an America East record for the outdoor 800 meter. But it was the support of the community that really made the occasion special, Knake told Sowers while sharing some of the team photos she keeps on her phone
"It meant a lot because my parents came down from Michigan, and then some people from UMBC came to watch, and we had a ton of alumni who came out as well," Knake explained. "It was really special to have everyone here and feel like a big team."
A World to Discover—Dale & Pat
It might come as a surprise to today's UMBC students to learn that study abroad has been a part of the university's fabric since almost the very beginning. In 1969, UMBC's third year, a group of 42 students traveled abroad as part of a winter session course (then called the "mini-mester"), traversing Europe and visiting important historical landmarks.
Dale Gough '70, American studies, was not on that trip. He did, however, end up going abroad after his senior year, but it was not for a class, nor for a vacation. At the time—the tail end of the Vietnam War—there was a draft lottery, in which young men were selected based on their birthdates to serve in the military. When Gough realized he was going to be drafted, he decided to get ahead of the curve by going to the military recruitment office, resume in hand, in hopes of getting placed somewhere other than active duty.
"[The recruiter] said, 'Well, have you ever considered military intelligence?' And I said, 'Oh, you mean like James Bond?'" Gough recalled as he and Pat Michael '20, mathematics and global studies, took a walking tour of campus together this spring.
On a walk around campus in early 2020, Gough and Micheal discuss the benefits of having experiences abroad.
Thus began Gough's assignment in Panama, where he worked as the non-commissioned officer in charge of source administration and research analysis. Since then, he has visited six times and has become quite well-versed in Panamanian politics, culture, and history, as evidenced by the stream of facts and anecdotes he related to Michael as the duo turned off of Academic Row and made their way across the quad towards the Interdisciplinary Life Sciences Building.
Now, the class of 1970 is donating $25,000 to support international education in hopes of boosting the number of UMBC students who are able to study abroad — the Education Abroad Access Fund. Even though Gough did not personally have the opportunity to study abroad while in school, his time in Panama taught him that immersing oneself in another culture "fundamentally changes your DNA."
Dale Gough '70
Pat Michael '20
The sentiment was echoed by Michael, who studied abroad in Colombia—which shares a border with Panama—during their junior year at UMBC. "It rocks your world," said Michael, who described their experience in Colombia as that of a "investigator," constantly trying to gain a deeper understanding of the country's customs and culture over the course of their semester-long experience. 
While Michael managed to get used to some aspects of Colombian culture, like the blunt way the people talk with one another and the nation's proclivity for long days that start early in the morning, they know that they still have much to learn. They plan to return someday soon and even applied to teach there as a Fulbright Scholar.
Gough and Michael ended their campus tour in The Commons, where they sat below the colorful swath of international flags that hang from the ceiling. There, Michael told Gough about working as a peer advisor in the Education Abroad Office. Part of the job of a peer advisor involves explaining to their fellow students what study abroad was like—a duty that has turned out to be mutually beneficial.
"Talking about my experience has helped me ground it, but it has also inspired other people," Michael says. "It's fun to see some people's faces when they light up."
Supplemental Learning—Donna & Kara
When Donna Helm '70, French, came to UMBC, she wasn't entirely sure what she wanted to study; the career options at the time were limited for women, she recalls, but she did have an interest in teaching. Luckily, though, she wasn't alone in her uncertainty. Most of the professors who taught her were playing it by ear, as well.
"Many of our professors were brand-newly minted Ph.D.s who had never taught, and this was their chance to sort of figure it out, too," Helm said in a phone call with Kara Gavin '20, an English major and Humanities Scholar. 
Donna Helm '70
Kara Gavin '20
This led to a sort of camaraderie between the professors and students, who worked together to navigate the beginnings of a brand-new school; there was a sense that everyone on campus was constantly trying new things, learning from mistakes, and improvising. 
"They had requirements, but we had a certain amount of freedom to design … what we wanted to do," Helm said.
This led to a handful of educational experiences that may strike today's students as a little bit unusual. Some of the most notable were the weekend excursions Helm—along with her professor and twenty classmates—used to take to an off-campus estate called the Donaldson Brown Center, located in Cecil County on the Susquehanna River. 
There, the students would fully immerse themselves in the language. "It was an opportunity to just speak French and to interact on a different level with our professors because we weren't at the school," Helm says. "That was really a lot of fun."
Members of the graduating class of 1970 read an issue of
The Retriever.
After the COVID-19 pandemic forced universities to switch to distance learning this spring, UMBC's students and professors faced moments of uncertainty and improvisation not unlike what Helm's class experienced in the school's first year. 
Just as Helm's professors tried to find interesting ways to engage their students, Gavin's professors have had to completely rearrange their courses to accommodate the new online environment. The professor for her costuming class altered the final project so that students who do not own a sewing machine can either create a costume design plan, including budget and materials, or write a research essay.
Degree requirements were also somewhat looser when Helm was a student, mirroring the temporary changes to grading policies this semester to afford students an unprecedented amount of flexibility for completing their graduation requirements under the stress of a pandemic."
And just as Helm and her professors supported one another through the often-challenging work of building a university from the ground up, Gavin said her professors have been more than understanding of what their students are going through in this difficult time.  
"My teachers also have been helpful just by asking, 'How are you guys doing?' In the first Zoom session of my English Technical Communication course, we spent the first 15 minutes just talking about how we were, how our families were," Kara said. "As often as I can, I try to make sure to thank my teachers for how they have helped us in this transition."
*****
All 1970s images are from the university's 1970 Skipjack. All other photos by Marlayna Demond '11, except for Kara Gavin's image, submitted by the subject. Infographic designed by Layla Thompson-Koch.
Read more stories about the Class of 2020.