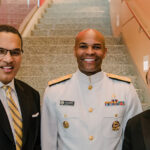 In his more than a decade of service to UMBC through the Alumni Association Board of Directors, outgoing president John Becker '01, information systems, has seen a little bit of everything. As he passes the torch of leadership, Becker thinks back to some of the moments—and the people of our community—that have meant the most to him.  
I'm writing this column from my dining room table, while my wife leads my two children in a home-schooling session on peregrine falcons. There are no pressing activities. There is nowhere to be—in fact, we are not allowed to be anywhere else. (I can't say "gotta run" at the end of phone calls anymore.) This is strange for us, and I'm sure some of you have also felt a sense of surrealism. We're sheltered in place, waiting for the seemingly inevitable house call we will be receiving from the novel coronavirus.  
While our inability to work during this lock-down is a dark cloud on the horizon, I am finding silver linings. We are spending more time (and more meaningful time) together. We are closer now than ever with our neighbors and we are in touch daily with our out-of-state parents. I have also had time to pause and reflect on the past several years in a way that I rarely can when we are rushing around with daily routines and extra curriculars.
The 10 years that I have served on the UMBC Alumni Association Board of Directors have been among the most rewarding years of my life. Some of that reward comes from a sense of debt repayment—a sense of fulfilling an obligation for the many gifts I was given while I was a student here in the late '90s. But in thinking about it more deeply, I realize it is something else— Retriever pride—that feeds the beast.  
Reaching Together
Our UMBC has been accomplishing great things for decades socially, academically and athletically. There are bread crumbs trailing all the way back to 1966 that a nostalgic alum or prospective Board member could discover or remember that would kindle that fire—that pride—within them. Among my fellow Board members, I found a common interest in recalling formative years, assisting those students we recognize so clearly as a reflection of ourselves, and planning for an enduring legacy.  
The highlights of my time on the Board could fill this magazine, but one thread that shines through is that the alumni have become increasingly involved over time. This truth reflects the hard work of our Director of Alumni Engagement, Stanyell Odom, and her team, the acknowledgement of the role we play in the university by Vice President of Institutional Advancement, Greg Simmons, M.P.P. '04, and of course the curiosity of our great alumni, which often foments into a desire to return and help in a meaningful way.  
Exceptional by Example
I vividly recall meeting Naomi Mburu '18, M26, chemical engineering, UMBC's first Rhodes Scholar at our Annapolis Alumni Reception, learning her story and being inspired by her determination. This reception, held in winter each year and hosted by the Board of Directors has allowed us to meet our state's leaders who are UMBC alumni themselves, learn their perspectives, and find common interests through our ties to UMBC. 
Naomi Mburu '18, M26, chemical engineering, UMBC's first Rhodes Scholar speaks at the 2018 Annapolis Alumni Reception.
Jerome Adams '97, M4, biochemistry and molecular biology, the Surgeon General of the United States speaks at the 2019 Alumni Awards.
The growth of the annual Alumni Awards gala has been another source of pride for me.  What began for me as an intimate affair in our library's gallery has blossomed into a spectacle with hundreds of guests held in the Linehan Concert Hall in the Performing Arts and Humanities Building. I'm stunned every year by the unique, inspirational alumni I meet across all disciplines and from all walks of life. Last year I had a chance to speak with Jerome Adams '97, M4, biochemistry and molecular biology, the Surgeon General of the United States, who is now at the tip of the spear in handling the COVID-19 pandemic. What struck me about Dr. Adams was how down to earth and family-oriented he was. He demonstrated a sense of perspective that was refreshing to see in a person in his position of national leadership. 
And I am proud of leading the effort to develop and successfully reach an audacious fundraising campaign for the Alumni Endowed Scholarship, doubling our market value in four years and allowing the funds raised by the Board to leave an enduring legacy of scholarship on generations of deserving students. 
A Proud Legacy
The thread linking these events and milestones is the people. UMBC is ripe with talented alumni, faculty, staff and, of course, talented students and student-athletes. My engagement with bright, energetic, and driven individuals is what keeps me coming back for more. If you haven't been back to campus lately, please accept this invitation. I want you to see the intelligence, diversity, passion, grit, and greatness that I have enjoyed, and maybe in the process find something you left behind. 
Dr. Hrabowski likes to remind us every year at Commencement that "success is never final." As we embark on a new fundraising campaign for the Alumni Endowed Scholarship and I pass the torch to Brian Frazee '11, M.P.P. '12, I am at ease knowing that our success will continue and our future is bright. Thank you for the opportunity to serve you.

*****
Learn more about ways of engaging with UMBC at alumni.umbc.edu.

Header image: John Becker with President Hrabowski and the U.S. Surgeon General, Jerome Adams. All photos by Marlayna Demond '11.