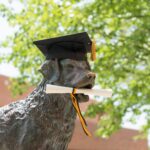 Graduating UMBC students Christine Crisostomo, Emily Satterfield, and Benjamin Park had expected that this May they would be finishing their student teacher internships in person. They would be leading classroom instruction in secondary schools across Maryland. COVID-19 changed all that, as they had to pivot quickly to an online teaching environment. 
But as military veterans, these student teachers are used to managing stressful and rapidly changing situations. They have drawn on skills and strategies from their years in the military to support their students and their own families during this time. 
After first serving their country in the armed forces, "they have chosen to serve again by being teachers," says Cheryl North, clinical assistant professor of education. "I am proud of them. All of them are going to be an asset to their schools, and their students are going to get outstanding teachers."
Unique school, special opportunity
Crisostomo '20, chemistry and modern languages, linguistics, and intercultural communication,came to UMBC after eight years of service as a language analyst in the U.S. Navy. She chose UMBC because of its strong chemistry teaching program. Plus, "UMBC felt like an environment that supported adult learners and veterans," says Crisostomo. 
For her, the partnership UMBC has with Fort Meade High School has offered a unique opportunity. Fort Meade High School is the only school in the country that is on military property but is managed by a county school system. The school includes a mixture of military and civilian families.
Crisostomo's military experience helped her understand the challenges that children of military families face. Her passion for chemistry made her an engaging science teacher. In addition, thanks to her background in linguistics, she knows five languages and has been able to support many English Language Learners (ELL) at the school. These strengths provided an opportunity for her to serve as a lead teacher early on, guiding a classroom of students.
Learning to teach during COVID-19 school closures
Soon after COVID-19 began to affect Maryland, the state changed how it would deliver public education. As a student teacher, Crisostomo didn't have immediate access to the teaching software. Once she could access the system, she had to develop strategies to help her ELL families, who were struggling with online materials posted in English. 
Thanks to her experience in the military, though, she was confident that she'd find a way to make it work. She would support her students and successfully complete her internship. 
"I knew there would be a solution… I may have some frustration, but I can't worry about something I don't have control over," says Crisostomo. "In the military you develop skills to adapt to a change in plans and unforeseen problems, and how to step up. Teachers have to use the same skills." 
Everything under one roof
Satterfield, M.A.T. '20, misses the classroom. She misses interacting with her students in real time. But she's also found ways to make it work.
Satterfield while serving in the U.S. Marine Corps.
Photo courtesy of Satterfield.
Even before public schools moved online due to the pandemic, Satterfield had a tight schedule. She managed her own course work while also planning and delivering lessons at Chesapeake High School, supporting her third-grader with special needs, and keeping up with her toddler. 
At night she would complete her course work, plan her lessons, and manage her family's needs. It was a juggle, but the skills she brought from her time in the U.S. Marine Corps and the support of the UMBC community helped make it all possible. 
"I couldn't have earned a 4.0 and kept balance in my life without the support of the education faculty," says Satterfield. "It wasn't only technicalities of teaching that they helped me with, but they helped me through my own son's Individualized Education Program process and always truly listened when life became overwhelming." 
Now, her life as a student, teacher, and parent are all under one roof. There are no clear schedules anymore, for her family or the families of students she is teaching. 
Satterfield with one of her two children.
Photo courtesy of Satterfield.
As Satterfield sees her own third-grader struggle with how to complete and submit lessons online, she knows her students must also be struggling. She has shifted focus to primarily offering support to students outside of the regular 8 a.m. – 3 p.m. school hours. 
Preparing for a new normal
Satterfield is leaning on her military training to persevere by preparing for a new normal. Faced with her husband's shipping orders to North Carolina this summer and the uncertainty of COVID-19, she prepared her lessons far in advance. By the time public schools officially closed, she was ahead of the curve. 
Satterfield also completed online teacher development courses in Google Classrooms and online learning. And she maintains clear communication with her mentor teacher and her professors. 
"I was a little stressed at the beginning, but life comes and goes, and it is constantly changing. You never know what you are going to do," says Satterfield. "I offer my own students the same empathy and support the UMBC education faculty have given me. Any time my mentor needs anything and students need me I am there for them."
Finding a path to teaching
Park '19, mathematics, and M.A.T. '20, left the U.S. Army after five years of service and began his studies at UMBC soon after. He felt UMBC was a great fit for him because of the diversity he experienced in the Army. "Our differences make our lives richer, so why not celebrate them," he shares.
Park (right) in the Army.
Photo courtesy of Park.
When Park arrived at UMBC as an undergraduate, he was confident in his love of mathematics, but didn't yet clearly see his path as a teacher. Still, UMBC's education department quickly noticed his skill in helping his peers understand complex math problems. 
Park remembers his professors encouraging him many times to consider teaching. With the support of Christopher Rakes, associate professor of education, he eventually took the leap, committing fully to pursuing the M.A.T. and becoming a high school math teacher. 
"Ben is quite simply one of the finest students with whom I have had the privilege of working. His intellectual curiosity exemplifies the best of scientific inquiry, which he instills into his mathematics classes," shares Rakes. "He is dedicated to helping his students see mathematics as a way of thinking and a tool for understanding the world, not just a series of algorithms to memorize."
"You have to pivot and adapt"
Park's approach to teaching is grounded in his experience as a child struggling with dyslexia in an education system that was not able to identify or address his needs. Determined to not be left behind, Park discovered that he was able to understand concepts if he could break things down by starting at the end and working his way back. 
In the Army, he continued to grow and to hone his self-discipline. His mentors share that all of these qualities and experiences combined make him a dedicated, empathetic, and successful aspiring teacher. 
Park (center) with fellow student teachers at his baby shower.
Photo courtesy of Park.
Park sees the shift from in-person to online teaching not as a challenge, but as an adaptation needed to fulfill a mission. "No battle plan survives a battle. Going to class, going to a physical building, teaching students, and having the students in that building all day so they can receive a proper education—that was the original battle plan," he explains. "Things change and you have to pivot and adapt."
"The first priority is the students," Park says. "I think that is the main axiom that we need to focus on."
Park (left) with his family.
Photo courtesy of Park.
Learning how to learn
Working alongside Park at home is his wife, Elpiniki Park, who is also a teacher. They manage their classrooms and two young children, in addition to Park's course work, which means working day and night.
Park's chief goal now is to help his students learn how to learn in their new environment. Recalling his own challenges in school, it is a mission that is close to his heart.
"It is more important right now to teach them how to study math individually, than to teach the subject," shares Park. "Learning how to learn gives a good foundation. Then we can pivot and increase the probability of student success." 
"We are going to make it work," he emphasizes. "We are going to make sure kids get educated."
Banner image: True Grit statue on graduation day. Photo by Marlayna Demond '11.