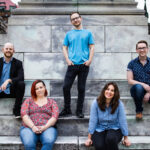 UMBC alumni businesses are doing what they can to stay strong and build community during these troubled times. UMBC Magazine will be publishing occasional interviews with alumni business owners to show their resilience in the face of this global pandemic.
* * * * * *
Founded by a number of UMBC alumni,
The Interrobang Theatre Company
focuses on fostering theatre artists in Baltimore, and providing new, high-quality work at affordable prices. Co-founder
Kiirstn Pagan '11, theatre
, talks about what it takes to manage a theatre company, and how maintaining their connections to UMBC has helped keep them strong.
Q:  What's your favorite part of the work?
A:  My favorite part about creating theatre is sharing it with audiences. I suppose all art forms require an audience, but theatre is special in that it cannot exist without an audience. Audience reactions help mold a performance and directly affect the performers on stage. An audience's presence completes a theatrical experience and is necessary for the art form to function. The importance of building and maintaining a strong audience base is imperative not only to maintaining a performing arts organization as a business, but to producing theatre. It is this belief that drew me to marketing for theatre initially—as early as high school—and continues to drive my passionate pursuit of this career. Discovering new ways to educate, entertain, and engage audiences keeps me excited to continue to create and implement campaigns that encourage patrons to experience theatre.
Q:  How do you connect your work back to your experience at UMBC?
A:  All Interrobang founding and current company members are very proud UMBC alumni. It is this shared experience that bonds us as friends. It is the education that we received that bonds us as a company and informs how we operate and produce shows. This is a huge benefit to us as a company because there is a shorthand to our communication. We all speak the same language, as it were, because we were all taught how to produce theatre in the same environment. We all have a similar idea of how we want the process to go, what the final product should look like, and what stories we believe are important to tell now.
We are also incredibly lucky to have a group of very supportive professors from UMBC who we have stayed in touch with and developed friendships with since our graduation who support our vision and work and generally champion and advocate for us in the community and with new and current theatre students. I have been back to UMBC's campus multiple times since graduation alongside the other Interrobang founders to talk with students, staff, and faculty about Interrobang, how our education at UMBC helped us to get started, and how our relationship with the university continues to be a source of support.
Q:  In these tough times, how do you keep going? What inspires you?
A:  As a small company, we produce on a show-by-show basis and don't have many overhead costs. Eventually we'd like to be large enough to support full-time staff on a full-time basis with our own theatre space to maintain, like flagship Baltimore theatres Baltimore Center Stage or Everyman Theatre. But, right now, we are grateful that we operate in this flexible way because during this unprecedented lockdown we have the ability to pause without fearing a complete shut down. We are also incredibly grateful that our last show and fundraiser opened and closed in early March, right before the quarantine got underway.
All that being said, we are very much inspired by the theatres who are thinking on their feet and working to determine the best way to tell stories in a digital space. We are working on ways to do this as well.
Kiirstn Pagan '11 and Katie Hileman '12. Photo by Kiirstn Pagan '11.
Q:  Are other alumni working with you at your business or as partners somehow?
A:  Yes! I founded Interrobang alongside UMBC alumni and I continue to work with them now. Current Interrobang company members include Katie Hileman '12 (Artistic Director/Co-Founder), Sean McComas '11 (Managing Director), David Brasington '12 (Producer/Co-Founder), and Brady Whealton '13 (Producer/Co-Founder).
Q:  Are there specific ways you're giving back to the community right now?
A:  We are working to create some digital theatrical content to share while everyone is staying safe at home. We are staying home ourselves too, and washing our hands with vigor.
Q:  What advice would you give to others looking to start their own business?
A:  Make sure you know why you're doing it. Make sure that reason is very important to you. You have to believe in it yourself. Producing theatre is hard and thankless, so this reason, this passion, is what you will need to come back to that when the work gets hard.
* * * * *
Learn more about The Interrobang Theatre Company at www.interrobangbaltimore.org. 
Header image: The current Interrobang Theatre Company members, from left to right in each photo: David Brasington '12 (Producer/Co-Founder), Katie Hileman '12 (Artistic Director/Co-Founder), Brady Whealton '13 (Producer/Co-Founder), Kiirstn Pagan '11 (Producer/Co-Founder), and Sean McComas '11 (Managing Director). Photos by Kiirstn Pagan '11.
* * * * *
The Office of Alumni Engagement is collecting information about UMBC alumni who own a business or sole proprietorship to display on their website and across their social media channels. Tell them about your work here.