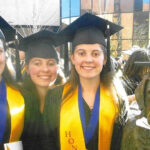 Transferring to a new college often comes with some trepidation about making new friends and finding your crowd. For Michelle, Melissa, and Melanie Biddinger, however, those were the least of their worries when they originally came to UMBC from the Community College of Baltimore County. 
The three sisters (Melissa and Melanie are twins) brought their lifelong friendship and communal study habits with them, and their tight-knit family bond propelled them to collectively graduated in 2017 with bachelor's degrees in psychology. This winter they'll cross the stage again, having earned their master's of arts in teaching. 
The Biddinger sisters had a common source of inspiration for their shared educational path—their mother. In their formative years, they remember her taking on substitute teaching positions and returning home with stories of students gaining new skills and mastering challenging material. Melissa recalls volunteering in some of her mom's classrooms and realizing the great responsibility educators have for shaping the next generation of leaders.
Michelle echoes her younger sister's sentiment about witnessing the influence teachers can have, especially in early education—the sisters' area of specialty. "These are the years that children learn foundational skills that they will use for the rest of their life and help them achieve higher-level skills."
Melanie adds that their teaching interests began even before their mother began working in schools. As young children, the sisters would play school and take turns teaching each other. This playacting transformed into dedicated shared studied sessions as the Biddingers pursued higher education together. 
Perfect Study Partners
At UMBC, they took all the same classes, navigating quizzes and exams with their built-in structure of support. "It was always comforting knowing that if one of us missed a class announcement, more than likely one of the other two heard and 'reported back,'" says Melissa. "Preparing for exams was always tolerable given that I had two of my best friends as study partners."
The Biddingers all identify as having very similar study habits, which was helpful as they progressed through their degrees. "We were equally strong," Melanie asserts. "If there was a particularly difficult concept we had to understand, we put our heads together to figure it out."
Their similarities don't end with their study habits; since childhood, the sisters have chosen to dress identically, planning out their outfits the night before. "This choice is a part of who we are," Melanie explains, "and in a world where everyone wants to be different, we are being different by wanting to be the same."
Better Together
Michelle credits UMBC's early childhood education department for guiding her "to be reflective and create an inclusive classroom." The sisters, who are all hoping to teach in Baltimore County, say they were influenced by UMBC's dedication to the surrounding communities where the education program supports and partners with local schools and facilities. Melissa adds, "It is clear that they want their students to succeed and enter the world as role models and citizens that respect and honor diversity." 
As the sisters look for jobs, they'll be following in their mother's footsteps and substitute teaching at local schools. Their dream would be to make up an entire grade level team at the same elementary school. 
"It has always been a dream of ours to work in the same school," says Michelle. "Teaching is such a rewarding career. There is no better feeling knowing that you made a difference in someone's life."