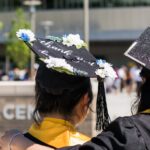 Lauren Mortimer '19, management of aging services, remembers visiting a nursing home for the first time during middle school. What she saw deeply saddened her. "It was the first time I had been in a nursing home," she recalls. "All I could see were disregarded senior citizens who were lonely and being talked to like children." Mortimer knew at that moment that she needed to change the senior care experience.
This year, a decade after she found her career path, the Centreville local earned an Erickson School alumni pin, marking her graduation from UMBC's aging services program. At the end-of-year Erickson School ceremony, students also presented their capstone projects on research designed to inform and improve aging services. Topics included strategies for working with patients with dementia, workforce development, combating financial exploitation, exercise and sports, and communication between health care providers.
Joining the longevity economy
"Our ceremony provides an opportunity to reflect upon the tremendous personal growth of each of our graduates," explains Dana Bradley, dean of the Erickson School. "We celebrate the amazing opportunities our graduates have as leaders in aging services to ensure that our society is ready to embrace the longevity economy."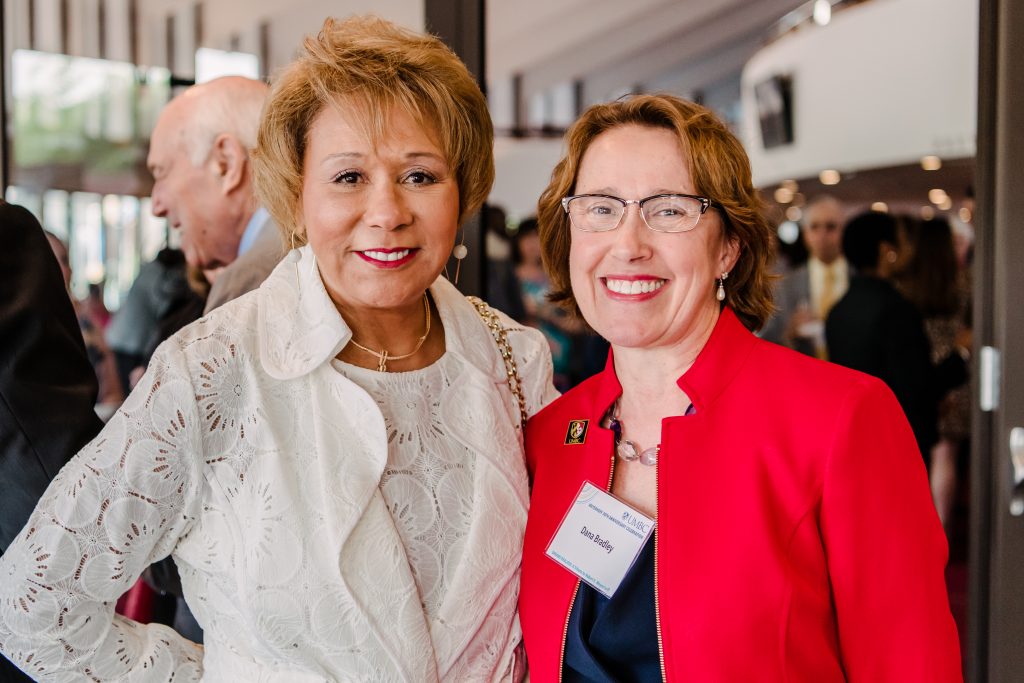 Jackie Hrabowski with Dean Bradley at the Meyerhoff 30th anniversary.
At UMBC's Erickson School, Mortimer developed leadership skills through internships in aging care focusing on dementia, transitional housing, assisted living care, and independent living. Her last internship, at Brightwood Senior Living in Severna Park, evolved into a full-time staff position.
Her new role with the facility is enabling her to move forward on her career plan. Rather than provide direct care, she shares, "I wanted to be in health administration to help influence policy and improve the care of senior citizens" more broadly.
With this in mind, Mortimer has focused on growing as a leader. As a student, she served as president of the aging services council of majors, where she organized service activities to support local older adults. And while pursuing her new role at Brightwood, she'll also begin a master's in healthcare administration at the University of Maryland University College.
Path to innovation
Diane Tichnell '70, political science, a member of UMBC's first graduating class, shared advice with the program's graduating students at the celebration event. She encouraged them to stay connected to UMBC as they launch their careers, to help open doors for future innovators. Tichnell recalled, "Even in the earliest days, UMBC was about innovation. Stay innovative and stay connected to UMBC."
Diane Tichnell at a UMBC event.
Tichnell's emphasis on UMBC's innovative and community-oriented spirit struck a chord with Mortimer. She used her capstone project as an opportunity to create a new support for people with dementia. Mortimer's "Comfort Book" (currently going through the patent process) provides tools for people with dementia to soothe themselves during periods of confusion and irritability. Filled with familiar sounds, sights, and materials, it's designed to de-stress and empower people with dementia who are experiencing challenging moments.
This is the type of creative thinking that John C. Erickson, founder of Erickson Retirement Services, had in mind when he gave a $5 million gift to establish the UMBC Erickson School in 2004. "UMBC's forward thinking is the pathway to new products, service development, and delivery" in the field of aging, Erickson shared at the event. "It influences better aging policy, and is the foundation for innovative uses of technology to improve the quality of life for all seniors."
Banner image: 2018 commencement mortarboards. All photos by Marlayna Demond '11 for UMBC. Video, "Why MAgs," courtesy of the Erickson School of Aging Services.