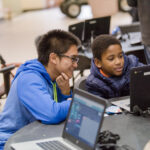 UMBC's Computer Science Education student group recently hosted the third annual Hour of Code event on campus. This popular community event is an opportunity for both local K-12 students and current UMBC students in other majors to learn more about computing through engaging, hands-on activities.
Hour of Code is part of Computer Science Education Week, an international initiative that aims to increase the participation underrepresented groups in computing, including women and people of color. A major aspect of this work is supporting expanded computer science access for K-12 students.
Third- and fourth-grade students from Baltimore's Lakeland Elementary/Middle School participated in this year's hands-on activities, including playing music on a banana keyboard. The bananas are connected by wires and when the fruit is touched it completes the circuit and plays a musical note. 
UMBC students mentor Lakeland students at the Hour of Code.
"It's important for UMBC to have an impact in our local community. UMBC is a public university and we are part of the community," says Fayo Ojo '20, computer science, who helped coordinate the event. "Hosting events like this shows that UMBC is committed to education beyond the courses offered here."
Ojo, treasurer of the Computer Science Education club, right, helped the visiting elementary school students play "Mary Had a Little Lamb" on the banana keyboard. "My favorite part of working with the Lakeland students is seeing how excited they were," she says.
Members of the Computer Science Education club also set up laptops and guided their guests through coding activities, giving them an introduction to the creative work they might do in computing.
A UMBC student guides a Lakeland student through coding activities during the 2018 Hour of Code.
"Most of the students from Lakeland Elementary that visited UMBC for Hour of Code have never been to a college campus before," says Ojo. She explains, "They received their first glimpse into what post-secondary education has to offer from UMBC. This experience will have a major impact on these students as they matriculate through school and prepare to go to college themselves."
When it comes to her group's motivation and broader goals, Ojo shares, "We want to support initiatives that bring programming classes and programs to students at the K-12 level. Working with these students and seeing how excited they were to learn…reminded me why I decided to pursue computer science in the first place: we love to solve problems and we love technology."
Banner image: A UMBC student guides a Lakeland student through coding activities during the 2018 Hour of Code. All photos by Marlayna Demond '11 for UMBC.