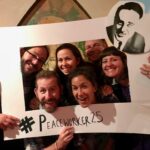 Gathered in Gwynns Falls / Leakin Park for a Peaceworker Alumni Day of Service, including stream and park clean up.
Twenty-five years ago, when Sarge and Eunice Shriver inaugurated the new Shriver Center at UMBC, they charged the community to connect scholarship, service, and reflection to engage and collaborate with communities in Baltimore City. At the time, Ernest Boyer, a leading visionary in higher education, called the newly inaugurated center a prototype for a  "New American College," where the university's people and resources would be focused on a public service mission within its urban setting…to take up the citizen call to connect learning and higher education with social change and development.
The Shriver Center meets that challenge in a number of ways, including the Shriver Peaceworker Program, which since 1993 has "realized the potential impact of Peace Corps Volunteers returning home ready to apply the lessons and experience they had gained abroad." Through this work, the program has supported nearly 190 Fellows representing over 60 countries of Peace Corps service (from Albania to Zimbabwe and dozens in between), as well as served with scores of local community partners. Their commitment in East Baltimore alone has supported a myriad of programs and organizations such as inclusive programming in Patterson Park; bringing Spanish bilingual services and outreach to numerous organizations in the area's diverse surrounding communities; coordinating environmental education programming; organizing communities and local projects, and serving youth in local schools to provide college access and increase family engagement.  
This fall more than a hundred Shriver Peaceworker alumni living locally and around the world reunited in Baltimore to celebrate their first reunion with a weekend filled with festivities, reflection, and service, including trash clean-up at Gwynns Falls/Leakin Park.
The next 25 years of Peaceworkers
The weekend closed with alumni reflecting on the challenges of continuing to engage in authentic dialogue across diverse perspectives and lines of division. It's the community created by this shared and ongoing commitment to service and peace that makes the program's bonds so strong and enduring.  
We're proud and inspired by the lives of service and social change our alumni are leading.  Nearly half have stayed on in our Baltimore region and the other half are engaged around the country and across the globe. And all are committed to living their values and making a positive difference in their communities and beyond. Peaceworker alums are teachers, program leaders, policy analysts and advocates, social workers, community organizers, public servants at all levels of government, higher education staff and faculty, and more.     
We had a wonderful reunion celebration…Now we are looking forward to keeping that energy moving forward into the next 25 years!  In one of Sarge's (Sargent Shriver's) late public speeches in 2004, he continued to challenge us all to hold on to social hope and keep at the work of peacebuilding and positive social change, saying:  "All of history's great changes — nonviolent changes — came from below, not from above. It comes from us, and often from the least of us. From my own life I can tell you. It's not what you get out of life. It's what you give to others in life which truly enriches your own life."
– Joby Taylor, Ph.D. '05, language, literacy & culture
Director, Shriver Peaceworker Program
Keeping the "Peace" in Peaceworker! Back row, L-R: Delana (Boatright) Gregg '04, Rich Kimball '06, Julianna (Thirolf) Sharp '06, Jeromy McKim '06. Middle row: Carrie (Wilson) Stockwell '06. Front row, L-R: Sarah Morris Compton '08, Michelle Bond '06, Jason Sharp '06, Adam Donaldson '06, Jill Bond '05, Sarah (Hill) Schlenker '06.
Peaceworker alums 2010 Cohort Party. Back row: Bob Dietzen '10, Rian Hart '10, Kelly Biscuso '10. Front row: Phillip Stafford '10, Katie Long '10, Cailin McGough '10.
Sporting Peaceworker tees are Aaron Brownell '04, who flew in from Pretoria, South Africa, and met up with with friend Kraumas Suriya from Thailand!
Program director Joby Taylor helps kick the weekend off Peaceworker-style with an animated seminar discussion on "Cross Cultural Dynamics in Our Work" with alums and current fellows.