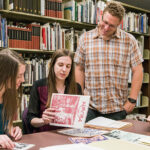 In piles on a table in the chilly back room of UMBC's Special Collections office lie a science fiction lover's dream: decades-worth of fanzines in all their hand-drawn, mimeographed glory. Compiled by amateur editors, they span topics from space travel to colonization to 1970s feminism.
Fittingly, the students poring over the zines as part of UMBC's new month-long Interdisciplinary CoLab research program are just as different as the titles they explore. One studies biochemistry, another computer science. The third has interests in communications and gender and women's studies, and was thrilled to find connections in the sci-fi zine Janus.
As it turns out, they say, bringing a variety of perspectives together results in an all new kind of inquiry.
"This took me out of my little box and really broadened what I thought research could be," says junior biochemistry major Ashley Mitchell, who previously worked in a traditional laboratory setting. Together, her team studied a selection of the 15,000-plus titles in UMBC's Coslet-Sapienza Fantasy and Science Fiction Fanzine Collection, and created an online exhibit of essays and videos.
"I fell in love with it, honestly," she says, sifting through issues of the journals she grew to know well over the course of the month.
An array of titles from UMBC's Coslet-Sapienza Fantasy and Science Fiction Fanzine Collection.
A New Kind of Research
Modeled after an interdisciplinary research program at Duke, and supported by the office of the Provost, the Interdisciplinary CoLab pilot brought together nine students for three research experiences: the Amazing Stories fanzine project; the Carbon Zero Project, which focused on ways of making UMBC a more environmentally sustainable community, and; Race and Social Justice, which centered on telling the stories of students in Baltimore city.
Each group had a set of goals to achieve, and received training in narrative-based humanities research practices before they started, said Carole McCann, professor and chair of gender and women's studies, and head of UMBC's Interdisciplinary Activities Advisory Committee.
"Here, students are learning things pertinent to their areas of study as well as outside their areas of study. They learn from each other about different tools and approaches based on their different disciplines," she said, adding that the project-based structure also let students experience a professional work environment.
Donald Snyder, a lecturer in media and communication studies who oversaw the Amazing Stories group, enjoyed watching his students' eyes open to the possibilities of what they might learn from the Albin O. Kuhn Library's holdings. In fact, in the fall, he hopes to help the group present their work at the Mid-Atlantic Popular & American Culture Association conference in Baltimore.
"They all bring different strengths, different technical skills to it," he said. "I'm very impressed with how they work together."
Making a Difference on Campus
For The Carbon Zero Project, students interviewed a dozen campus stakeholders, and used the footage to create videos that will appear on the campus sustainability website to encourage the campus community to take individual steps that can build to create environmental impact.
"It shows that every single action, every move you make, really does add up," said junior English major Kennedy Lamb, one of three students who shot and edited the videos on the topics of energy conservation, transportation, and waste reduction.
She and her colleagues said they each learned about things they can do personally to make the Earth a little cleaner, including using mass transit and carpool options, as well as recycling and composting in the dining hall.
"Hopefully people will be inspired by these videos and come together to make a difference," she said.
Telling Untold Stories
A third CoLab group focused on Race and Social Justice in Baltimore city. They spoke with several young city residents about issues and values that matter to them, and what artifacts might represent them. In one case, a high school student shared a photo of her school's trophy case, and talked about why it makes her proud.
Members of the Race and Social Justice CoLab group work on pulling their research together.
While out conducting interviews, junior information systems major Fikir Ejigineh noticed right away how her identity and actions might be perceived differently within different communities. Pointing a small, black handheld audio recorder at a subject might look innocuous in some contexts, but appear similar to a handgun in other situations, she said.
"Because of where I was, and because of my face and skin color, it made me more conscious of my actions," she said.
The team used a software developed in UMBC's Imaging Research Center to pull the artifacts they gathered – photos, videos, and short essays – together into a system that allows the user to roam a map and experience the stories as they travel across the digital landscape. Growing out of the map are tree-shaped pillars representing groups that offer support and connections for Baltimore youth, like UMBC's Choice Program.
"Going out and viewing Baltimore through the eyes of the people who are doing work there was very powerful," said senior media and communication studies major Michael Berardi, who, along with his colleagues, hopes to grow the collection of stories over time.
A close-up of the interactive tool members of the Race and Social Justice CoLab group used to present their research.
CoLab, Moving Forward
Given the success of this pilot year's projects, McCann and others plan to expand CoLab next summer. The university community, as well as external partners and local groups, will have a chance to propose projects, she said.
"We hoped that the pilot would demonstrate the value of this program for UMBC students," she said. "And the students did a great job. The final projects were superb."
Learn more about undergraduate research at UMBC.
Photos by Marlayna Demond '11 for UMBC Magazine.