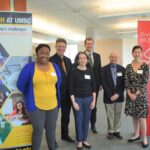 How does unequal access to health care affect the lives and experiences of people from different communities across Baltimore and the nation? UMBC's Public Humanities and Health Justice Research Forum addressed this question through remarks and conversations with researchers from UMBC's College of Arts, Humanities, and Social Sciences (CAHSS), College of Engineering and Information Technology (COEIT), and College of Natural and Mathematical Sciences (CNMS), as well as Johns Hopkins University, Morgan State University, Coppin State University, and Columbia University.
The forum was the fourth in a series organized by UMBC's Office of the Vice President for Research to bring together faculty tackling shared topics from widely diverse angles. "We established the research forum series in 2014 to provide an opportunity for scientists and scholars to collaboratively explore multiple facets of a topic central to the research and scholarship of UMBC," says Karl Steiner, vice president for research. Previous forum focus areas include high-performance computing, climate change and the environment, and the visualization of science.
UMBC's Dresher Center for the Humanities sponsored and helped organize the latest forum, focused on how the humanities can help address challenges related to health care access. Dresher Center Director Jessica Berman shared, "It was exciting to see how much humanistic scholarship is taking place all across campus and the potential partnerships it creates, between UMBC and other universities. This research forum helped to highlight the humanities in their capacity not only to ask good questions but also to help solve important problems such as health justice and access."
Racism in Health Care Policy
Keynote speaker Graham Mooney, professor in the Institute of the History of Medicine at Johns Hopkins University, presented his research on the Baltimore Medical Care Plan of 1948. "By using the history of medicine and public policy we can better understand how the process of racism and segregation have interacted to prevent black residents' access to quality medical care in Baltimore," explained Mooney.
Graham Mooney, professor in the Institute of the History of Medicine at Johns Hopkins University
The topic led to an interactive conversation about the negative impact the 1948 plan had on the quality of life of Baltimore's black community and how it served as a model for similar approaches in other states, and later for Medicare and Medicaid. During the discussion, Shawn Bediako, associate professor of psychology, argued that analyses of health care access across U.S. history should also include how black communities have responded to inequities. He mentioned, as examples, the establishment of the National Negro Health Movement and Office of Negro Health Work.
Shawn Bediako, associate professor of psychology
Listening to Communities
Valuing community voices was a key theme in the two interdisciplinary panel discussions that followed. These discussions revealed how key humanities methods, such as attending to history, paying attention to narrative—including who gets to speak and when—and thinking critically about how we understand and value specific human experiences can be crucial to addressing issues important to contemporary public life.
In the first of those panels, Kristen Slesar, from the Narrative Medicine Program at Columbia University, shared her experience using personal narratives to inform medical research. Slesar is a licensed clinical social worker and psychotherapist who focuses on child trauma. She regularly teaches about health care justice and health care for underserved communities.
Scott Casper, dean of the College of arts, humanities, and social sciences (CAHSS),  then moderated a discussion on "Listening as Public Practice: Towards Equity and Justice" that included Bediako as well as colleagues Drew Holladay, assistant professor of English; Amy Hurst, associate professor of information systems; and Denise Meringolo, associate professor of history. The panelists explored how centering the narratives of individuals in their research improves the quality of their findings and the potential impact of their work. "Confronting the barriers to health equity compels us to look across disciplines and toward collaborations among social scientists, scientists and engineers, and humanists and artists," noted Casper. 
(L to R) Dean Casper, Kristen Slesar, Shawn Bediako, Drew Holladay, Amy Hurst, and Denise Meringolo.
Lawrence Brown, assistant professor of community health and policy at Morgan State University, spoke during the second panel about the impacts of residential displacement and financial disinvestment on community health. In addition to his work on the impact of historical trauma on community health, he also leads the student-driven #BmoreLEADfree project focused on ending lead poisoning in Baltimore.
Berman then led a group discussion on the topic "Communication, the Urban Environment, and Health Justice," with Dena Aufseeser, assistant professor of geography and environmental systems; Katherine Bankole-Medina, professor of history at Coppin State University; Dawn Biehler, associate professor of geography and environmental systems; and Jennifer Maher, associate professor of English. The discussion showed how paying attention to the ways local communities understand issues of health and the environment can challenge the kinds of changes we propose and the ways we communicate about them.
New Health Equity Collaborative
The forum also introduced UMBC's new Collaborative for the Interdisciplinary Promotion of Health Equity Research (CIPHER). The collaborative will form working groups bringing together UMBC researchers across different fields to examine current challenges to health care equity, and to inform innovative solutions for the future.
Bediako, whose research focuses on health care inequities experienced by patients with sickle cell disease, will serve as the founding convener of this initiative. He shares, "I am most excited that CIPHER will aim to reach across disciplinary boundaries and use multiple perspectives to address specific challenges to health equity."
Banner image: (L to R) Courtney C. Hobson M.A.'14, history, coordinator for the Dresher Center; Karl Steiner; Rachel Brubaker M.A. '00, history, assistant director for grants and program development for the Dresher Center; Don Engel, assistant vice president for research; Scott Casper; and Jessica Berman. All photos by Kait McCaffrey for UMBC.