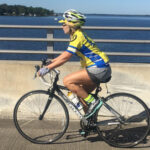 With memories of her mother to guide her, a daughter rides the Atlantic coast to help cure cancer
It's a crisp April morning as I pedal through Baltimore's back-roads with a band of strangers, a member of one of five teams that will hug the coast for eight days until we arrive at The Southernmost Point in Key West, Florida. I'm about to ride more than 1,200 miles as part of the annual Key2Key ride to benefit The Ulman Cancer Foundation. I grip the handlebars nervous and excited, keeping pace with the other cyclists and speed past my first home, what was once Wengert's convenience store, and my elementary school, delighted by the trip down memory lane.
Earlier that morning, as the sun rose across the harbor and lit the Domino Sugar sign with its morning glow, we said goodbye to our loved ones and formed a circle of dedication, holding hands to recount why we chose to ride. I spoke of my mother who died of lung cancer when she was fifty-eight in five and a half short weeks. Each rider's saga was sad, each true, each heart-breaking–every story different and yet the same–all of us desiring distance from our grief. Now it feels as if my mother is with me again, as I pass cherry blossoms under a canopy of green along the BWI bike trail, but I still don't know where we'll stop or how long we'll ride. This would become one of the many rituals of the Key2Keys. "Trust the process" is our mantra, so I follow the others until our ride ends at Sandy Point Park, thirty-nine miles later. Drenched in sweat, we devour delicious sandwiches, rack our bikes with the assistance of two support drivers, and hop in the vehicle for a night in Virginia Beach.
K2K team 2018 forms a daily dedication circle at Virginia Beach

Our driver is Peter Grant, aka, Sweet Pete, an Ulman alumnus who lost his dear wife Gerry ten years ago, and he is joined by Josh Minton, a young, brave Army officer, forced to an early retirement because of his aggressive cancer. After hearing their stories, I realize it's the emotional–not the physical– that will exhaust me. I wipe tears away as we pull up to the ocean-front hotel for a hot meal and restful night. I'm handed a key with my roommate assignment and told what to wear and when to show up. It's a good thing, because I can barely think. Each day we rotate teams and roommates until all of us are one big family, formed under the brilliant direction of Brian Satola, the guy who keeps us on time and in line.
A wonderful day visiting a Charleston Cancer center
The Ulman Cancer Foundation serves the young adult cancer community, providing resources and funding, and with the new UCF house almost complete, free housing for 300+ patients and their families in the Baltimore area, annually. Each K2K rider commits to a $4500 fundraising minimum and riding 40-60 miles per day. Along our route we visit two cancer treatment centers, bringing care bags filled with toiletries and blankets. The staff and patients are excited to see us and have prepared gifts to us as well, and before we leave, one young woman rings the beautiful bell we have brought to signal her last chemo treatment–a sound I will always remember.
We whip through towns new to me: Moorehead City, NC; Charleston, SC; and Jacksonville, FL. Alligator Alley produces just what one presumes and this is where I pick up my pace as beady eyes peak out of the river. It's our first warm day after cold, pelting, sideways rain and we are basking like the gators, enjoying the rays, but my body breaks down in Daytona Beach and I toss and turn all night, wondering if I'll be able to ride in the morning. But Josh is on my team today so I urge myself to push those pedals harder than ever. Before I know it, I'm dining at Boston's in Delray Beach, the sound of ocean waves soothing my soul.
Steel (left) arrives in Key West with retired Army officer Josh Minton
Key Largo is next, then the glorious seven-mile bridge. Distance no longer matters when we arrive in Key West's Southernmost Point to cheers and champagne. As Sweet Pete declared at our wrap-up party, a huge smile spread across his face, "The best part is, this is just the beginning." I couldn't agree more. My journey began as a grieving daughter, but I'm leaving a grateful mother–with thirty-two new members of family.
End of the road at Southernmost Point, Key West
* * * * *
Terri McCubbin Steel '12, English, is a writer living and loving Baltimore City. Her work can be found in The Baltimore Fishbowl, Baltimore Style Magazine, Boating Times Magazine and the Welter Journal and this September she will present a panel on writing at Hippocampus Literary Conference in Lancaster, PA.
All photos by Alex Afzali.