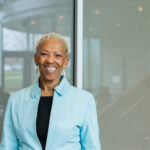 Shirley Basfield Dunlap
Ph.D., Language Literacy and Culture
Summa Cum Laude
Hometown: Baltimore, Maryland
Plans: Coordinator of Theatre Arts, Morgan State University
I have taken one course a semester since 2009. UMBC has taught me perseverance.
Shirley Basfield Dunlap directed plays celebrating African American life and experience in regional theatres across the country before settling in Baltimore as an associate professor and coordinator of theatre arts at Morgan State University. Wanting to further her scholarship in the history of theatre, she found a home in UMBC's language, literacy, and culture (LLC) Ph.D. program. 
At the opening night of "Red Velvet" at the Chesapeake Shakespeare Company, Director Basfield Dunlap (far right), poses with Kimberly Moffitt, Moffitt's family, and Christian Gibbs (center), an actor performing the lead role of Ira Aldridge.
Through the LLC program, Basfield Dunlap has connected with mentors committed to her success in completing a ground-breaking and thought-provoking dissertation, including her committee chair Beverly Bickel, clinical associate professor of LLC; co-chair Michelle Scott, associate professor of history; and Kimberly Moffitt, associate professor of American studies. These mentors "have been avid supporters of my work as a stage director," she says, sharing a particularly significant memory of them attending the opening night of Lolita Chakrabarti's "Red Velvet" at the Chesapeake Shakespeare Company, which she directed in its Baltimore debut.
As the director of "Red Velvet" at the Chesapeake Shakespeare Company, Basfield Dunlap delivered the opening night toast. Beverly Bickel, Kimberly Moffitt, Liz Steenrod, and their families attended the production.
Basfield Dunlap's dissertation, "The Oral History Project of African American Stage Directors in American Theatre," explores how the making of a play is influenced by the cultural lens of the director. "Scripts and performances directed by these African American directors have been chronicled in African American theatre history books," her dissertation abstract notes, "but the cultural processes of 'making' of the play and the creating the production, have not."
Her dissertation aims to create a space to acknowledge the work and impact of African American stage directors in American theatre history. She will apply her research to enhance her ongoing work in theatre at Morgan State University.
Portrait by Marlayna Demond '11 for UMBC.