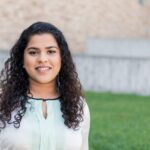 Doopashika Welikala
B.S., Biological Science; B.S, Anthropology; B.A, Sociology
Magna Cum Laude
Hometown: Gaithersburg, Maryland
Plans: MSPH, Johns Hopkins Bloomberg School of Public Health
As a first-generation college student, I did not know much about navigating college when I started at UMBC. My time at UMBC has shown me that with dedication and perseverance we can achieve anything.
Doopashika Welikala understands the importance of access to opportunity. As the first person in her family to attend college, and someone who has traveled internationally to study health care, she has a very personal perspective on the impact that having access to education, healthcare, and other resources, can have on a person and on a community. She hopes to channel that understanding into a career in public health.
Welikala is already well on her way to developing the knowledge and skills she'll need to become a global public health leader. She has completed an independent anthropology research project on childbirth and childbearing practices in Sri Lanka.
Welikala at Maranyundo Girls School in Kinazi, Rwanda, speaking to young women applying to college. Photo courtesy of Welikala.
She also traveled to Kinazi, Rwanda to conduct research on family planning and contraception use through a National Science Foundation REU Fellowship in summer 2017. While there she spoke with young women at the Maranyundo Girls School who were applying for college about her experience as a first-generation college student, and she continues to stay in touch with them, providing the kind of supportive feedback she has received in her time at UMBC.
"The professors at UMBC were always open to discuss my career options and future plans," says Welikala. "Professors went out of their way to help me pursue research opportunities that aided me to further my intellectual interests."
Welikala also participates in community life at UMBC as an institutional review board member, senior advisor to the Sri Lankan Student Association, teaching assistant in chemistry and sociology, and Writing Center tutor.
In the fall Welikala will attend the Johns Hopkins Bloomberg School of Public Health as a graduate student in the population, family, and reproductive health program. She credits her success to the academic rigor at UMBC. "At UMBC I was part of a challenging environment that stimulated my growth and I can proudly say that it has prepared me for the next steps of my life after graduation," she says.
Portrait by Marlayna Demond '11 for UMBC.