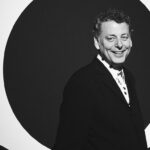 UMBC's Maurice Berger, research professor and chief curator for the Center for Art, Design and Visual Culture (CADVC), and a major national figure in the field of media studies, has won the International Center of Photography (ICP) 2018 Infinity Award. The award, in the category of Critical Writing and Research, honors Berger's acclaimed "Race Stories" column for the Lens section of the New York Times.
ICP's Infinity Awards are widely considered the leading honor for excellence in the field of photography and visual culture. The selection committee includes Isolde Brielmaier, assistant professor at NYU and executive director of Arts, Culture and Community, Westfield World Trade Center; Marina Chao, assistant curator of exhibitions for ICP; James Estrin, Lens blog co-editor and senior staff photographer for the New York Times; and Antwaun Sargent, writer and critic.
Since 1985, the ICP Infinity Awards have recognized major contributions and emerging talent in the fields of photojournalism, art, fashion photography, and publishing. The 34th annual ICP Infinity Award honorees will be celebrated at a gala on April 9 in New York City.
"I am honored to receive an award long considered important to the community of photographers, writers, editors, and curators of which I'm a part," Berger shares. "To write monthly for the New York Times about the ways photography mediates the issues of race fulfills a long held dream. To have that work acknowledged and rewarded by my peers, in addition to the incredible support I get from Times readers, is truly wonderful." 
Berger's monthly "Race Stories" column explores the relationship of photography to concepts, themes, and social issues around race not usually covered in the mainstream media. He launched the column, in July 2012 and two years later received the 2014 Creative Capital | Andy Warhol Foundation ArtsWriters Grant in recognition of his writing.
The well-researched essays are written in a literary and reader-friendly style and explore a range of subjects and photographers. Predominantly focused on work from the civil rights era to the present, his writing has focused on a multiple issues: contemporary African American art and photography; the modern civil rights movement; Latino/a, Asian-American, and Native American photography; Asian and African photography; 19th-century and Civil War-era photography and race; and developments in Latino and Asian American photography. His work has also explored how artists and photographers of color have employed photography to combat stereotypes and prevailing ideas about race and identity in the United States.
Included in the series is a moving personal essay from December 2017, "Using Photography to Tell Stories About Race", that contextualizes Berger's writing on race within his personal story. In the essay, Berger writes:
As a Jew, I have known anti-Semitism. As a gay man, I have known homophobia. But neither has seemed as relentless as the racism I witnessed growing up — a steady drumbeat of slights, thinly-veiled hostility and condescension perpetrated by even the most liberal and well-meaning people. It was painful to watch, and as my friends let me know, considerably more painful to endure.

"Continually observing this reality shaped how I understood racism: When people told me they had experienced prejudice, I believed them. I had rejected the liberal tendency to defensively dismiss the victim to protect the accused."
ICP worked with Harbers Studio and MediaStorm to produce mini-documentary films on each of the 2018 Infinity awardees, including a  12-minute film on Berger:
The CADVC recently launched a webpage indexing all of the "Race Stories" essays that is updated monthly as new posts are published. "I wanted to find ways to make the 'Race Stories' series available to as broad an audience as possible," says Berger. "I think it's important for college and university students to read these essays. So putting them on the CADVC website has made all of them available, in one convenient place, to our students at UMBC as well as the thousands of outside visitors to our website."
Berger shared further, "I always write my essays for The New York Times and curate my exhibitions on race and visual culture with young people in mind…because if you can inspire a young person to see the world in new ways, then you can inspire anyone. I get a lot of emails from high school teachers and college professors, who tell me they routinely assign my 'Race Stories' essays to their students. I'm an educator, first and foremost. The principal purpose of my work is to teach racial literacy through visual culture."
In addition to Berger's writing for the New York Times, his work regularly appears in other major publications, from Artforum and Aperture to Wired and the Los Angeles Times. His latest essay, "These Reenactments Put a Personal Face on the History of Black Protest," appears in a historic April special issue of National Geographic on race. The magazine put together a team of photographers and race writers to explore one of the most complicated issues of our time. Berger's writing engages with the work of Senegalese artist Omar Victor Diop, who explores the fight for civil rights in reenactment photos. His essay will also appear in an eight-page spread in the print issue.
Top image: Maurice Berger, photo by James Estrin. Center images from left to right: Nona Faustine, Arbores autumnales puella, Queen Ming, the photographer's daughter, 2016, Courtesy of the artist; Gordon Parks, Untitled, Mobile, Alabama, 1956, Courtesy of the Gordon Parks Foundation; Ken Gonzales-Day, Erased Lynching: Disguised Bandit, 2006