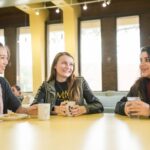 According to the Center for American Women in Politics, in 2017 women held under 20 percent of seats in the United States Congress: 105 out of 535 seats, plus five of six non-voting delegate positions in the U.S. House of Representatives. The UMBC Gender and Women's Studies Department wants college women to know that increasing the representation of women in government is possible, and that the country's future leaders can start their journey in college.
"Over the last five years of running the Elect Her program we have had more women running for SGA office, and more women participate who didn't know they were going to run or join a campaign. That matters," says Kate Drabinski, senior lecturer in gender and women's students. "Whether or not women run for office here, the program reminds all of us that we can do it, that we are the leaders we think we need."
Meghan Lynch
'18, political science, participated last year after deciding to run for a position in UMBC's Student Government Association (SGA). She has been an active member of College Democrats since her freshman year and shares that she's learned a great deal from seeing women be effective leaders both in legislative chambers and boardrooms. "Out of the four SGA executives, three of us are women," says Lynch. "This fact gives me great pride because I think it is symbolic of UMBC's commitment to equal representation."
Elect Her is a nationwide training program begun in 2009 by the American Association of University Women. It is currently led by Running Start, a non-partisan organization working to support equal representation of women in government.
Across the U.S., Elect Her trainings offer women communication and organization strategies to campaign for student government or to pursue other leadership opportunities. Rina Shah, a Republican strategist, media commentator, and entrepreneur, will speak at UMBC's Elect Her event on March 9, 2018, along with Sarah Elfreth, Democratic candidate for Maryland Senate, District 30. Students interested in attending the event, 10:30 a.m. – 3:30 p.m. in Fine Arts 011, can register online.
Rina Shah. Image courtesy of speaker.
Shah, who is from West Virginia, grew up listening to her father discuss politics at home and seeing him be involved in a gubernatorial campaign. "My dad immigrated from Uganda and saw civic engagement as the beauty of being American," she reflects. "I got a sense that being involved in the process was cool because we get to have a say in how our government functions."
Shah's path to politics began in college through journalism and leadership, first as an assistant managing editor her campus conservative publication and later as president of her school's Panhellenic Council. After college, she worked briefly as a field reporter for a local television station. As she interviewed people, she learned more about issues affecting West Virginians, and found herself wanting to advocate for them. "People wanted me to take messages back to government officials, thinking I was somehow involved," she says.
Shah moved to Washington D.C. for an internship with the National Association of Community Health Centers before going on to become a senior-level aide for two Republican Members of Congress in Capitol Hill in 2011. Seven years later, she opened her own political consulting and government affairs practice and co-founded the Women Influencers Network, which provides campaign training and internships for women interested in running for elected office anywhere in the U.S.
Elfreth with community members. Courtesy of Elfreth.
Elfreth was raised in New Jersey, where her parents, an engineer and a parole officer, were involved in labor unions, but it wasn't until she was a student at Towson University that she became involved in government. "I fell in love with the ability to have a voice in the process when I visited Annapolis to advocate for student voting rights," she says.
Elfreth's experience in state-level leadership and government grew quickly when, in her senior year of college, then-Gov. Martin O'Malley appointed her to be the student member of the University System Board of Regents. Through that role she met with students and university leaders across Maryland, including UMBC President Freeman Hrabowski. She pursued a career in government relations, including as government affairs director for the National Aquarium, prior to deciding to run for office herself.
Both women were motivated to get involved in government, and to support the next generation of women leaders, to promote democracy and to help their communities. They stress that democratic engagement and leadership development must begin at the local level—on campus, at a place of worship, in a school club or neighborhood association.
"Experience comes through engaging with your community by applying your strengths, whether that be communications, policy, advocacy, fundraising, or technology," says Shah.
Elfreth is focused on ensuring that government reflects the needs and interests of the people it serves, and she suggests that inspiring and preparing more women to run for office at all levels is key. "In order to shake up this culture for women and people of color, we have to continue to be involved," she says. "We cannot afford to give up now."
Banner image by Marlayna Demond '11 for UMBC