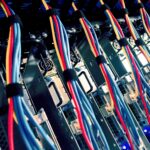 The National Science Foundation recently awarded UMBC a Major Research Instrumentation (MRI) award totaling more than $550,000 to expand the university's High Performance Computing Facility (HPCF). The funding will go toward upgraded hardware and increased computing speeds for the interdisciplinary core facility, which supports scientific computing and other complex, data-intensive research across disciplines, university-wide. As part of the NSF grant, UMBC is required to contribute 30 percent of the amount that NSF is providing to further support the project, meaning a total new investment of more than $780,000 in UMBC's High Performance Community Facility.
Meilin Yu, assistant professor of mechanical engineering, is the principal investigator on the grant. He replaced Matthias Gobbert, professor of mathematics, who served as principal investigator on previous grants for the core facility in 2008, 2012 and 2017 on behalf of the 51 faculty investigators from academic departments and research centers across all three colleges.
Matthias Gobbert, left, and Meilin Yu in UMBC's High Performance Computing Facility. Photo courtesy of Meilin Yu.
"The MRI grant will allow us to upgrade the UMBC HPCF with state-of-the-art computing nodes and networks," explains Yu. "It will boost sustained growth in research and education relating to computational science and engineering, including but not limited to, high performance computing, cybersecurity and big data, atmospheric physics, environmental science and engineering, and life sciences."
Through the facility, researchers can run simulations with a range of applications, including industrial designs and weather prediction. UMBC faculty will utilize the upgraded system to complete simulations and modeling tasks significantly faster than the current system allows, explain Yu and Gobbert. The updated technology includes accelerated graphics processing units that, in addition to speeding up calculations, will "improve the quality of digital visualization," says Yu.
The HPCF governance committee is working with UMBC's Division of Information Technology to purchase and implement the upgraded hardware, including central processing units, which completes computing tasks, graphics processing units, which manages the visual displays on computers, and cores. "We hope to have at least 72 nodes in service to the UMBC community by spring 2018, with 16 core Central Processing Units, Graphics Processing Units suitable for integer/single-precision and double-precision arithmetic, and cutting-edge many-core Intel Xeon Phi KNL processors with 68 cores," Gobbert explains, adding that by increasing the number of nodes, UMBC's HPCF is worth more than $2 million.
UMBC faculty are able to use the facility for their research at no charge, and they receive technical support from graduate assistants as well as staff in UMBC's Division of Information Technology. The upgraded facility will support projects from researchers in more than a dozen academic departments across all three colleges at UMBC. Gobbert shares that he expects this community of scholars will expand further as the core facility continues to grow. "I am most proud of the fact that such a large number of faculty total put their trust in me to lead the writing and management of this proposal," he said. "Our success at the NSF validates that the strong interdisciplinary cooperation of many researchers from across the campus is valued there."
The HPCF was established in 2008 in response to a university-wide need for technology to support high-performance computing. The initial system had 35 nodes, and was funded by UMBC's Division of Information Technology, the Office of the Vice President for Research and faculty contributions. Over the past nine years, the HCPF has grown to include over 300 nodes, and has been used by more than 400 researchers and students for their work. The facility has led to more than 250 publications, including 100 in peer-reviewed journals, in addition to 30 theses. The recent funding will support the expansion of the facility to include 84 nodes, which individually communicate with each other, and cutting-edge processors. The oldest portion of the HPCF will be replaced with with more powerful nodes.
Banner image: High-performance computing equipment. Photo by Andrew Hart via Flickr, shared under CC BY-SA 2.0.