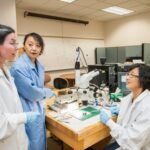 The National Science Foundation (NSF) has awarded funding to a group of UMBC faculty in two colleges to study how applying heat to drug-carrying nanoparticles can cause tumors to shrink. The researchers will use the three-year grant totalling more than $330,000 to develop a more targeted, non-surgical approach to treating tumors in cancer patients.
"Our proposed experiments and simulations will help determine whether elevating temperature in the body is a viable approach to increase the amount of drug-carrying nanoparticles in tumors," explains Liang Zhu, professor of mechanical engineering and PI of the grant. "This strategy, if successful, will not only ensure delivering high payloads of anticancer drugs directly to tumors where they are needed the most, but also result in an overall reduction of drug dosage, and thereby reduce systemic toxicity in other body organs."
The work combines mechanical engineering, biology, and chemistry to use 3D X-ray imaging to understand the amount of nanoparticles transferred from the bloodstream into tumors, and the distribution of these nanoparticles in the tumors. Zhu, Ronghui Ma, associate professor of mechanical engineering, Chuck Bieberich, professor of biological sciences, and Marie Christine Daniel-Onuta, associate professor of chemistry and biochemistry, will collaborate on the grant.
Chuck Bieberich.
After injecting nanoparticles into the bloodstream, Zhu and her collaborators will look at the distribution and concentration of the nanoparticles eventually deposited in the tumor. This will allow them to evaluate whether applying heat to tumors lowers the pressure in the tumor, and determine how the application of heat impacts the blood supply to the tumors. Utilizing heat to enhance drug delivery to targeted tumors could lead to reduced toxicity in other body organs, Zhu explains.
Treatment options that are currently available to target tumors include surgery, radiation, and chemotherapy. Although potent therapeutic drugs have already been developed, delivering them to tumors and achieving sufficient drug concentrations throughout the entire tumor remain significant hurdles to overcome, explains Zhu. "Not every patient can have surgery so this is an alternative treatment option," she says.
One important aspect of the research is to develop a drug delivery method that can be repeated and customized for individual patients. The faculty will use 3D imaging to visualize the distribution of nanoparticles in the tumor, and mathematical simulations to predict how increased temperature might work in tumors of different sizes and shapes.
This NSF grant will continue work on controlling how heated nanoparticles are delivered to cancer tumors. The work began in 2008 and was extended in 2013. 
Banner image: Ronghui Ma, Liang Zhu, and Marie Christine Daniel-Onuta working in the lab. All photos by Marlayna Demond '11 for UMBC.