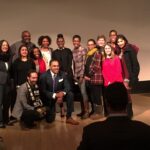 At the Smithsonian National Museum of Natural History on February 3, President Freeman Hrabowski called on stories from his childhood and UMBC today to share a forward-looking message on improving diversity in STEM fields as part of the museum's "An Evening With…" series.
Marching with Dr. Martin Luther King Jr. as a 12-year-old boy inspired Hrabowski to dream that "tomorrow could be different from today, and young people could be empowered to make that difference." Pres. Hrabowski has spent his career in education turning that dream into action, focused in particular on creating a campus culture that supports students from all backgrounds.
Speaking candidly, Hrabowski shared his perspective that institutions need to "look in the mirror" and ask themselves tough questions to ensure they are continuously working to meet their ideals. In particular, he argued against "weed-out courses" and the mindset behind them, which results in high rates of students leaving STEM majors. Instead, he has found that "building community and getting away from a cutthroat approach" improve student success.
At UMBC, "community" means having a mutually supportive peer group and "nurturing environment." That includes faculty and staff who are committed to "inclusive excellence" and are prepared to match students with new opportunities and the resources needed to achieve success, such as professors "who are willing to go beyond the classroom, to connect with students and to pull them into research," Hrabowski said.
Emphasizing excellence, Hrabowski argued, does not suggest educators should expect students get everything right on the first try. "We have begun to rebel against even the word 'smart,'" he argued. Instead, he prioritizes resilience and "grit," while providing students with the resources and the learning environment they need to grow and achieve their goals.
President Hrabowski addresses the audience at the National Museum of Natural History February 3. (Sarah Hansen)
As the event shifted to a discussion, attendees began sharing personal stories of supporting students on the path to success in STEM, and the challenges encountered along the way.
When a Prince George's County middle school principal asked how to create a community focused on inclusive excellence at his school, Hrabowski emphasized, "Things don't change completely overnight." He advised, "It always helps to start with a small group of people who want to address the issue and then build from there."
One parent of a UMBC student thanked Pres. Hrabowski for the approach UMBC has taken to student success, sharing, "My son is so excited about what he's doing…Our home is like a science lab."
A black researcher asked for advice on how to help new colleagues resist impostor syndrome and maintain their confidence outside of supportive communities like UMBC. Hrabowski responded that support from peers and more senior colleagues is essential, explaining, "There's always a need for people who have experience to be there as a sounding board." He suggested that researchers who have benefited from the support of colleagues and mentors in the past, and who have achieved success through resilience, "can elevate others by helping them continue to aspire to the next level."
As the event came to a close, a 10-year-old girl asked Hrabowski why he thinks so few people are interested in science in the United States, and how she could become more engaged with science. "We have not understood the need to help our children and families understand first how exciting science can be and that anybody can do science and math," he responded, "and we need more TV programs and activities where people see girls, boys, and people of all races doing science."
He then shared with her opportunities at UMBC for kids to begin engaging with science, including a summer coding program for girls. Sharing his lifelong love of math, he asked her a word problem and requested an answer by email. "I don't just want the answer," he said. "I want you to tell me how you would explain it to somebody else."
Their exchange recalled a powerful moment earlier in the program, when President Hrabowski summed up his core goal as an educator. "What we're trying to do at UMBC," he said, "is to teach young people of all races that they can change the world."
Image: President Hrabowski with UMBC students and alumni at the National Museum of Natural History. Photo Sarah Hansen '15.