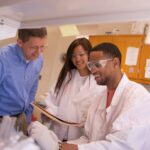 UMBC is the lead institution on a $5 million National Science Foundation (NSF) grant that provides additional funds for the University System of Maryland Louis Stokes Alliance for Minority Participation (USM LSAMP). Universities will use the renewed funding to support students from underrepresented groups in STEM. The funding boost also allows for expanded support for transfer students and new programming focused on performance in mathematics.
"This funding for expanded programs indicates that we are able to continue the legacy of inclusive excellence that UMBC celebrates," explains Renetta Tull, associate vice provost for graduate student development and postdoctoral affairs.
Through LSAMP, Tull says, "Programming that prepares students for graduate school in STEM fields will be available to any student at UMBC who wants to participate," complementing gold-standard cohort-based models like the Meyerhoff Scholars Program and MARC U*STAR Program at UMBC. Some LSAMP funds will also support these well-established programs.
The USM LSAMP program has four key focus areas: participation (supporting students as they transition from high school or community college), performance (reinforcing mathematics knowledge and improving performance in math courses), preparation (getting students ready for research experiences by offering opportunities for training), and presentation (providing opportunities for students to present their work publicly).
Of the $5 million in funding, UMBC will disburse $1 million to University of Maryland, College Park and $750,000 to University of Maryland Eastern Shore, the other two member universities of the Louis Stokes Alliance. Towson University and Frostburg University are associate alliance members, and community college collaborators include Prince George's Community College, Anne Arundel Community College, and Community College of Baltimore County. Tull explains, "The tiered structure allows current partners to mentor associate members and collaborating community colleges." 
UMBC has received NSF funding for LSAMP for 20 years. The new boost in funding will make more initiatives possible, including transition seminars for transfer students, a bridging conference for incoming first-year students, and a system-wide Winter Mathematics Institute. The institute, co-sponsored by the Diversity Committee of NSF's Mathematical Sciences Institutes, is modeled on the successful Meyerhoff Summer Bridge program.  
In addition, LSAMP will develop relationships with other programs on campus, such as STEM BUILD at UMBC, a support program seeking to enhance success of undergraduates in STEM, and the STEM Transfer Student Success Initiative (t-STEM), which supports transfer students from Maryland community colleges, with initial funding from the Bill & Melinda Gates Foundation.
"The success of students at UMBC is underpinned by support initiatives like STEM BUILD and t-STEM," shares Bill LaCourse, dean of the College of Natural and Mathematical Sciences. "Collaboration with the LSAMP program is a welcome addition, in that it broadens and deepens UMBC's ability to attract and retain students from underrepresented group in STEM disciplines."
UMBC is also home to a "Bridge to the Doctorate" program, funding for which is only available to institutions that have had LSAMP programs for at least 10 years. This program financially supports graduate students who participated in LSAMP programs as undergrads at any university in the U.S.
"We are delighted to build on our existing partnership with NSF," said President Freeman Hrabowski. "UMBC strives to create an environment where students from all backgrounds can succeed in any field, and this funding enables us to expand that critical work."
Image: Chemistry professor Michael Summers (left), known for his dedicated mentoring of students of all backgrounds in addition to his research, works with students in the lab. Photo by Marlayna Demond '11 for UMBC.